New Moto g Series Lets You Choose: Stylus or Jumbo Battery
Article Comments
Feb 7, 2020, 9:00 AM by Rich Brome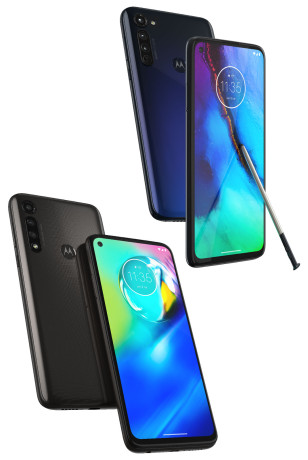 Motorola has unveiled two new g-series phones for 2020: the Moto g Stylus and Moto g Power. The two phones are very similar, except the g Stylus has a built-in stylus pen and higher-end main camera, while the g Power has a larger battery. Both phones have a 6.4-inch full-HD+ display with a "hole punch" in the corner for the 16-megapixel selfie camera. Both are powered by a Qualcomm Snapdragon 665 chip paired with 4 GB of RAM and running Android 10. Both have a water-repellent design, stereo speakers, dual-band Wi-Fi, fingerprint reader, memory card slot, USB-C, 10W fast charging, 3.5mm headphone jack, and FM radio. Both have excellent support for all US 4G networks — including bands 13, 14, 25, 26, 29, 30, 41, 66, and 71 — with LTE Cat. 13 speeds. Motorola also has a new feature that limits interruptions while gaming. The few differences between the phones are:
Moto g Stylus: Has a built-in stylus pen designed to help you edit photos, jot down notes, sketch artwork, copy and paste text, and mark up screenshots. Removing the stylus while the phone is idle will automatically start the new Moto Note app, which lets you take quick notes without unlocking the phone. It has a 4,000 mAh battery and 128 GB of storage. The main camera has a 48-megapixel sensor and f/1.7 aperture, with laser auto-focus. It also has a 2-megapixel macro camera and 16-megapixel "action" camera that takes ultra-wide video in landscape orientation while holding the phone vertically. The Moto g Stylus will be available unlocked "this spring" for $300, and subsequently at Verizon, Metro, and Republic.
Moto g Power: Has an extra-large 5,000 mAh battery that Motorola claims can power the phone for three days. It also has three rear cameras, but the main camera is 16 megapixel (f/1.7) and the wide-angle camera is 8-megapixel with standard orientation. Like the g Stylus, it has a 2-megapixel macro camera that can focus on objects just 2cm from the lens. It has 64 GB of storage. The Moto g Power will be available unlocked "this spring" for $250, and subsequently at Verizon, Xfinity Mobile, US Cellular, Consumer Cellular, and Republic.
source: Motorola
No messages