Qualcomm Snapdragon 865 Raises the Bar for Flagship Performance
Article Comments
Dec 4, 2019, 2:00 PM by Rich Brome @rbrome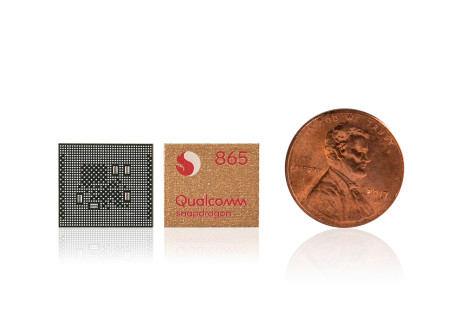 Qualcomm today announced the Snapdragon 865, its new top-end chipset to power flagship phones in 2020. Unlike most previous Snapdragon chips, the 865 is split into two physical chips: the main processor chip and a separate radio modem chip that includes a 5G modem based on the company's X55 5G modem. (The lower-end Snapdragon 765, also announced today, integrates both functions onto one chip.) The 865's modem chip supports both mmWave and sub-6 GHz frequency bands, SA and NSA modes, TDD and FDD, Dynamic Spectrum Sharing (DSS), and global 5G roaming. It supports peak download speeds up to 7.5 Gbps, twice as fast as the 765. The Kryo 585 CPU offers 25% better performance compared to the CPU in last year's 855, and 25% better power efficiency. On the GPU side, the new chip offers 35% better power efficiency and 20% faster rendering. In a first for phones, the 865 supports QHD+ displays at up to 144 Hz refresh rates. The 865 also supports a new software architecture that allows the graphics drivers to be updated more frequently via the Google Play Store. An upgraded AI processor is "2x more powerful" and offers 35% better power efficiency. It also supports a new low-power mode for AI processing of multi-sensor data. Qualcomm claims this new Hexagon AI processor can "instantly [translate] your speech into a foreign language, all while retaining the sound of your authentic voice." The 865's Spectra 480 ISP (image signal processor) can process 40% more pixels per second, enabling the 865 to support cameras up to 200 megapixels, with the ability to shoot 8K video, capture high-quality 64-megapixel photos while capturing 4K video, or capture 4K video at 120 fps. It can also record slow-motion HD video at 960 fps with no length limit, and record Dolby Vision video; both are firsts for phones. New fast-charging technology is designed to preserve battery capacity over hundreds more charging cycles. The 865 uses the latest 7nm manufacturing process for better power efficiency. The first devices powered by the Snapdragon 865 should be available in the first quarter of 2020. Read on for more details.
source: Qualcomm
Advertisements article continues below...
The Kryo 585 CPU is an octa-core processor with four Cortex A77 big cores + four A55 little cores. It runs at up to 2.84 GHz.
The Adreno 650 GPU supports Vulkan 1.1, HDR gaming, Physically Based Rendering, OpenGL ES 3.2, OpenCL 2.0 FP, HDR10, HDR10+, HLG, and Dolby Vision. It also includes a hardware H.265 and VP9 decoder. Game Color Plus 2.0 brings HDR color to non-HDR games. The Adreno 650 also includes Desktop Forward Rendering, integrating Unreal Engine rendering technology directly into the GPU.
The Spectra 480 incorporates dual 14-bit ISPs capable of processing 2 gigapixels per second. The dual cores enable it to capture high-quality still images while recording 4K video, instead of merely saving a single video frame as a still photo. It supports 200-megapixel camera sensors, which Qualcomm claims are indeed coming to market in 2020. The Spectra 480 includes hardware acceleration for computer vision applications.
All processing cores share 3 MB of system cache. The 865 supports up to 16 GB of LPDDR5 RAM.
The "FastConnect 6800" subsystem supports all of the latest Wi-Fi and Bluetooth standards, including Wi-Fi 6, 60 GHz Wi-Fi (802.11ad and 802.11ay), and Bluetooth 5.1 with 1-to-many broadcast.
Disclosure: Qualcomm covered all expenses for the author's trip to the Qualcomm Snapdragon Summit in Hawaii.
No messages