Pantech Reveals Dual-LCD Slider Overseas
Article Comments 9
May 9, 2007, 10:28 AM by (staff)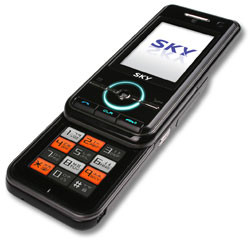 The IM-R200 handset, which Pantech announced in Korea today, looks like an average slider phone. Opening it up, however, shows an OLED touch-sensitive screen where the keypad should be. The capacitive touch virtual keypad provides micro vibration feedback to let users know that they've activated a key or button. The touch-sensitive OLED isn't limited to just keypad functionality. It has separate and virtual interfaces for each function, such as for the music player or camera. This means applications will have their own set of interactive menus, rather than just functions that correspond to regular, numeric keypads. The IM-R200 also comes with a 2 megapixel plus VGA dual camera system, and face recognition software. It will be available from SK Telecom and KTF later this month.
Darn You Pantech!
First phone I see in awhile that I might actually blow people out the water with and it turns out to be CDMA. 😢 😢 😢
Where do you see CDMA? It says it was launched overseas and most "overseas" is GSM. The US is about the only area that uses primarily CDMA.
You should change your service to Verizon
and get hooked up with the new sky phone.(import)
um, who is Pantech again?
Just kiddng. I could not resist!