Review: Asus ROG Phone II for Non-Gamers
Article Comments 4
Oct 4, 2019, 12:50 PM by Rich Brome
updated Oct 4, 2019, 12:52 PM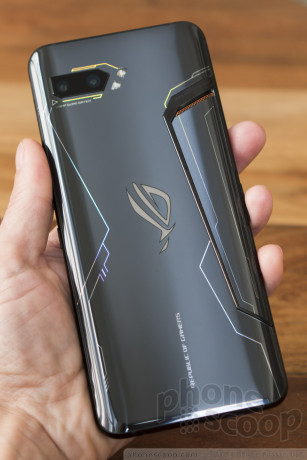 The Asus ROG Phone II is a beast of a phone. It's loaded to the gills with top-end specs and unique extra features that cater to hard-core gamers. But some of its wilder specs — like its massive 6,000 mAh battery and huge screen — might appeal to casual gamers, and even people who don't game on their phones at all. Other sites will tell you how this phone stacks up for gamers; we're going to focus on whether it makes sense for anyone else. Here are our thoughts after using it daily for two weeks.
Article
The ROG Phone II has an absolutely massive battery, which gives the phone truly amazing stamina. That's the main reason a non-gamer should consider this phone. It's also a flagship-class phone with few compromises on specs and features. Just as a gaming computer will excel at almost any non-gaming task, the same goes for a gaming phone like this one.
Size
The other thing that stands out about this phone is the size. This is one honkin' big phone, and it's heavy. That's the price you pay for such a huge battery.
Between the size and the weight, you'll never forget this phone is in your pocket. It only just fits in average mens' pockets, and you may have trouble with tighter pants or shorter shorts. It wouldn't fit into the (quite generous) phone cubby of the treadmill at my gym. It will never stop feeling big and unwieldy when holding it one-handed, unless you have truly massive hands.
Interacting with the screen one-handed is quite a challenge on a phone this large. I'm not a fan of special one-handed modes, but some minor Asus tweaks help here, like home screen folders being pushed to the bottom of the screen, and being able to swipe down on the home screen to see notifications.
home screen folders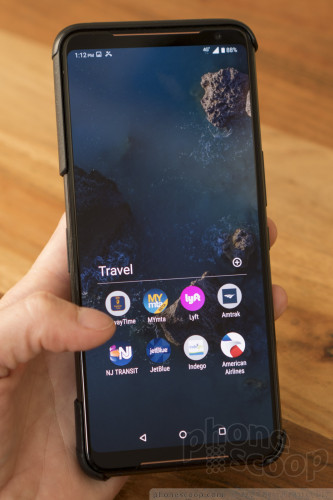 home screen folders
After two weeks, I did adjust somewhat to the size, but it still bothered me. Larger phones have been growing on me lately, but not this large.
Part of the reason for the size, of course, is that this phone is designed to be your main gaming device if you're a serious gamer. If you wished a Nintendo Switch could slip into your pocket and double as your phone, this is the phone for you. (But that's not our focus here.)
The most egregious dimension is the height. This phone has a modern screen with a cinematic aspect ratio and thin-enough side bezels. But there's about a centimeter of "wasted" space at each end. That's because this phone is optimized for landscape gaming, and you wouldn't want your palms activating the screen when gaming. This makes the phone dramatically taller than almost anything else on the market. And that, in my opinion, is one of the main drawbacks of this phone for non-gamers. Everything else gaming-oriented about the phone is easily ignored, but not this.
Battery
Back to the battery life: It's amazing. This kind of battery life is life-changing.
At first, I was just very impressed that it still had 23% battery left at bed-time after a very long day of near-constant use, including a lot of GPS and gaming. And I mean a lot. For perspective, using my Pixel 3 this much would have required three mid-day top-ups with a fast charger. For two weeks I've been trying my best to kill this battery in a single day. I couldn't. Even when I forgot to charge it at night, it made it through most of the next day with heavy use.
Over time, I slowly realized the full implications of this. I could stop carrying a fast charger around in my backpack. I could stop carrying an emergency battery pack around. I could stop carrying around a dedicated mobile hotspot device for my laptop. (Before, I never wanted to use my phone's hotspot function because it would tax the battery.) This phone might be heavy, but the devices I was able to shed from my backpack more than make up for it.
everything I was able to stop carrying around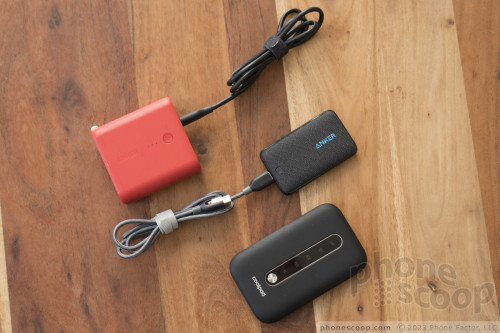 everything I was able to stop carrying around
It also changed how I use my phone. Suddenly I could turn on / crank up everything that uses a little extra battery. I left the screen a little brighter. I turned on the always-on display feature and made the screen timeout a little longer. I left the screen refresh rate at 90 Hz. I even turned on the light-up logo on the back, which is so completely unnecessary, but surprisingly fun to customize.
In other words: I stopped worrying about battery life, and it was absolutely liberating. It's a wonderful feeling. I didn't fully realize how much I had adapted my habits (and backpack contents) to my battery anxiety. Having experienced this, it will be difficult to go back to the battery life of an average phone.
Design
The ROG Phone II does not look like a normal phone. You have to appreciate the "gaming aesthetic", or simply not care that much what your phone looks like. Even the minimal "Aero" case that comes with the phone leaves most of the unique design elements exposed (intentionally, I'm sure) and even adds its own share of crazy angles and textures. At least the prevailing color is a dark gray; it could be worse.
Aero case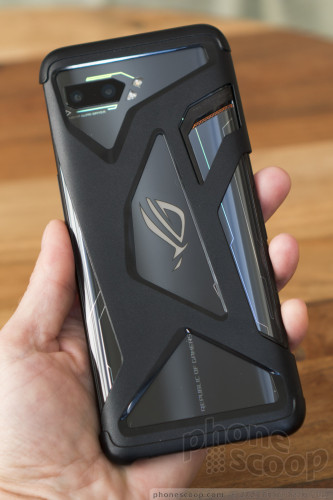 Aero case
That included Aero case is well-designed in terms of ergonomics and protection. I like that it leaves the sides exposed, so it's not making the phone any wider where you actually hold it. That's crucial on a phone this wide to begin with.
I wish the fingerprint reader were the dedicated type instead of in-display. In-display fingerprint readers require you to wait for the screen to wake up and then carefully center your thumb or finger on the icon. It's a small thing, but it requires enough time and attention to make it a noticeably slower way to unlock your phone. With that said, when used correctly, this fingerprint reader is more reliable than some others I've used recently.
I found that I accidentally smudged the camera lenses with my fingerprints more often than with other phones. (That's a great way to ruin a photo.) I'm guessing that's because I often needed two hands to juggle such a large phone.
The back of the phone has a large ROG logo, and it can light up in a number of ways that can be useful, fun, or both. I enjoyed tinkering with the many customization options more than I thought I would.
On the practical side, you can make the rear logo light up to alert you to notifications, and customize the color for each app: blue for Facebook, purple for Instagram, etc. Smartly, it automatically samples the icon color to default to the intuitive color for most apps. It will also light up when charging, and the color tells you how charged it is: red means the battery is 20% or lower, while green means it's over 80%.
Performance
The phone has a top-top-end processor and plenty of RAM, so it should be a blazing performance machine. For the most part, it was. But it stumbled in a few areas.
Twice in two weeks, I experienced the phone inexplicably grind to a glacial pace, with everything stuttering and working poorly. These episodes only lasted a minute or two, and the phone never crashed or froze completely, but it's something I haven't experienced on other recent top-end phones running Android.
Cellular signal performance was just average. Most of the time it was just fine, but I expected slightly better from a phone of this class. Part of that may be due to the fact that it doesn't support all of the US LTE bands that it could (and perhaps should, for this price.) It can't access band 71 on T-Mobile, nor band 30 on AT&T. That limits the maximum speed, as well as general network performance when the network is congested. The clearest example I encountered was that streaming music kept cutting out while I was at the gym. I usually get weak signal in my gym, but on other phones it's still good enough to stream music uninterrupted.
The stereo speakers on the front sound fantastic, and can be cranked up very loud.
I found that the lift-to-wake and tap-to-wake features worked very well. That's good, because these are crucial for activating the fingerprint sensor.
I tried using the display with the 60 Hz, 90 Hz, and 120 Hz refresh rate options. My eyes simply can't tell the difference, even with fast scrolling and fast games. I'd just assume leave it in 60 Hz mode to save battery, although, again, the battery is so huge that 90 Hz won't kill it. 120 Hz mode, on the other hand, quickly made the phone uncomfortably hot.
a decent night shot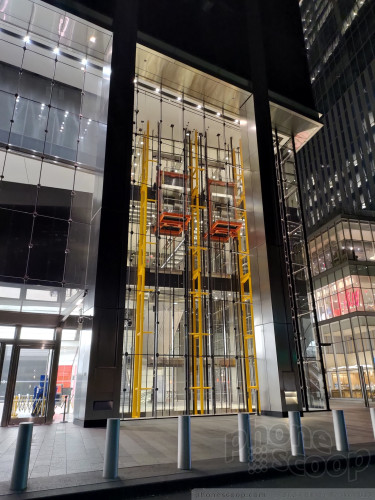 a decent night shot
I mostly liked the camera app, and most photos I took turned out well enough. Apple and Samsung are so far ahead with phone camera quality that it's almost not fair to compare them; don't expect iPhone-level perfection here.
this building is not purple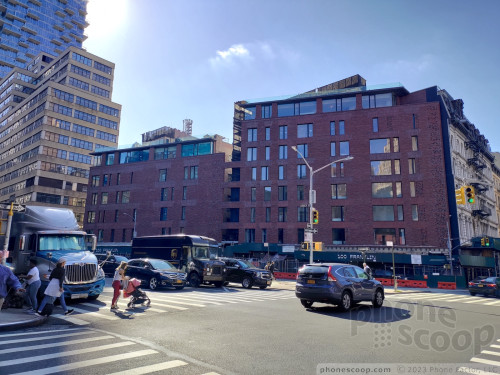 this building is not purple
The only major quality issue that cropped up was white balance; sometimes it got the color wrong. It wasn't often, but when it did, it was pretty bad.
camera manual mode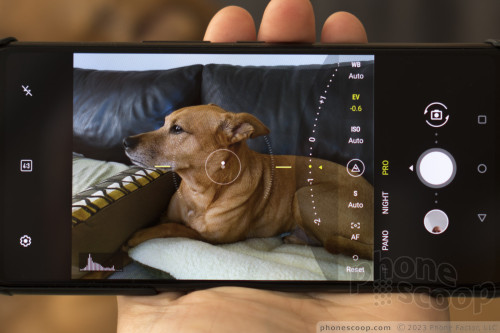 camera manual mode
The camera app has a good offering of modes and settings, including a true 48-megapixel mode and a great manual mode. I do love having a wide-angle camera and found myself using the one on this phone quite a bit. I did miss having a telephoto lens, something that's just become standard on phones of this class.
Software
During setup, you can choose a ROG theme or a "classic" Google theme. This is mostly a nod to the tastes of western consumers, but it's also great if you're simply not a gamer. I tested it with the classic Google theme and liked it quite a bit. Almost everything looks Google-y... except the always-on display feature. You can choose the clock style, but the only digital option has an over-designed ROG theme that I found quite ugly.
The extra settings that Asus has added to the Settings app are mostly the options I look for. The phone offers just the right amount of optional shortcuts and customization. What was trickier to find were the settings for the light-up logo on the back. They're not in Settings where you might expect, but rather in Asus' gaming hub app. I thought of that and went looking, but couldn't find it. It turns out they decided to call this app "Armoury Crate", for some godforsaken reason. That name could be vastly more intuitive, (and localized for the US).
Armoury Crate app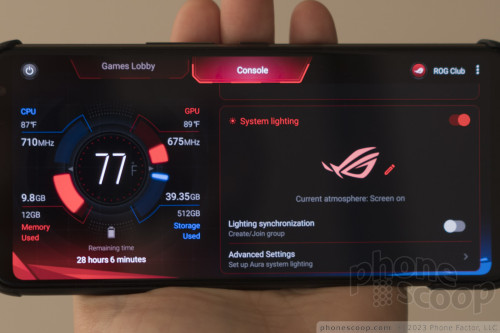 Armoury Crate app
Summary
Evaluating the ROG Phone II as a standard flagship-class phone, this is an average one: not the best, but not bad. As with most larger phones, having such a huge screen is wonderful, and this is one of the biggest, nicest screens out there. But it's when you consider the life-changing battery stamina that it becomes truly tempting. If you can afford it and don't mind the size trade-off, it's a compelling option.
Be sure to check out our Hands-on with the ROG Phone II for many more photos and phone details, as well as a video tour.
Which network were you on?
Did you try on AT&T, T-Mobile or both?
Tested on T-Mobile in lower Manhattan. (AT&T's network grinds to a halt here during the day.)
6450 mAh using Moto mod
TurboPower Pack Moto mod + Moto Z3 (more mAh with Z4) gives similar freedom (and bulk) without being unreasonably tall. But that combo is nowhere near as powerful with only a Snapdragon 835 and 4GB of RAM.