New KaiOS Feature Phones for US Offer Google Assistant, App Store
Article Comments 5
Sep 19, 2019, 8:00 AM by Rich Brome @rbrome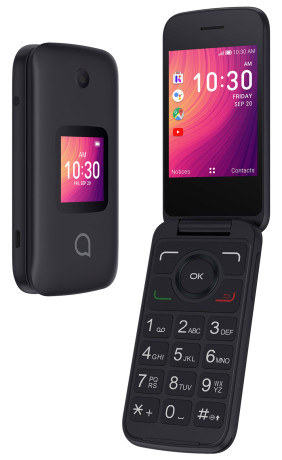 Alcatel today announced the Go Flip 3 and SmartFlip, two variants of essentially the same clamshell-style feature phone. The phone runs KaiOS, and for the first time in the US, supports both Google Assistant voice control and the KaiStore for downloading third-party apps such as WhatsApp. The hardware is otherwise similar to previous KaiOS phones by Alcatel for the US, such as the Go Flip, MyFlip, QuickFlip, and Cingular Flip 2. Like those models, it has 4G LTE, a large screen and keypad, HD Voice, 2-megapixel camera, HD video capture, music player, memory card slot, 3.5mm audio jack, Bluetooth, Wi-Fi, and a color outer display. The model branded Go Flip 3 is for T-Mobile and Metro, and supports mobile hotspot, band 71, and Sprint bands; it replaces the original Go Flip. The model branded SmartFlip is for AT&T and Cricket; it supports band 14 (FirstNet) and replaces the Cingular Flip 2 and QuickFlip.
source: TCL Communication / Alcatel
Flip phone
Nice to see more flip phones are being manufactured I would like something like the BlackBerry flip phone to come out again.