Hands On with the Blu G9 Pro
Article Comments
Aug 27, 2019, 8:00 AM by Rich Brome
updated Aug 28, 2019, 7:58 AM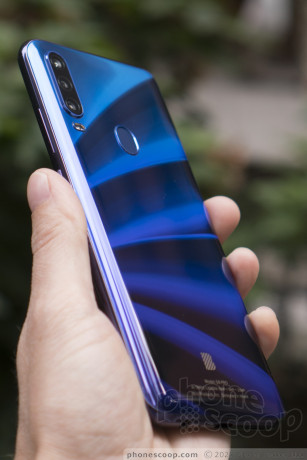 Blu's latest "flagship" phone is really more mid-range, but it's unique as a $250 phone with wireless charging and triple rear cameras. It doesn't have everything, but the specs are decent, and if your priorities are screen and battery, it might be worth a look. We check it out in this hands-on.
The BLU G9 Pro is one of many mid-range phones this year with a premium all-screen design and multiple cameras. Price no longer determines screen size, so it has a large screen. It follows all the current trends, like the shimmering back, small notch, and a larger battery. In fact, if it looks familiar, you might be thinking of the Samsung Galaxy A50, the phone this is designed to compete against. It mostly stacks up well against that model, for $100 less.
The look and feel of the phone is overall quite good. The nicely-rounded back is real glass. The buttons work very well. The shimmer effect is a unique design, and they've mixed two trends by also giving it a gentle gradient from blue to purple. This produces one oddity: the purple frame looks a bit weird against the blue glass at the top. Phones — even colorful ones — don't usually put two bold colors together like this. Imagine a blue car with purple bumpers; it's like that.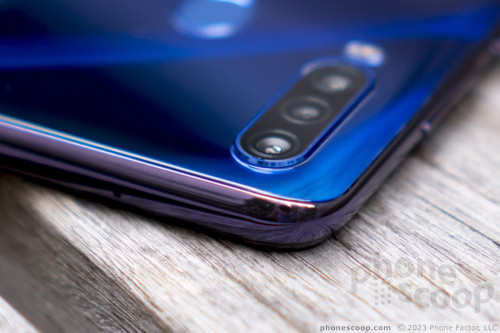 Also, the card tray (it can hold a SIM and a memory card, or two SIMs) doesn't have quite the same finish and shape as the frame it's supposed to blend into. It's a tiny detail. but I've seen the same thing on a few BLU phones and I don't know why they can't get that right.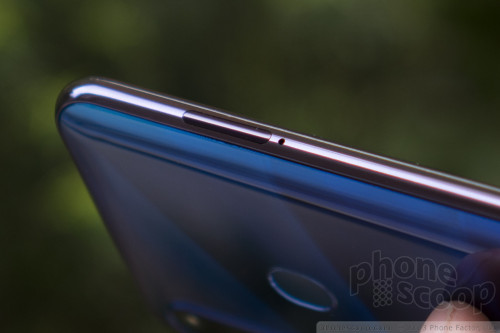 The selfie camera stands out for its 24-megapixel resolution. Why so high? The honest answer is probably just because Samsung put a 25-megapixel selfie camera in the A50. Still, that's a nice resolution, and the selfies it takes aren't bad.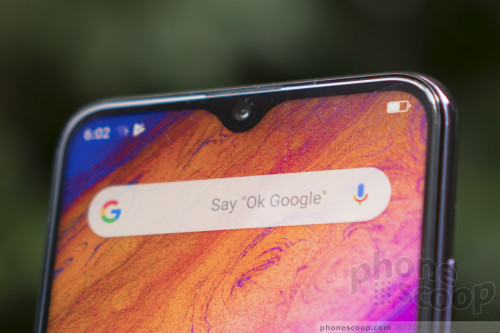 I am a fan of the small-notch screen design here, including the quite-rounded corners.
The triple-camera setup is unusual. The main camera is a 16-megapixel number from Sony, a trusted name in camera sensors. It's no surprise to see a depth camera as the second lens, for portrait effects. But the third? That's a 20-megapixel camera exclusively for night mode.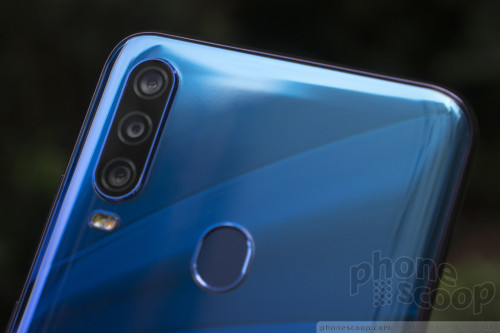 Night shots using night mode and the special camera are clearly tuned to look impressive at first glance, but a photographer would definitely be unimpressed. Weirdly, there was much more detail in the 16-megapixel shots I took of the same scenes, despite resolution difference between the two cameras. I could list the other photographic sins of this night mode, but if you care that much about those details, you should be looking at a more expensive phone anyway.
There's also a 96-megapixel mode. As with previous BLU phones I've tried, this feature was unimpressive. Taking a standard 16-megapixel image from G9 Pro and blowing it up in Photoshop produced a much more detailed image than the 96-megapixel image from the G9 Pro. That many pixels just waste your storage space if they don't actually contain any extra detail.
Back to night shots: I wish you could take control and do a long exposure in manual mode, but unfortunately there's no shutter speed control in the so-called Pro Mode. The camera app has a lot of odd design choices and limitations, actually. There's no auto-HDR option; HDR is its own camera mode, which doesn't work with the selfie camera. Portrait (bokeh) is a toggle at the top. That would make sense if it were also available in Beauty mode, but it's not. Most annoying is the set of indicators for the three cameras on the right side of the screen. It's looks like the zoom control in other camera apps that you choose which camera to use. But tapping it does nothing; it just shows you which physical cameras are in use at the moment. That's not important info, so it's in the way, annoyingly reminding you "Hey! I have three cameras!" Truly, it's a strange and frustratingly limited camera app. This software seems designed by marketers, not engineers, and certainly not photographers.
Fortunately, the rest of the software is a version of Android 9 that's relatively clean and straight-forward. It has the Google aesthetic just like a Pixel, with only the most minor tweaks. A few settings have been re-arranged, and some animations have a subtle elastic effect, but overall it looks nice and works as it should.
I like the controls for screen color temperature. Out of the box, it looked bluish to me. I was able to quickly and precisely adjust the display so that colors looked correct to me.
Performance seemed snappy. The processor is a Helio P60, which is a respectable chip. Crucially, it has 4 GB of RAM, which is about the minimum these days for impatient types like myself.
There are a few reservations I have about this phone, especially compared to the Samsung Galaxy A50. First, it lacks NFC, so forget Google Pay. If you don't use Google Pay, however... no problem.
Second, it doesn't support the newer frequency bands nor faster LTE modes used by US carriers. Yes, its LTE 2/4/5/12/13 is good enough for basic service on AT&T and T-Mobile, (and possibly Verizon, if they get approval for that.) But without LTE bands 14/29/30/66/71 and LTE Cat. 11, you won't get the full coverage, service quality, and speed that US carriers offer. This is a persistent issue with Blu phones, and it bugs me.
On the other hand, the Blu G9 Pro offers double the storage of the A50, plus 10W wireless charging and a glass back, for $100 less. If you're looking for a mid-range phone with wireless charging, the G9 Pro is a smashing value.
No messages