Hands On with the Asus ROG Phone II
Article Comments 2
Jul 22, 2019, 3:00 AM by Rich Brome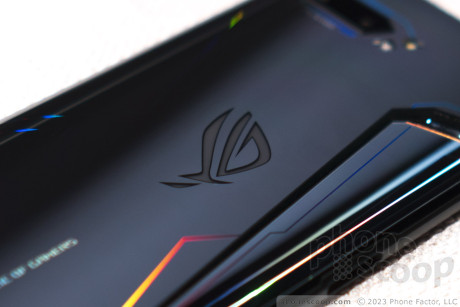 The Asus ROG Phone II is a beast of phone, and that's absolutely by design. Asus took its gaming-optimized ROG Phone and turbocharged everything, from the 6.6-inch 120 Hz AMOLED display to the huge 6,000 mAh battery. It has top specs and numerous optimizations to ensure peak gaming performance, as well as many thoughtful extras inside and out to optimize it for using in landscape orientation. If you want the very best gaming phone, Asus has a serious contender here. How does it stack up? We check it out in this hands-on.
Article
ROG stands for Republic of Gamers, and it's Asus' gaming sub-brand. They offer plenty of gaming gear on the PC side, and recently they're getting into mobile as well, which makes sense. They're very much going head-to-head against Razer.
The first ROG Phone was a solid first stab at a gaming phone from Asus. It had great specs, a smart side-mounted USB port for charging while gaming, and a really impressive arsenal of custom accessories available. The ROG Phone II may look similar in photos, and the basic concept and design haven't changed, but so many little things have changed that it really is a whole new phone.
First Impressions
Although the design is similar, the ROG Phone II is considerably larger than the first model. It's over a centimeter taller, a bit wider, and even a hair thicker. This is a big phone, and that's obvious when you hold it. Of course, there's no way around the size when engineering a phone with a 6.6-inch display and 6,000 mAh battery. Asus is betting that serious gamers are willing to compromise on size to get that bigger screen and battery, and that seems like a fair bet to me.
Narrowing the top and bottom bezels would help with size, or using a curved-edge display, but Asus says they asked existing ROG Phone users about this, and those gamers said they're prefer a flat, distortion-free display with some room for your hands to grip the phone in landscape without accidentally touching the display. That all makes sense. Nevertheless, the first thing I noticed when I picked it up was how huge it felt.
High-end phones are almost all built to a certain standard these days, and the ROG Phone II feels as you might expect: it feels solid and well-made. The side keys work well. The back is very dark (in most light) and glossy, and therefore a magnet for fingerprints. I wish they'd gone for a lighter brushed-metal look. (That was one option they considered in the design phase, and the mock-up they showed me looked great. I don't know why they went with the look they did.)
cooling system and main board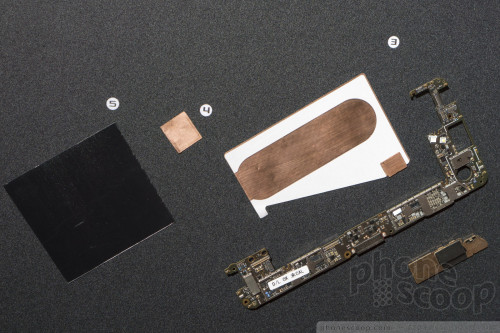 cooling system and main board
The elaborate cooling system (including a large 3D vapor chamber, heat sink, and an actual air vent) is designed to direct all of the heat to one metal panel on the back, which is that angular shape on the right. It's on the bottom in landscape orientation, and the location is supposed to keep heat away from your fingers. Maybe my grip is weird; the way I hold a phone in landscape, my fingers touch that area in a few places. I worry about the heat directed there being uncomfortable in a long session, although it was no problem in a short session.
back and cooling plate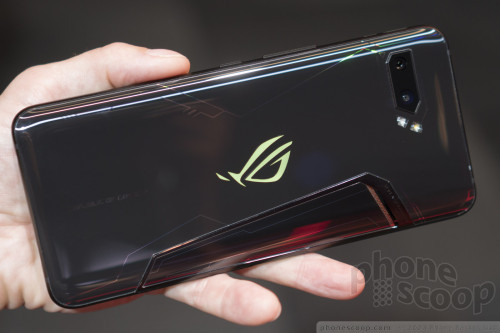 back and cooling plate
Hardware
The hardware is all top-notch, as one expects in a phone like this. It uses the just-announced, top-end Snapdragon 855+ chip from Qualcomm, paired with a whopping 12 GB of LPDDR4x RAM. UFS 3.0 ensures speedy access to the internal storage. On the Wi-Fi front, it even includes 802.11ad gigabit Wi-Fi for streaming wirelessly to a monitor, with low enough latency for real gaming. Regular Wi-Fi can't do that.
The display is truly cutting-edge. Not only is it larger at 6.6 inches, but they've managed to combine an AMOLED panel with 120 Hz refresh technology, a first. It also has a 1ms response time and 240 Hz touch sampling rate, all ideal for hair-trigger gaming. It also has 10-bit HDR and a color gamut that's 108% of DCI-P3, so colors are smooth and rich.
The 6,000 mAh battery is one of the largest I've ever seen in any phone. Since serious games can drain the battery faster than almost any other app, this is smart. Of course a battery this large would take a miserable amount of time to charge without fast charging, so it's nice that it supports multiple fast-charging standards: Quick Charge 4.0 and USB-PD 3.0 with a standard 3A cable, or up to 30W charging with a special 4A Asus cable and charger.
frame and antennas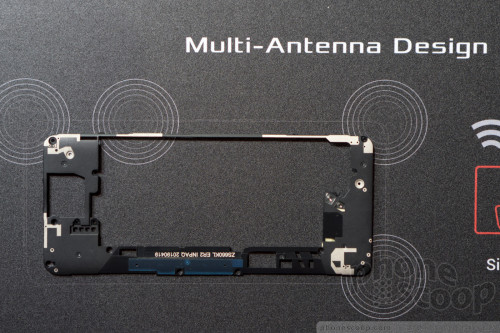 frame and antennas
Asus went to great lengths to optimize the ROG Phone II for landscape gaming. But of course it also needs to work well in portrait orientation, when you're not gaming, or when you're playing more casual games. There are certain locations where manufacturers must put things like microphones and antennas in order for them to work well in portrait orientation. But your hand will block each, for a total of four mics and four Wi-Fi antennas. And of course there's that extra USB-C connector for charging while gaming comfortably, with extra pins to support all of the advanced accessories.
The capacitive shoulder buttons have been significantly reworked. Asus calls the new system Air Trigger II. Users complained that they had a little lag, poor haptics, and poor ergonomics in the old model. All of that has been addressed. They now have response time of just 20ms, down from 63ms in the first ROG Phone. They also have improved haptics that simulate the feel of a real button, instead of just a short vibration. Finally, you now can rest your fingers on the shoulders for a better grip, lifting your finger to activate a button.
They've also added a clever sliding gesture to the shoulder buttons. Now you can slide your finger to adjust your view angle in the game, for example.
This phone is definitely optimized for gaming, with compromises made to the non-gaming experience in areas like size. But no one likes a phone that takes crappy photos, especially when you pay very good money for a high-end phone. That's why Asus has smartly put its top-end camera system in the ROG Phone II. It's the same pair of cameras that's in the company's new ZenFone 6 flagship phone. The main camera is 48-megapixel and uses advanced pixel binning for enhanced quality and low-light performance. The second camera is a 13-megapixel wide-angle unit.
There is a fingerprint reader embedded in the display. I wish this trend would die; I have yet to use an in-display fingerprint reader that works as well as a standard one.
The phone doesn't have wireless charging, but it would probably be painfully slow for such a large battery anyway. There's also no water-proofing, but that would be tough given the actual air vents on the back. The phone does have NFC, and everything else you expect in a flagship phone.
Software
Like most gaming phones, there's a special app that contains all of the special gaming settings, and acts as a launcher for all of your games.
The main "Console" screen shows memory usage, processor temperature, etc. It gives you access to system-wide gaming settings, like fine-tuning the Air Triggers. You can also configure the many options for the RGB light-up logo on the back. You can customize what it does when the phone is active, inactive, make it pulse to music, and have it do different things to indicate incoming calls, external power, etc.
The ROG Phone II also lets you command a number of game-specific settings, like screen refresh rate. One of the more interesting options here is a temperature control, which lets you set an upper limit on how hot the phone can get when playing specific games. Since so much of this phone is about maximizing performance, it's nice to see this very practical option.
Most of the gaming settings can be quickly summoned during a game with a swipe from the left. This brings up a little "Game Genie" panel that lets you block notifications and calls, lock screen brightness, start screen recording, and much more.
The interface for the rest of the phone is highly stylized. Asus offers three themes out of the box, including one that's not as dark. The big news is that Asus will also offer a "ZenUI Classic" option, which is very close to Google's stock Android design, for people who prefer that. You still get the gaming app with its settings, but the rest of the phone's interface will be unmolested. That wasn't on the devices available to us, but should be ready by the time the phone goes on sale in western markets in early September.
Accessories
Games can put a strain on the processor chip in any phone, and when the processor is maxed out, it can get hot. Sometimes, too hot, in which case it will throttle down to keep from overheating. Processor throttling means dropped frames and a worse game experience. That's why the cooling system in the ROG Phone is so elaborate: to keep the processor cool so it won't throttle itself. But even with all the cooling tech in the phone, sometimes it isn't enough.
That's where the external fan accessory comes in. There was one of these available for the original ROG Phone, but it was a little noisy, as fans can be. The new AeroActive Cooler II is four times quieter. It plugs into the special USB-C-based accessory connector and a sliding clamp locks it onto the phone. It actively pulls heat away from the special heat plate on the back of the phone. Since it covers the light-up logo on the phone, it has its own light-up logos on both the front and back.
Crucially, the fan accessory adds a 3.5mm headphone jack to the bottom when held in landscape, so you can use a wired headset without the plug jamming into your hand.
There's also the two little ROG Kunai game controllers, for those who prefer buttons and joysticks. If you know how the Nintendo switch controllers work, these are pretty similar. A case-like accessory lets you snap the controllers right to the sides of the phone. Another gamepad-grip accessory lets you turn the two controllers into one full-size wireless gamepad, with multiple proper shoulder buttons.
The gamepad is ideal for use with the Mobile Desktop Dock, which makes it easy to hook the phone up to a full-size monitor or TV, to use the phone like a full-on game console.
The TwinView Dock II adds a second full-size display, for games that support it.
A cleverly-designed case provides enough protection without trapping heat.
There are actually several different dock accessories, including the WiGig Display Dock Plus, which lets you stream your game wirelessly across a room to a full-size monitor or TV. I'm not sure how many people need this enough to justify the cost of this dock, but it's very cutting-edge, impressive technology.
The big question mark is price. Asus hasn't revealed it yet, and won't until closer to launch of the western version, which won't start rolling out until September 4th. I expect the price to be up there. Asus isn't pulling any punches with this phone, so expect your wallet to take a beating. Doubly so if you throw in a few accessories. This is a phone for people who don't want to compromise, and that comes at a price.
Curiouser
This certainly looks like a beast (12GB RAM? I don't own ANYTHING with 12GB, not even a computer), but I'm not quite sure if there's a North American market for something this...beastly. Is this aimed primarily at Asia, or what?

For the presumed price of this phone ($900+) you could get a decent low-midrange gaming PC, and if you buy a peripheral or three, you're getting into solid i7-8700K range. Or if mobility is really your thing, a Switch and about ten full-priced games could be had for a similar amount.

(Either way, and as an aside, I must say that I've been enjoying Phonescoop's coverage these last few months. The new "Hands-On" features are miles better than the old review format, with much more objectivity and even-handed repo...
(continues)
Thanks!

They are launching first in Chinese-speaking markets, but they will market and try to sell this worldwide, including the US.