Hands On with Anker's tiny new USB-C fast chargers
Article Comments
Jun 14, 2019, 11:00 AM by Rich Brome @rbrome
updated Jun 14, 2019, 11:01 AM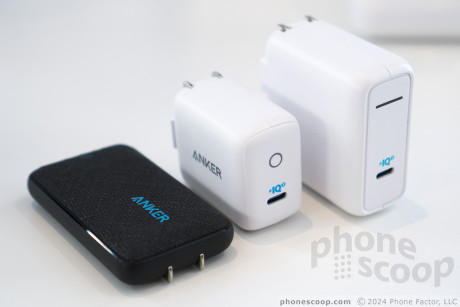 Anker continues to crank out a steady stream of universal chargers, batteries, and similar accessories that are at the leading edge of functionality and small form factors. Their latest PowerPort chargers offer high-power USB-C charging in tiny packages, now with flip plugs for even more portability. They're compatible with all Android fast charging techs, as well as iPhone, via Anker's Apple-certified USB-C-to-Lightning cable. We checked them out in person.
Advertisements article continues below...
Anker impressed us last fall with the PowerPort Atom PD 1, which offered 27-watt fast charging for phones and tablets in a charger barely larger than the standard iPhone charger. But it had fixed prongs that made it awkward to stash in smaller bags. Anker has fixed that in all of its new PowerPort III series of chargers with wall plug prongs that flip into the body, for a compact, streamlined shape that won't tear up the liner of your bag.
The most impressive of the bunch is the PowerPort Atom III slim. Whereas most chargers are at least an inch thick and quite square, this one is less than 2/3 of an inch thick in the center, and gently rounded to be even thinner at the edges. It's noticeably smaller than a business card. With the prongs folded up, it fits easily and comfortably into any pants pocket or small backpack compartment, etc. The thin design and bottom-mounted USB-C connector also means it can hug the wall and fit easily behind furniture, etc.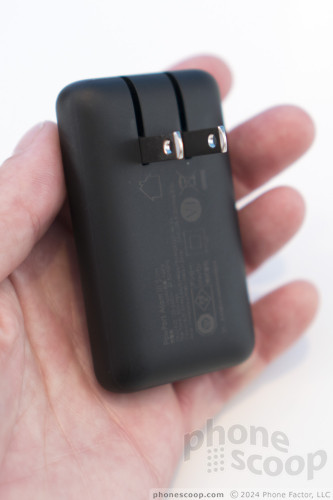 It offers 30W universal fast charging, which is enough to fast-charge a tablet, or even charge a laptop (albeit a little slower). It automatically supports whatever fast-charging mode your phone or device supports, such as 9V/3A, 20V/1.5A, etc. And of course it can take any wall voltage, so it's ready for your world travels. It seems to be well-made and the fabric top offers a bit of design flair.
It will go on sale in a few weeks for $35.
If you don't specifically need the slim design, the PowerPort III mini is $5 cheaper but offers everything the Atom III slim does, in a non-slim — but still very compact — design.
If you need something that can also charge your laptop quickly, the PowerPort Atom III 60W is what you're looking for.
It's 35% smaller than the standard MacBook Pro charger, and costs just $40. It will be available next month. It seems just as well-made as the rest of the series.
No messages