Samsung Galaxy A50 Lands at Verizon
Article Comments 1
Jun 11, 2019, 9:33 AM by Rich Brome @rbrome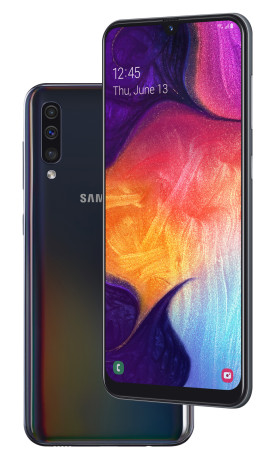 Samsung will bring more of its mid-range Galaxy A Series of phones to the US this summer, including the A50, A20, and A10e. Various A Series phones will be available from all major US carriers, starting with the A50 from Verizon this Thursday. The A50 has 25-megapixel cameras on both the front and back, plus wide and depth cameras on the back. Its 6.4-inch, full-HD+ Super AMOLED display has a small notch and in-display fingerprint reader. It also has a 4,000 mAh battery, fast charging, NFC, and 4 GB of RAM. Verizon will offer the Galaxy A50 for $350. Other major US carrier will offer A Series phones including the A20 and A10e. The A20 offers a 6.4-inch notched display, 4,000 mAh battery, fast charging, and 13-megapixel main camera for $250. The A10e offers 5.8-inch notched display, 3,000 mAh battery, and 8-megapixel main camera for $180. The first A Series phone for the US was the Galaxy A6, which was launched by AT&T, T-Mobile, and Sprint last fall .
Excellent!
It had been a long time coming.
Samsung has inundated the US market with the J series and the S series for years.
It was either empty your wallet for the S series si you can impress your friends, or just have the bottom tier J series that once the CPU gets a little bit challenged, the phone freezes causing you to have to restart the phone
I have the lower end unlocked A20 and it's the best backup phone I have.
Hopefully the M series will hit the US market too.