Hands On with the Moto z4
Article Comments
May 30, 2019, 8:00 AM by Rich Brome @rbrome
updated May 30, 2019, 11:24 PM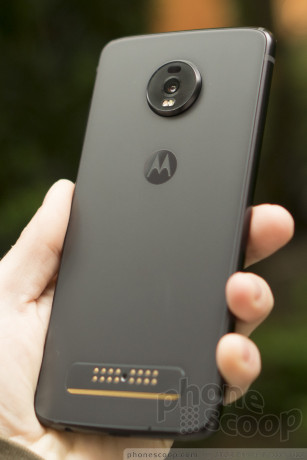 The only successful modular phone system to date, Motorola's z series is still going strong. The new Moto z4 brings updated specs and design while maintaining compatibility with existing Moto Mods. Highlights of the z4 include top-end cameras front and back, a screen that covers more of the front, a larger battery, and the return of the 3.5mm audio jack. The thin design has a metal frame and frosted glass back. What's it like in person? We checked it out.
Advertisements article continues below...
The z4 is mostly what you'd expect if you're familiar with Motorola and/or the z series. It's a well-designed phone that feels well-made. The parts are high-quality (it's a very nice display). The cameras, in particular, are the same parts you'll find in many of this year's flagship phones. And yet it's a good value at just $500.
It feels like a typical metal-frame phone, leaning a bit toward large, thin, and flat. Other phones curve the back more, to help it fit your hand better. But the Moto Mods system dictates a perfectly flat back, and the difference is quite noticeable if you pick it up with no case or Mod attached.
My favorite change might be the back material, which is now frosted glass, something previously found only on OnePlus phones. The etched finish feels luxuriously silky and doesn't show fingerprints as easily as other glass phones. I love it.
3.5mm jack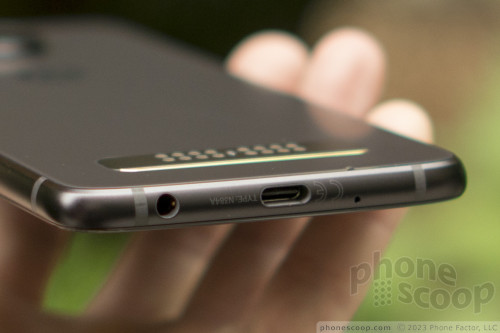 3.5mm jack
If you miss having a 3.5mm jack: rejoice! It's back! (This seems to be a trend this year, with Google doing the same on their Pixel 3a phones.) The side buttons are easy to find by feel and work well, although they're a bit too high on the side for my taste.
The main camera has the best specs you could hope for, including a 48-megapixel sensor that uses "pixel binning" to produce higher-quality 12 megapixel images. Oddly, unlike other phones with this sensor, there's no option for capturing images using the full 48 megapixels, not even in manual mode. Even using the option RAW output, it only saves a 12-megapixel DNG image. Weird.
The 25-megapixel front camera does have the option for 25 megapixel resolution, or 6 megapixel with pixel binning. Oddly, the 25-megapixel option is only available in auto mode, not manual, which is the opposite of what I'd expect.
But the camera app does include Google Lens, auto-HDR, Active Photos (like Apple's Live Photos), portrait mode, a new night mode, and panorama. It also includes the fun Spot Color and Cinemagraph modes that Motorola has made standard on its phones lately.
My favorite feature of Motorola's camera app is that the most recently-used mode is automatically promoted to the main mode dial. So if you use portrait mode a lot, it's always just one touch away.
The new night mode captures multiple frames and combines them for a brighter image with less noise. Combined with pixel binning, this should produce excellent night shots.
Motorola threw in a few extra camera tricks, such as a studio lighting effects in portrait mode, and a unique feature that automatically straightens your photos and aligns them by the "rule of thirds" (it saves the original version, too).
The software is clean Android, as one expects from Motorola. All of the usual Moto shortcuts and smarts are included. The screen stays on as long as you look at it. When laying flat, a hand wave over the phone wakes up the display. The optional gesture navigation is more intuitive than Google's. Simple, unique motion gestures start the camera or flashlight quickly at a moment's notice.
A preloaded "Moto Z Market" app helps you find new Mods to buy, and accessories for your phone and Mods. If you try to buy something, it sends you directly to the store on Motorola's web site.
The unlocked version of the z4 supports almost all LTE frequency bands of all four US carriers, offering excellent coverage and service. A fast charger is included in the box. The phone also has an in-display fingerprint reader and NFC. Its 4 GB of RAM is respectable.
The Moto z4 looks like a very nice mid-to-high-end phone, but there are many of those right now. What stands out is the Moto Mod system and the high-quality camera hardware.
No messages