Hands On with the Blu G9
Article Comments 2
May 22, 2019, 9:00 AM by Rich Brome @rbrome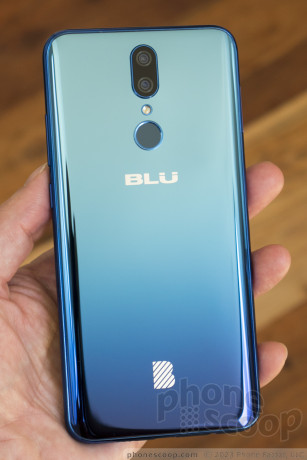 The Blu G9 is $180 Android phone that tries very hard to look like a flagship-level phone, and pulls off the look pretty well. Its HD screen has a small notch, it supports fast charging of the large 4,000 mAh battery, and it has 4GB of RAM, so there's substance behind the style. What's this eye-catching phone like in person? We checked it out.
Advertisements article continues below...
Article
At first glance, the Blu G9 really does look like a pricier phone with a metal frame and reflective glass back. Even when holding it, you can make yourself forget that it's actually all plastic. Your friends will definitely be fooled into thinking you have a fancier phone.
And the G9 does in fact have some specs you might not expect at this price range. For example, the Moto g7 costs more, even though it has a much smaller battery, with most other specs being about equal. (Both phones have 4 GB of RAM and 64 GB of storage.) There's no question the G9 is a good value.
Blu also throws in a clear case, EarPod knock-offs, a fancy silver cord, 2A charger, and 2 screen protectors (one pre-installed and one spare) for a little extra value. That's nice, but it's truly unnecessary how many bits of plastic come stuck to to the phone that need to be peeled off.
The G9 is a typical size by today's standards, which might seem large if it's been a while since you upgraded. It's a nice size and weight, and is rounded enough to sit comfortably in your hand. The side buttons are a bit flush and don't have a ton of movement, but they work well enough. It feels like a well-built phone; certainly above-average for a plastic phone.
The screen is HD, but not full-HD. If you care deeply about screen resolution, that could be an issue. But most people should be more than happy with this screen. At normal viewing distance, it looks plenty sharp to me. It's a good display.
The metallic rear has a gradient to it, a stylish touch that's still trendy.The blue color it lightest at the top, getting darker as you go down, with a touch of purple at the very bottom. It manages to be both eye-catching and classy.
The camera app has a standard appearance, but a few oddball details bother me. One is that HDR is its own special mode, instead of a global toggle like the flash. That's frustrating. A lot of people prefer HDR to simply be automatic these days. Also, the manual mode is very limited, not offering even a shutter speed adjustment, for example.
One of the more intriguing features on the G9's spec sheet is "52 megapixel" mode. Unfortunately, my testing confirmed that it's nothing more than a marketing gimmick in this case. Relatively new computational photography methods do exist to capture detailed high-res images using low-res sensors. But if any such technique is being used here, it's so poor as to be utterly useless. I captured multiple well-lit scenes using both standard (13 megapixel) and "52 megapixel" mode. I compared the resulting images pixel-by-pixel.
The "52 megapixel" mode captures exactly zero extra detail. When I took 13-megapixel images from the G9 and upscaled them in Photoshop, they actually looked slightly more detailed than the "52 megapixel" images directly from the G9. The phone seems to be merely upscaling 13-megapixel images in software, and doing it somewhat poorly at that. The only thing it accomplishes is making your photo files take up more storage. Shame on Blu for fudging this feature.
I do like what Blu has done with the Android software. It's version 9, which is nice and up-to-date. They haven't messed with things too much; you'll recognize a fairly standard appearance as designed by Google. They have reshuffled the Settings a bit, but mostly to add some helpful settings like multiple options for the navigation bar, lift-to-wake, flip-to-silence, etc. There's also a screen recorder and FM radio.
The one thing that really bums me out about the G9, (and most Blu phones,) is the limited network support. The G9 has LTE 2/4/5/12 for basic coverage with AT&T and T-Mobile. But you'd get better service in many cases with support for newer bands like 66, 71, 14, 29, and 30.
The rest of the phone is straightforward. It looks like it competes favorably with phones like the Moto g7 on most specs, and offers an appearance that might be considered more premium. Even with a couple of minor shortcomings, it's a good value at $180, and a downright steal at its introductory price of $130 (for a limited time on Amazon).
The "BLU's"
I had a BLU Pure XL in the past. Phenomenal screen. BLU is absolutely abysmal with OTA updates. Once the phone is out for the first 6 months, it is the usual security patches, etc., then everything just stops.
Nice Mobile phone with affordable price.
Great offer,
Mobile Repairing Course in Mumbai.