Hands On with the Coolpad Legacy
Article Comments 1
May 13, 2019, 10:30 AM by Rich Brome @rbrome
updated Jun 18, 2019, 1:57 PM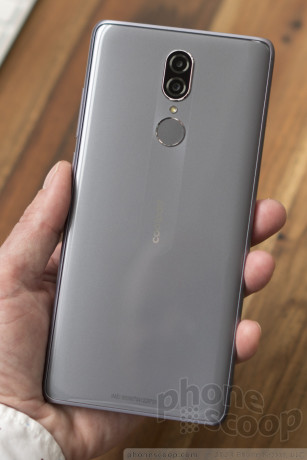 Very affordable phones with huge screens have been a relatively popular segment in the US in recent years. ZTE used to address this market well. Now, Coolpad is stepping up to offer their take. The Coolpad Legacy indeed has a massive, sharp display, plus a few nice extras like a huge battery, USB-C, and a fingerprint reader. It also has a design with a little personality, carved from metal and Gorilla Glass. That's pretty good for just $130. But what's it like in person? We checked it out.
Advertisements article continues below...
Article
There's no question that the Legacy offers a good value.
It offers all the screen you could want, (it's the same size as the Samsung Galaxy S10+,) and the screen is sharp enough at full-HD resolution. The viewing angles aren't stellar (it dims quite a bit when you tilt it) but it's still a great screen for the price.
The metal frame is a nice touch, and the way it flattens at the top and bottom gives the phone a unique outline and touch of style. The front is Gorilla Glass with slightly rounded edges. The rear is plastic made to look like the curved glass found on pricier phones. The effect works (although it may not look as slick after a year of scratches.) It looks classy and feels both solid and comfortable. You'll feel like you're holding a much more expensive phone, and your friends might be fooled, too.
The side buttons work well. The USB-C port is centered on the bottom and there's a 3.5mm jack up top. The fingerprint sensor is a smidge high; I had to stretch my finger to reach it, but that depends on your hand size.
The most striking thing about the Legacy when you pick it up is the size. Second would be the weight.
It's a very big phone. It does have a 2:1 ratio display, which normally allows for a big screen in a phone that's not too wide. But at 3.15 inches, the Legacy is wider than most, and too wide for my small hands to hold comfortably. If you have larger hands this will be less of an issue. It's also unusually tall, due to having a tall 2:1 display and both a chin and forehead.
It's also on the heavy side at nearly 7 ounces. That's not unexpected for a phone with such a large screen and huge 4,000 mAh battery packed into a metal frame. But so much weight distributed over such an unusually tall phone makes it all the more uncomfortable to hold one-handed. This is simply not a one-handed phone.
I like that the software is unadulterated "clean" Android, as clean as can be ( aside from the handful of apps Metro installs on all of its phones). And it's nice to see an up-to-date version of Android: 9 (Pie).
The phone supports FM radio and an app is included for that. As usual, FM radio requires 3.5mm earbuds, (to act as an antenna,) but none are included.
The camera app has modes for night, portrait, panorama, and slow-motion. It also has the trendy "AI" camera feature that tries to detect what's in the scene and optimize for that. It successfully recognized a page of text and cranked up the sharpness. The portrait mode performed... as well as you should expect in this price range.
If you're in the market for a huge screen at a low price, the value here is pretty tough to beat.
No messages