Hands On with the ZTE Axon 10 Pro
Article Comments 1
Aug 28, 2019, 8:00 AM by Rich Brome @rbrome
originally published May 9, 2019
updated Aug 28, 2019, 8:15 AM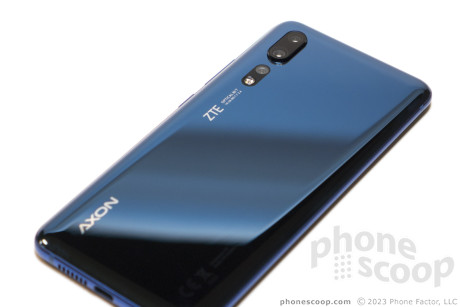 ZTE has been relatively quiet in the US recently for political reasons, but they're working on their comeback. They have a new flagship phone, and it will come to the US. It has just about everything you'd want in a flagship phone, and yet ZTE is promising a price closer to that of mid-range phones. We checked it out in person. NEW: Added video.
Advertisements article continues below...
The Axon 10 Pro is everything you'd expect from a high-end phone in 2019. It has a curvy, glass-and-metal design and a huge screen that takes up the whole face (92% of it, anyway). The selfie camera sits in a small teardrop notch centered at the top. The triple-camera system on the back offers both standard, wide, and telephoto lenses. And it has the in-display fingerprint reader tech that's become all the rage this year.
The curviness and all-screen look are even more striking in person. It feels a bit futuristic. Compared to the competition, it feels very thin and light. That's doubly impressive because it manages to pack in a larger-than-average 4,000 mAh battery. And yet it has a feeling of quality. (Not all lightweight phones do.)
The side buttons are excellent; they stick out enough to be easy to find by feel, and they have a great click action.
ZTE has been steering its western software closer to a standard version of Android as designed by Google. I wouldn't mind them going further, but they are getting closer. Navigating around, it is simpler and more standard compared to past ZTE software. I do appreciate customization options for things like the bottom navigation bar. You can choose traditional, or one of two gesture-based options. It also has a handy little toggle to hide the bar when want a little more screen space for the moment.
The camera app has all of the key features I'd expect, with a very iPhone-like interface. It's nice to Google Lens fully integrated and prominent in the standard camera app.
The telephoto lens offers a 3x closer view compared to the standard lens. But there's also a 5x zoom mode that combines info from all three cameras to produce a sharper image. Clever! Toggling between standard, wide, and telephoto is done via the small button next to the shutter button.
In terms of specs and features, the Axon 10 Pro offers the best in most areas. The processor is Qualcomm's top-end Snapdragon 855, with 8-12 GB RAM* to keep things speedy. The main camera captures up to 48 megapixel images (12 in pixel-binning mode). The wide and selfie cameras clock in at 20 megapixels. It has NFC, fast charging, and wireless charging.
The screen is full-HD, and looks plenty sharp to me. (Some top-end phones have quad-HD screens, which is only necessary for VR. And no one seems to care much about VR anymore.) The telephoto camera is only 8 megapixel. I'd prefer a tad better there, but it is 3x instead of just 2x like some other phones. The biggest bummer is that the water resistance rating is only IPx4*, which means it should be fine in the rain or a small splash, but all bets are off if it gets dunked. But these are the only weak areas of the device. It is a flagship phone.
There's a 5G version of this phone, but that definitely won't come to the US. The 4G version might will, though.* To be frank, that's why you're reading this article. ZTE is showing this phone to US press in order to gauge the interest of US consumers in this phone.
The price is the big selling point. It's just $549 for the 8 GB RAM version, or $599 for the 12 GB RAM version. A true flagship phone at that price is very compelling, indeed.*
Check out our hands-on video with the US version, with a few additional thoughts and observations:
* Updated Aug 28, 2019 to reflect newly-announced US version.
Axon Series
If this phone prove to be anything like the Axon 7, don't bother. Stuttering frame rates.