Verizon Launches its First Alcatel Phone
Article Comments 4
Apr 18, 2019, 7:30 AM by Rich Brome @rbrome
updated Apr 18, 2019, 8:09 AM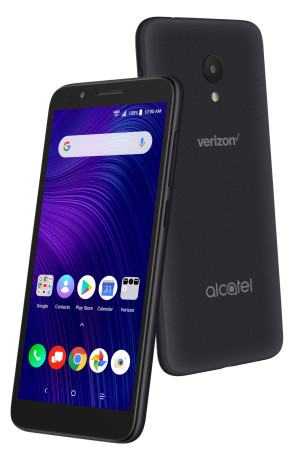 Verizon today started selling the Alcatel Avalon V, an entry-level Android phone that marks the first Alcatel phone to be offered by Verizon. The phone is similar to the Alcatel 1x Evolve already on sale with Metro by T-Mobile, but has a Snapdragon 425 processor instead of a MediaTek chip, and lower-resolution cameras (5 megapixel main and 2 megapixel selfie). The phone is notable for its tall (2:1 aspect ratio) display, which is still uncommon in truly entry-level phones such as this. The phone has a memory card slot, 2.5mm audio jack, and comes with Google Lens image recognition. It's available today for $100.
source: TCL Communication
First Alcatel Phone
Being the hoidy toidy of the 4 carriers, I am surprised VZW did not go for a more higher-end model.
It's very common for US carriers to "test out" a new manufacturer with low-end models before moving to higher-end models. Verizon, in particular, has a long history of this. They're doing the same thing with ZTE and Nokia.