Sprint Launches Rugged Flip Phone from Sonim
Article Comments 3
Mar 15, 2019, 11:13 AM by Rich Brome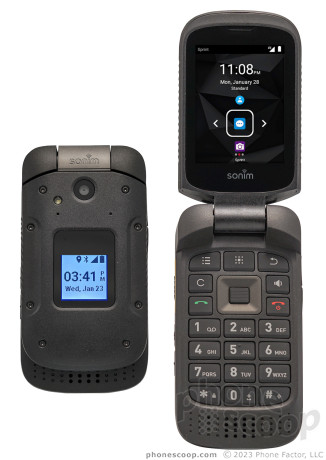 The Sonim XP3 is a new rugged clamshell-style phone for Sprint. The two companies announced the phone today, and it's available now. The phone is rugged to military specs, and waterproof with an IP68 rating. Its large buttons are designed to be glove-friendly. It supports Sprint's Direct Connect Plus PTT (walkie-talkie) service. Its 100 dB speaker with noise cancellation is designed to be extra-loud and clear. The software is based on open-source Android (Oreo) but cannot run Android apps. It has a removable 1,500 mAh battery, 2.6-inch LCD main display, small outer display, and a memory card slot. It comes with a three-year warranty. Sprint is offering it for $240, or $10/month.
GSM
Any word on a GSM version in the near future?
So tired of these big ass phones
The FCC has approved a version that seems designed for AT&T. No word on when/if that might launch, though.
Well.............
Though a bit antiquated, still works for those in construction that are too busy to play with apps and just need a phone for communication.