Review: Samsung Airave
Intro Set Up Results Conclusion Comments 56
Aug 28, 2008, 2:07 PM by Eric M. Zeman
Phone Scoop takes Sprint and Samsung's new femtocell, the Airave, for a spin. It helps boost in-home cell coverage via your broadband connection.
Advertisements article continues below...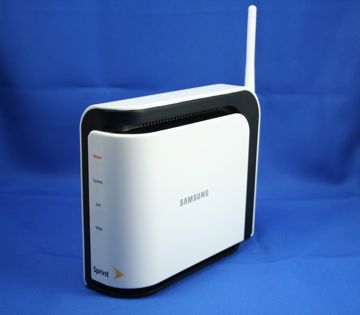 The Airave is a femtocell that is being offered by Sprint and its technology partner Samsung. The basic idea is to improve cellular coverage in your home or office. Is that what it does?
Before we dive into our experience with the Airave, let's talk a little about how this bit of magic works. A femtocell is essentially a tiny little cell tower that creates a wireless cell about the size of an average house. It is large enough to cover 5000 square feet. Though the hardware itself is the same size (and appearance) as any garden variety Wi-Fi router, it acts a little bit differently.
When you buy the Airave, it will be configured and set up at a Sprint store so that it will work when you get it home. You'll have to register the main cellular account you'd like it tied to, and you can permit up to three other Sprint wireless lines to access the Airave.
With the Airave up and running, it uses your broadband Internet connection (required) to communicate with Sprint's network. Unlike T-Mobile's HotSpot @Home service, which uses Wi-Fi and a different technology called UMA, the Airave emits standard cellular signals. When in range, your cell phone latches onto the Airave instead of the local cell towers (if there are any), and uses your broadband to pass calls and data to Sprint's network. Calls will be automatically transferred to Sprint's regular cellular network once the cell phone ranges away from the Airave's coverage area.
On the surface, it seems pretty straight forward and simple. But how was the actual experience?
For A Good And Honest Review Go To PHONEARENA.COM
Sprint clearly states this will not inprove data speeds at this time only voice calls. You can tell the reviewer is not a fan of Sprint they always bash Sprint. For a honest review go to PHONEARENA.COM each time a review is posted about Sprint. This is sad how they don't want to give credit this device works great if you don't get good in door coverage. I have one and it works with any phone unlike the hotspot by T-mobile
Pathetic! He gave a fair and honest review! Get a grip they said it improved reception in his house! You fan boys are pathetic, did you want him to jump and down about it spewing only glorious facts if it wasn't so? 🙄
How was this review review not honest? How did it "bash Sprint". 😕 It worked well, and that's just what Eric said.
Jeez sprint fanboys complain about everything. 🙄 The review was very straight forward and he reported what exactly happened without going super technical. This is exactly what would happen to a "NORMAL PERSON". He is giving fair expectations ...
(continues)
Sprint Airave
I have had problems with low Sprint signals since I signed up nearly 2 yrs ago. I have a Palm Treo 700wx and I have never been able to get my e-mail to work right when at home. I often loose service while inside my house or have only one bar. My wife and I regularly loose calls and messages due to poor service. Sprint says I have "excellent coverage" for my area. I would hate to see their poor coverage. When I contact Sprint about the poor signal quality, the first thing out of their mouth is I need to get my phone checked and I need to use my upgrade to purchase a newer phone (and get another 2 yr contract); NOT! I inquired about this device and was told it wasn't available to me in my area. Tech Support told me that my e-mail won't...
(continues)
I just wanted to point out that the Sprint Airave device is meant to improve signal quality but in no way impacts data. It is a device intended for voice services only. Do not get this device thinking it will improve your data coverage because it will...
(continues)
A couple of things to mention. The Airave will provide more reliable service in the event of a natural disaster such as an earthquake, fire, hurricane, etc. During such events it is very common for the regular network to become overloaded and shut d...
(continues)
If you where my customer, I probably would have talked you into a 700P instead of the WX in the first place, it has more reliable software. Second, before I sold you your contract I would have considered where you live and what you do for a living, t...
(continues)
Meh
Sounds good but tmobiles hotspot@home is a lot better deal. There is no extra hardware to buy and works anywhere there is an open wifi connect.
NOT the same at all! Research and read into it.
But the Sprint device works with all Sprint phones for voice and 1x data unlike the T-Mobile device which requires certain phones.
This is a cop out
Instead of sprint building out the network better they find a way to stick it to you for some more $$$$$. They should give these out for free to people who get little or no signal in their homes for no extra monthly fee, then it would be a good thing. If your paying 100 dollars a month for service you shouldnt have to pay more to get service
Many people in older brick houses or concrete apartments do not get good signal inside of their homes. It has nothing to do with the coverage in their area, the signal simply does not penetrate those thick, solid materials well. This is a great option...
(continues)
What are you talking about? Sprint has spent the past 3 years agressively building out their network by the use of synergy sites (adding CDMA to exisiting Nextel IDEN cell sites). They have tremendously improved their network from what they use to h...
(continues)
Sprint has to have the MOST Neediest Customer …
Wont everything and dont want to pay for anything.
Your customers don't want everything for nothing they just want something that works without hassle. That's a horrible attitude for any person to have that works with the public. When you have a problem with a product how would you feel if the compa...
(continues)
This type of attitude is the reason sprint is sinking fast and people are jumping ship. The majority of customers don't mind paying for service. They just want help if something goes wrong and for it to be fixed at little or no cost to them.
Like I have been saying all along...
SPRINT HAS NO SIGNAL!!!!!!!!!!!!!!!!!
Another useless post by someone who is just a hater. Sprint actually has a very solid nationwide network which has much improved since the Nextel merger. They have the best roaming agreements in the business for places where they don't cover nativel...
(continues)