Port-Free Phones Introduced in China
Article Comments 2
Jan 24, 2019, 12:02 PM by Rich Brome @rbrome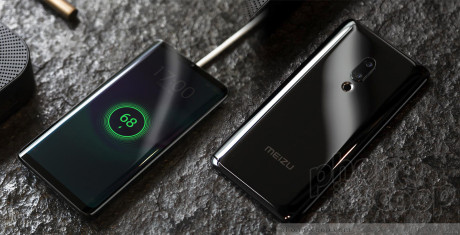 The trend of making phone designs simpler, smoother slabs took another step this week as two different phones were announced in China that have no external physical features other than the rear camera. They both eschew a USB port in favor of wireless charging and alternate data connections. E-SIM technology removes the need for a SIM card slot and the fingerprint reader is embedded in the main display. They use touch sensors and haptics in place of traditional side buttons, and output sound through the entire screen surface, removing the need for any speaker opening. Like many newer phones, they lack a 3.5mm headset jack. These particular models are primarily aimed at China, but the port-free trend seems likely to reach other markets this year.
Advertisements article continues below...
The first such phone is the Meizu Zero, which has a glass front and a ceramic back. Its 6-inch OLED display is curved at the sides. It has only a small hole for the microphone, and a pinhole reset button. Its 18W wireless charging is faster than most. It contains a new "wireless USB" technology that will be detailed at a later date but is claimed to offer full USB 3.0 speed. A thin bezel above the display contains the selfie camera.
It's rated IP68 against water, is powered by a Snapdragon 845 processor, and has 20-megapixel cameras on both the front and back.
Also this week, Vivo announced its Apex 2019 concept phone. It has a 100% all-glass design, with glass that becomes much thicker at the curved sides. It uses a magnet-and-pin design for wired USB connections, similar to Apple's old MagSafe power connectors. Like the Meizu Zero, it relies on wireless charging, virtual side buttons, in-display fingerprint reader, e-SIM, and display-as-speaker technology. There is no notch in the all-screen design, but also no selfie camera at all. Although only a concept phone at this stage, last year's Apex concept phone did effectively come to market later in the year as the NEX S.
Severely Limits Charging Options
It's a lot easier to pack a USB charger than a pad. Pads are more expensive if you want to be able to charge at home, at work, at a friends houst, etc. Can't really charge in a car.
Port-Free Phones
Nice idea if the market really takes to it and there are no bugs.