Snapdragon 845 for $400: Hands On with the Nubia Red Magic Mars
Article Comments
Jan 11, 2019, 3:12 PM by Rich Brome
updated Jan 14, 2019, 11:00 AM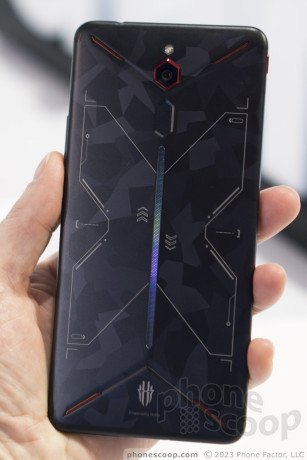 The Red Magic Mars is a gaming phone with a much more affordable price than other gaming phones, without skimping on the key specs. Nubia (a subsidiary of ZTE) revealed at CES that it plans to bring the Mars to the U.S. in the coming weeks. The base model has a top-end Snapdragon 845 processor paired with a generous 6 GB of RAM and 64 GB of internal storage for just $400. Step-up models offer 8 or 10 GB of RAM as well as more storage. The 6" display has a 2:1 shape and FHD+ resolution (2160x1080). Its gaming chops include a large 3,800 mAh battery, performance mode, advanced cooling, configurable capacitive shoulder buttons, a dedicated physical switch to enter gaming mode, and a highly customizable strip of animated RGB lights on the back. It also has a 16 megapixel camera and fingerprint reader. Read on for our first impressions.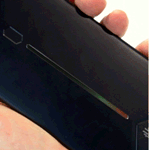 The RGB LED light strip on the back is the most eye-catching part, and if you dig deep into the settings, you can find the very extensive tools to customize the light patterns. You can set the patterns, colors, speed, and brightness. It's a lot of fun to the play with. The default brightness is on the dim side (probably to save battery if you're going to leave the lights running) but you can crank up the brightness in the settings.
The phone has two capacitive shoulder buttons that you can map to specific points on the screen, to simulate tapping specific on-screen controls in your favorite game.
game mode switch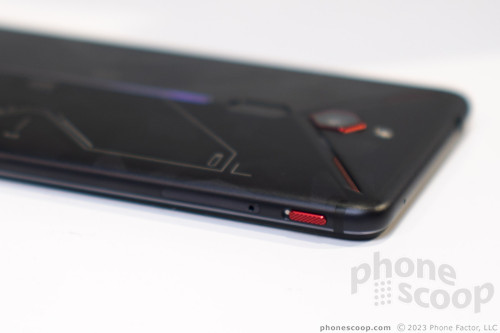 game mode switch
There's also a special physical switch in a far corner that switches between phone and gaming modes. It rotates the interface to landscape and brings up a special gaming home screen that lets you toggle gaming features and launch your favorite games. Besides performance mode, you can also turn off all notifications so you won't be rudely interrupted at a crucial moment in your game.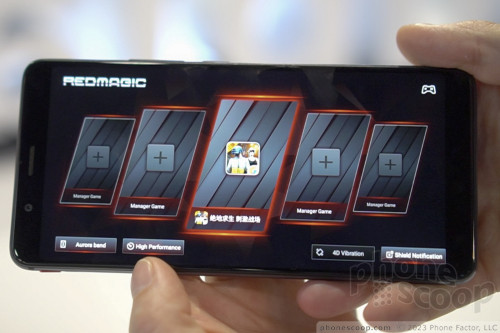 The phone itself feels nice. The metal frame feels solid. The metal back feels a bit thinner and hollow, like it might dent easily, but it's all put together tightly; it's a well-made phone. The styling is very aggressively masculine; you have to like that "gaming rig" look.
As one would hope, there are USB-C and 3.5mm audio ports.
The real story is the value. The Red Magic Mars is hundreds cheaper than other gaming phones like the Razer 2 ($700) and Asus ROG Phone ($900). But even compared to regular phones, you'd be hard-pressed to find better performance and battery specs in a $400 phone. OnePlus used to make phones with this kind of value, but as they've increased prices in recent years; they've left a gap in the $400 space for phones like this. It's compelling.
No messages