Hands On with ToughTested's Wireless Charging Pad for your Car
Article Comments 1
Jan 9, 2019, 6:59 PM by Rich Brome @rbrome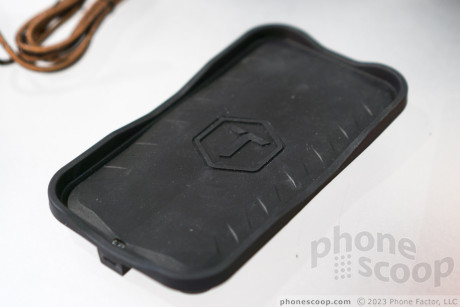 ToughTested has a new Qi wireless charging pad designed primarily for cars. Its grippy all-rubber construction ensures it stays put, and that your phone stays put while charging. It supports wireless fast charging up to 10W, including Apple's 7.5W fast charging mode for iPhones. It's large enough to accommodate the largest phones, but designed so that a phone placed anywhere in the tray will charge; no centering needed. It has foreign object detection and is Qi-certified to ensure it won't overheat the phone. It includes a Quick Charge power supply that plugs into a car's 12V power port. It will go on sale in March for about $50. Read on for photos and first impressions.
source: ToughTested
Advertisements article continues below...
The ToughTested Wireless Charging Pad is a dead-simple device on the outside, and that's a good thing. Its exterior is a single very solid block of very grippy rubber. I have no doubt this will stay in place on any surface, even angled ones. Dash, center console... wherever makes sense in your car.
A lot of wireless chargers for cars have complicated clamps for your phone, and special attachments for mounting them to air vents. (One announced this week even has a motorized clamp!) Those are great if you're a Lyft driver, but for the rest of us that just want to charge our phone while driving, and keep our eyes on the road, it's so much simpler to just drop your phone onto a charger. Some little disk won't cut it in a moving car, so a tray with a raised lip makes sense. That's exactly what this is.
It seems very well-made. The design is simple but very functional. Handling it, it feels positively indestructible.
The fact that it supports all major wireless fast charging standards is key. The whole point of a phone charger in your car is to top up your phone between destinations. If your drive from errands to dinner is only 15 minutes, a slow charger is all but useless.
If I had a car, I'd get one of these.
Nice upgrade
This will be useful. Some cars have places where the up-level trim would include a Qi charge pad but don't have the coils in the lower level trim (I'm looking at you Hyundai Sonata). A nice drop in without having to shell out the additional cash for the next higher trim level.