Planet Computers' Cosmo is a Gemini With an Outer Touch Screen
Article Comments
Jan 7, 2019, 4:25 PM by Rich Brome @rbrome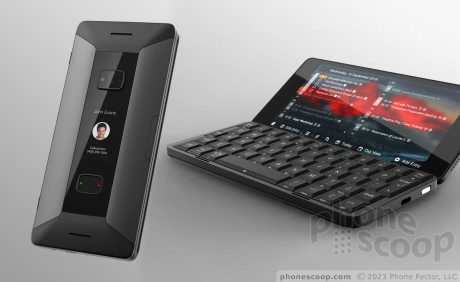 Planet Computers is at CES this week showing off an early prototype of its Cosmo Communicator, which is an upgraded version of its Gemini. The Cosmo and Gemini share the same basic design that looks like a micro-size laptop. Both have the same "full size" QWERTY keyboard with real laptop-style keys, although the Cosmo's keys are backlit. The Cosmo's upgrades consist mostly of additions to the outer shell, including a small touchscreen, 24-megapixel camera, and fingerprint reader. The processor, memory, and storage have also been upgraded, to a MediaTek P70 processor, 6 GB of RAM, and 128 GB of storage. The Cosmo supports Android 9 as well as other Linux-based OSes. The company is still working on the outer touch-screen interface, with the goal of making it act more like a (large) phone when closed. The Cosmo is currently available on Indiegogo, where it's already over 450% funded.
more info at Planet Computers »
AD article continues below...
No messages