Hands On with the Pivo face-tracking phone mount
Article Comments
Jan 7, 2019, 9:31 AM by Rich Brome @rbrome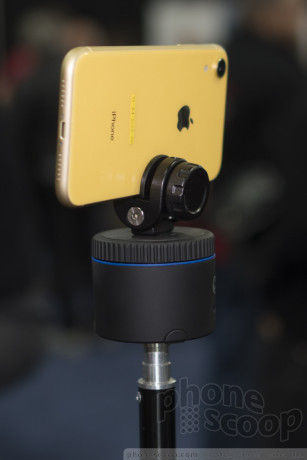 Pivo
Do you wish you could move around the room as you make a how-to YouTube video? Do you ever feel the urge to pace as you rant in stories on social media? The Pivo is for you. This innovative device and app uses face-tracking software and a motorized tripod head to keep your phone aimed at you as you move around while making a video. We took it for a quick spin.
Advertisements article continues below...
The Pivo is for people who make and share videos. It works with a dedicated camera app — for iOS, and soon Android — to enable a variety of useful and fun effects that all involve Pivo's motor turning the camera (your phone) side to side.
The headline impressive feature is face-tracking. This requires the Pivo app, which does the heavy lifting of identifying and tracking your face. It then communicates with the Pivo device over Bluetooth to tell it when to rotate, to keep you visible in your video. If you do any kind of how-to videos, this is a massive time-saver. Now you can do all kinds of videos where you move around in just one shot, without someone else to pan the camera for you.
camera app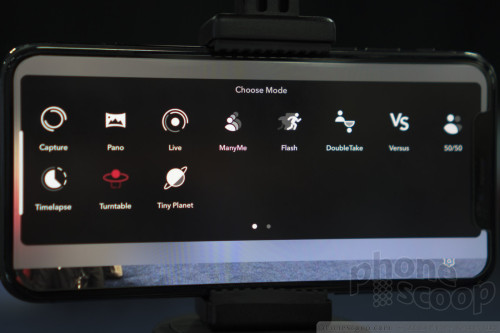 camera app
The camera app has an extensive list of other modes, including panorama (obviously) and rotating time-lapse. You can stream live to YouTube. There are also special modes where you can place it in-between two people, and it will spin back and forth between them. This is designed for something like an interview or a rap battle, etc.
You can also use it with your phone's built-in camera app — or even a device like a GoPro — by using the remote control. But that's all manual... you only get the smart features like face-tracking when using the Pivo camera app.
I tried the face-tracking and it worked pretty well considering it's still a couple months from shipping.
pano and tilt heads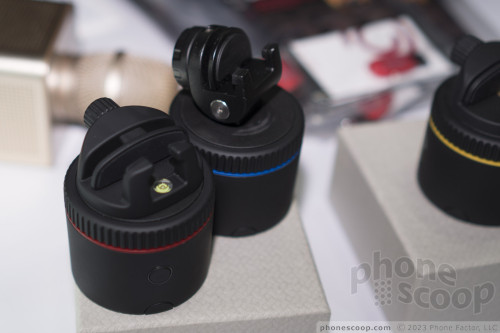 pano and tilt heads
The hardware is well-designed. It has standard camera tripod screws on the top and bottom, so it will work with your preferred tripod and accessories. It comes with a phone clamp ideal for steady panoramas, which thoughtfully includes a bubble level. Another clamp lets you tilt the phone up or down. If you're not using a tripod, it has its own little feet that slide out to provide a bit of extra stability.
The hardware seems sturdy and well-designed. It has a standard micro-USB port in back for charging.
It's a Kickstarter project, where it's currently going for $79, shipping in March. Although it's a Kickstarter, manufacturing has already started, so this is real. They hope to bring it to other retailers soon after, for about $139.
Check out this video to see it in action:
No messages