Review: Jitterbug Smart2 for GreatCall
Article Comments 1
Dec 20, 2018, 7:00 AM by Eric M. Zeman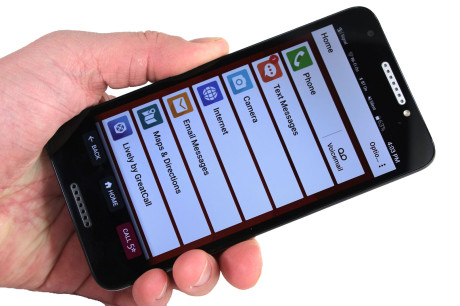 The Jitterbug Smart2 for GreatCall may be an Android smartphone, but the interface has been simplified so your older relatives can handle it. It also gives the elderly access to select healthcare services directly from their phone. Can the Jitterbug Smart2 fill this vital role for your loved ones? Find out in Phone Scoop's in-depth report.
Advertisements article continues below...
Hardware
Is It Your Type?
The Jitterbug Smart 2 is very specifically marketed towards older users. Apart from a simplified user interface, the appeal of this phone comes from access to GreatCall's health and emergency tools. If you need to get an aging parent or grandparent a phone, the Smart2 is a potential contender.
Body
The Jitterbug Smart2, made by TCL — the same company that makes Alcatel and BlackBerry phones — is a simple and straightforward device. It's a variant of the Alcatel A30 Plus. The phone has plain black and gray coloring and is made almost entirely of plastic. It's definitely boring, though jazzy styling isn't the point of a phone like this. The design is conservative, and that's fine.
The front is black glass, of course. A thin plastic rim runs along the edge of the glass. It's so thin I'm not sure it has any effect as far as protecting the screen is concerned. It's also fairly sharp-feeling against your skin. The glass is set into a gray plastic frame that could be mistaken for metal. It has a metal-esque sheen to it. The rear is formed by a large plastic shell. The panel has a gentle curve as it approaches the sides. It has a matte finish and the plastic has the slightest texture to it.
The Smart2 is a sizable phone. That means a big, easy-to-see screen, but I still have to wonder if the overall size could be off-putting to some potential owners. It's not much smaller than an iPhone XS Max, with a height of 6 inches and a width of 3 inches. It's not a chunky phone, but svelte it ain't. I didn't have any issues holding or using it comfortably, but those with petite hands might find it too much. One benefit of all the plastic: the phone is relatively light. I appreciate the fact that the Smart2 doesn't weigh a ton. It fits into most pockets just fine.
Build quality is relatively cheap, as expected for a phone in this price range. The glass face feels fine, as does the frame. I wish the rear panel didn't come across as quite so flimsy. It's not actually flimsy, it just feels it. The major body parts are all fitted together tightly. The phone isn't rugged, but the plastic build goes a long way in helping protect the device. It is not water-resistant.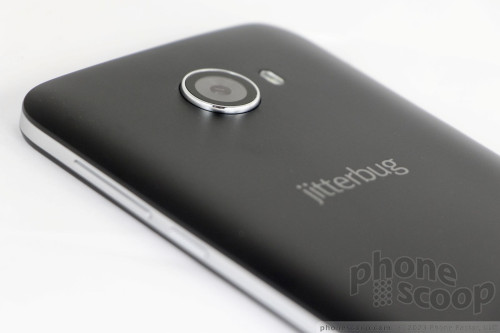 The face is all black save for the metal-colored earpiece. The bezels surrounding the display are rather thick and the glass isn't protected by a fingerprint-resistant coating. It looks gross after using it for a while.
Controls along the side edges are typical. The screen lock button is on the right edge. I like the ridged texture, which makes it distinct from the smooth volume toggle. The lock button has good travel and feedback. I'm not the biggest fan of the volume toggle, which comes off a bit stiff.
A headphone jack is on top and the microUSB port is on the bottom. I understand that adding USB-C can add a tiny bit of cost, but in this case USB-C would be a much more logical choice for seniors, thanks to its reversible design that's easier to use. That's a missed opportunity.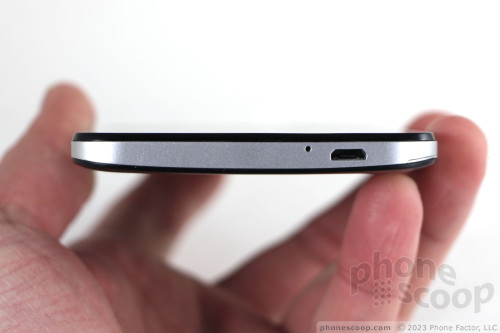 The most standout feature on the phone's rear panel is the camera module. There's a two-tone flash just off to one side. The rest of the rear panel is plain black plastic.
Believe it or not, you can remove the rear cover. Once the cover is off, you have access to the SIM and memory card slots. The battery is embedded, however, so no swapping batteries for you. Putting the rear cover back on the phone requires some firm pressing along the outer edges.
The Jitterbug Smart2 doesn't pretend to be anything more than it is: a low-cost phone for those who prefer function over form.
Screen
The display measures 5.5 inches across the diagonal and has 720p HD resolution in the traditional old 16:9 aspect ratio. This means it looks like many phone screens did back in 2016. The 720p resolution is good enough for what the Smart2 offers. All the text on the screen is easily legible and the icons are sharp.
Brightness is the Smart2's real hero feature. The display is crazy bright, even when you set the brightness down. Surely this helps owners read what's on the screen with less difficulty. Not even direct sunlight can diminish the beacon of light this screen produces. Bright sun does illuminate the ample fingerprint grime the uncoated glass collects. Viewing angles are quite good.
There are no advanced settings for the screen.
Signal
GreatCall is an MVNO that runs on Verizon's network in the U.S. To that end, the phone does really well.
Perhaps most importantly, the phone connected all calls on the first dial. Moreover, it kept those calls connected across miles of highway driving. For a device that's chief marketing point is safety, this type of reliability is key.
LTE data speeds are unsurprisingly pokey. This phone isn't meant for crazy amounts of media streaming. It can handle email syncing and web browsing just fine. Google Maps data takes longer to load than I like.
Sound
Call quality is a bit uneven. The earpiece does a fine job in the clarity department. Voices come through the speaker with pleasing tones and no distortion. The volume, however, is insufficient for anyone a little hard-of-hearing. Even set to the maximum, the Smart2 isn't loud enough for noisy spaces. People I spoke to through the Smart2 said I sounded very clear.
The speakerphone has the opposite performance. It's plenty loud, but the distortion is particularly annoying. I was able to hear calls in a moving car just fine, but understanding them was another story. The distortion overcomes about 25% of what you hear, leading to lots of dropped words. This should be better.
Calls and ringers are very loud, and the vibrate alert is strong enough.
Battery
GreatCall was smart to pick a 3,000mAh battery for the Smart2. I could not kill it entirely. It lasts and lasts and lasts and lasts, which is exactly what it should do. The battery had plenty of juice left after three days using the Jitterbug interface. The Smart2's battery gets the job done. There's a reason for this.
The Smart2 has an aggressive "standby intelligent battery saver" on board. It stamps out background processes and basically puts the phone into a sleep mode when not being used. It's effective at preserving battery life, but you lose some notifications. Moreover, apps won't be refreshed when you open them You can turn this off if you wish and use the more common Android battery saver tool if you prefer. Even with the intelligent battery saver off, the phone pushes through days of battery life.
There's no rapid charging and no wireless charging.
Bluetooth, GPS, NFC, WiFi
The Smart2 supports Bluetooth 4.2. The software on the phone includes two avenues for connecting to other devices: the "normal" way for an Android device, and a simplified way via the GreatCall interface. I used the latter and didn't run into any issues connecting to standard accessories. Call quality was a bit rough through Bluetooth headphones, and my car via Bluetooth. Music sounded okay with Bluetooth headphones.
The GPS radio is fast and accurate, but Google Maps has a hard time keeping up when you're on the move.
NFC is not available on this phone.
I appreciated having WiFi, as it was much faster than LTE.
I'm surprised there's no FM radio.
Software
Lock Screen
Despite GreatCall's custom user interface, the lock screen behaves more or less like every other Android phone out there. A single press of the screen lock button wakes the display and shows the time, date, your number, and notifications. A shortcut to GreatCall's 5 Star service is there, as well.
The Smart2 includes a basic "ambient" display feature. The screen will wake briefly when new notifications arrive, though it doesn't offer an always-visible floating clock or anything like that.
Security features are off by default, and you have to dig to find them. Don't expect to find any biometrics (fingerprint reader, etc.); the Smart2 includes the basic PIN, pattern, password options only.
Home Screens
GreatCall created a drastically simplified user interface for the Smart2. It is built on Android 7 Nougat. It relies heavily on simple list menus with huge text.
There is but a single "home" screen. It lists the core apps in a vertical column, with oversized buttons for each. The idea is to give owners quick access to the most-used tools, such as the phone, text messages, camera, internet, email, maps, etc. Three buttons always appear at the bottom: back, home, and "call 5 Star".
You can customize this screen. Hit the "options" button to call up a secondary menu. Using this tool, you can add/delete apps from the home screen list, as well as reorder the apps however you wish. That's pretty much it. (There are no widgets, nor wallpaper, etc.)
At the very bottom of the main screen are two anchored items: phone settings and view all apps. Tapping the first brings you to a basic menu for customizing the phone. Like the home screen, it is a text list with huge buttons. Options are internet/devices, volume/ringtone, screen brightness, and such. The "customize phone" tool lets you set a lock screen photo and change the color scheme of the interface. If you want to dig into the dirty details, you'll select the last button "Android settings."
The "Android settings" menu is, as you'd expect, the more standard Settings menus you'd find on any other Android phone. Here, you can control behaviors such as security, accounts, battery, notifications, and so on. GreatCall likely doesn't expect owners of the Smart2 to dig into these settings too far.
The Smart2 also gives you the ability to "view all apps." This opens an alphabetical list of all the apps installed on the phone. The apps appear in a huge text list just as those on the main screen. Onboard apps include calculator, calendar, Google Drive, Facebook, music, photos, weather, and YouTube. All these apps are the standard Android apps, (not simplified versions.)
On the performance front, the Smart2 struggles. It has an entry-level processor from MediaTek and just 2 GB of memory. The phone is slow to open apps, slow to react to touch input, and just not fast enough. Apps such as Maps and the camera really struggle. Just because you might have patience, doesn't mean you should settle for a phone that will test it every day. It's slow enough to be a deal-breaker for me; it may suffice for others.
If you feel so inclined, you can switch the Jitterbug experience off. You have to dive deep to get there: Android Settings > Apps > Options > Home App. You can change the launcher from Jitterbug Experience to the Joy Experience instead, which is basic, untouched Android. It's clear that GreatCall doesn't expect (or want?) Smart2 owners to turn off its custom interface.
Camera
The camera app is fairly simple. You can open it with a double-press of the screen lock button or via the home screen icon. It takes nearly 3 seconds to open. (Yeesh!)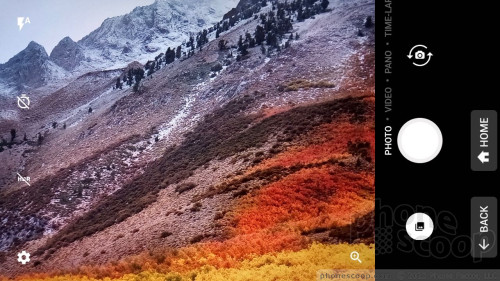 The layout is typical. Several basic controls (flash, timer, HDR, settings) line the left side of the viewfinder, and shutter buttons line the right. The flash can be set to on, off, or auto, but the HDR toggle lacks an "auto" setting.
Believe it or not there are five shooting modes: photo, video, panorama, timelapse, and instant collage. You switch to each by swiping the screen up or down. I wish it were faster at transitioning between modes.
You cannot adjust much when using these modes. For example, the time lapse lets you adjust capture time (0.5 seconds, 1 second, or 2 seconds), and the instant college allows you to choose from five different collage layouts. That's about it.
If there's one task the camera app does with any amount of haste it is to actually snap pictures (unless you're using HDR). The Smart2 captures the photo almost as quickly as you can press the shutter button. That's good, at least.
Photos/Video
The main camera has a 13-megapixel sensor and an LED flash to assist. I wasn't expecting to be impressed by the camera, but the results were worse than I could have imagined. There was no consistency. Many photos have an annoying haze to them, particularly subjects with backlighting (see my Christmas tree). Focus will be fine in part of a photo, but completely blurry in other parts of the photo. Color looks completely washed out. Grain is everywhere.
You absolutely have to turn on HDR to get usable results, but this really slows down the capture process. If you look at the HDR shot I took of the small pumpkin below, you can actually see that there are three images overlaid — and misaligned — so ghost images appear.
This is not a good camera.
The selfie camera does okay outdoors with plenty of light. The shot of me below was one of the clearest I captured with the phone. Using it indoors or in dark environments leaves you with a grain-sodden mess.
Smart2 Selfie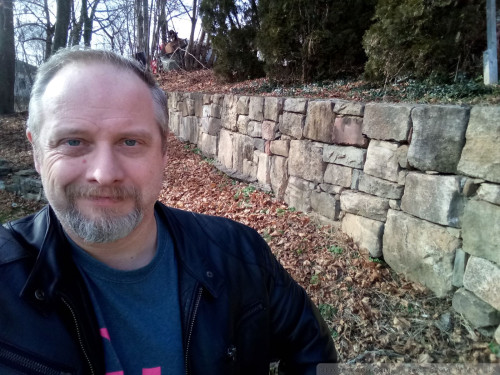 Smart2 Selfie
You can shoot video up to full HD (1080p) resolution and the results are appreciably better than those produced by the camera. Video looked cleaner, was sharper, and had more consistent exposure. I'm not saying it's great, because it isn't, but it is more usable than the photos.
I wouldn't recommend anyone use this as their only camera.
GreatCall Stuff
Other than calling 911 during emergencies, the 5Star service is what users might dial instead when they simply aren't feeling 100%.
A long press of the 5Star button connects Smart2 owners with a live GreatCall agent. The agent is trained to assess the situation and determine what, if any, steps are needed next. That may be to see a doctor. Importantly, the agent will gather your location details and connect you directly to local emergency services if warranted.
There are three tiers to the 5Star service, costing $20 (Basic), $25 (Preferred), and $35 (Ultimate). Calling and messaging plans are billed separately. Basic 5Star service includes access to the 5Star assistant, automated daily check-in calls, daily health tip texts, brain games, and weekly motivational calls.
Customers who want more can jump to the Preferred plan, which adds Urgent Care and GreatCall Link. Urgent Care provides instant phone access to a doctor or nurse and Link lets healthcare providers and family members have a more detailed view of their relatives' health via an app on their phone.
The Ultimate plan adds in a personal operator who can act as an always-there helper, and product replacement for lost/damaged devices.
This is what GreatCall is truly selling via the Smart2.
Wrap-Up
The Jitterbug Smart2 is everything you've come to expect from a $150 phone — if it were 2014. The Smart2 covers the modern smartphone basics, but I can point to a half dozen competing devices that outperform this phone by a mile. It falls short of what I hoped to see, particularly considering the market.
The hardware is decent enough in many areas. Battery life borders on epic. The screen is very bright and the big fonts are easy to read. But call quality was uneven, and speeds (data and just in general) were fairly slow.
The simplified user interface works. It leans heavily on text lists and menus rather than the icon-based experience you'll find on other phones. Keeping the top-level menu items to a minimum will be helpful to those who don't want to be bothered with intricate settings and controls. I worry the phone's inconsistent touch response will aggravate owners. The camera app is decent enough, but the photos it produces are not.
The Smart2 is mostly for those who are tech-averse and need basic voice, messaging, and emergency/health services available in an easy-to-use package. In that aim, the Smart2 meets the minimum eligibility requirements, but just barely as far as I am concerned.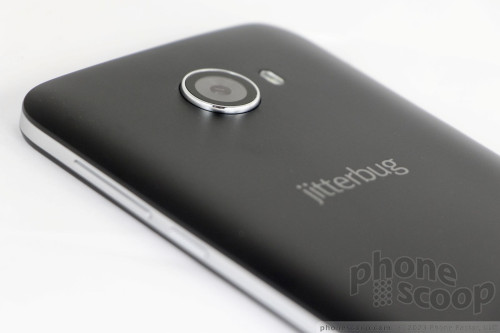 jitterbug smart2 for great call
Hi
Problem, I went to open an attachment, a photo and the whole text thread deleted.

HOW can I get that thread restored..there has to be a way with the android system, Alcatel, Jitter bug, Smart 2.

Great call doesnt have a clue and said once the texts are deleted there is no way to retrieve them. TO which I dont think they know what they are doing..
thank you for you time and help