Review: BlackBerry Key2 LE
Hardware Software Wrap-Up Comments
Lock Screen
BlackBerry's ambient display is tame compared to other devices. The screen briefly flickers on when new emails, messages, or BBMs arrive. You can double tap the display to turn it on if you missed the alert. You can opt for the simple LED light if you prefer.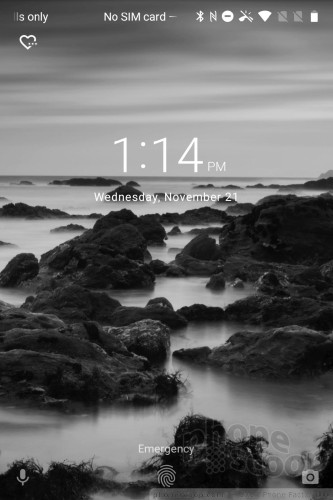 Pressing the lock button wakes the display and reveals notifications, as well as the clock and your wallpaper. The clock is fairly big, but can be hard to see outside. I appreciate that you can open the Quick Settings shade without unlocking the phone. The camera and Google Assistant are available thanks to shortcuts in the bottom corners.
The fingerprint reader is located in the space bar of the keyboard. It's painless to set up. I found it to be quick and reliable. You can lock files and folders with a fingerprint if you wish.
Android Smart Lock face ID is buried in the security menu. It's easily fooled and I don't recommend it. BlackBerry's picture password is available, too, but this feature is grating. It's easy to set up, but takes far longer to use than the fingerprint reader.
Home Screens
The Key 2 LE ships with BlackBerry's "hardened" version of Android 8.1 Oreo. It mostly looks like standard Google fare, but BlackBerry customizations are visible here and there.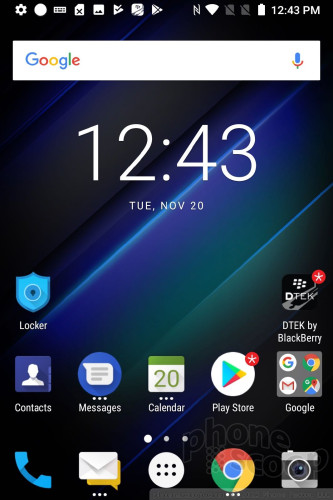 The home screen panels, app drawer, Quick Settings panel, and full system settings menus are completely standard Android and will be instantly familiar to any Android user.
The Productivity Tab from BlackBerry is similar to the Edge Screen feature on some Samsungs. The Tab is lined up along the left or right edge of the screen, and is accessible within most apps. Tapping the Tab opens a productivity dashboard that includes a quick look at your calendar, messages, tasks, and contacts. You can turn it off if you don't like it.
Productivity Tab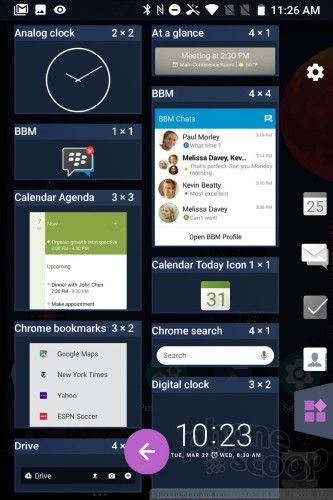 Productivity Tab
You can program the "convenience key" on the right edge to perform custom actions, such as open a specific app, speed dial a contact, or send a message. It's easy to use.
The Key2 LE includes BlackBerry's age-old keyboard shortcuts, but power users will want to tackle the Speed Key, which lets you create and assign actions that are available from any app. Basically, you tap the Speed Key followed by any other key to perform a custom action, such as Speed > E to compose a new email. It's pretty powerful.
BlackBerry has its own "recent apps" design. Tap the multitasking key and the Key2 LE will shrink all the open apps so you can see all of them at once. It takes getting used to and can be a bit of a jumble if you have too many open apps.
The Key2 LE downgrades the processor to the Snapdragon 636 with 4 GB of RAM under the hood. I expected to run into performance issues, but I didn't. The phone always felt speedy.
BlackBerry Apps
The Key2 LE wouldn't be a BlackBerry without BlackBerry's security and productivity tools. This chiefly includes DTEK, BlackBerry Privacy Shade, BlackBerry Hub, and BlackBerry BBM
DTEK oversees the phone's security settings and alerts you to any potential weaknesses. As long as you use a PIN, password, or fingerprint to secure the phone, it tells you you're in good shape.
A special app called BlackBerry Locker is on board and you can use it to secure your files.
BlackBerry Privacy Shade is a screen feature that makes it harder for people to read the screen from an angle. Basically, Privacy Shade darkens the entire screen except for a small window that you control. You can drag the window around the screen to see what's behind the shade. I like that you can control the transparency of the shade, as well as the size of the window opening.
BlackBerry Hub acts as a unified inbox for all communications, including call log, text, BBM, email, as well as Facebook, Instagram, Twitter, and others. Hub makes it easy to control notifications for individual accounts, as well as quickly jump between unread, flagged, muted, and high-importance conversations. Hub supports custom alerts, lets you prioritize emails, and tweak email appearances. It's a powerful tool that takes time to fine tune.
BBM offers a feature-rich messaging experience with tools such as read receipts, stickers, emoji, and voice/video calls. It's a great messaging service, though consumer-grade apps such as WhatsApp, iMessage, and Facebook Messenger have essentially supplanted it at this point.
Camera
The camera takes just a hair too long to open for my tastes.
To the left of the viewfinder you'll find controls for the flash and HDR — both of which have "auto" settings — as well as timer and aspect ratio. You need to opt for the 4:3 aspect ratio to get the full pixel count of the phone. (The 1:1, 3:2 and 16:9 settings crop the image.) From the main screen you can also switch shooting modes (camera, panorama, portrait, scanner, slow-motion, and video) and apply filters.
The scanner app lets you create usable documents from image scans. It can be set to recognize one language at a time. It does a great job with business cards, but is hit or miss with a full sheet of paper.
The bokeh/portrait mode, now a staple on most devices, creates photos with a blurred background. The software does a good job explaining how the feature works. It's a little slow.
Shooting Modes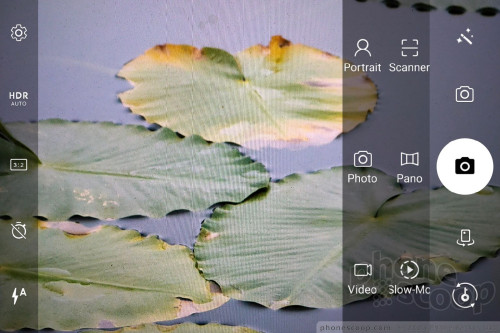 Shooting Modes
The Key2 LE's (Snapdragon 636) processor strains a bit with the camera app. It's not horribly slow, but it could certainly be faster.
Photos/Video
The phone has two sensors on the back, which is what helps it take those portraits. The main 13-megapixel sensor has a disappointing aperture of f/2.2.
BlackBerry can't seem to nail the camera system. The Key2 LE produces average photos at best. Pictures were generally in focus with proper exposure and tone, but they still looked flat. I saw plenty of noise/grain in low-light shots and the camera's HDR tool never found a happy medium. When you're outside under bright skies, photos clean up nicely. If you're shooting indoors, be prepared for dark, noisy results.
The selfie camera takes 8-megapixel images and does an okay job. Like the main camera, the selfie cam suffers in low-light conditions. You can use the LCD-based flash to make up for it a bit. The self-beautification tools can produce scary results if you go overboard.
The Key2 LE shoots video at a max resolution of 4K at 30fps. I was generally pleased with the results, which showed good focus, color, and better exposure than the camera. The Key2 LE produces usable video for sharing via YouTube.
If you're buying a phone at this price point, you shouldn't expect the best pictures in the world, and the Key2 LE won't give them to you. I'd use dedicated equipment for anything other than casual shapshots.