Review: OnePlus 6T
Hardware Software Wrap-Up Comments
Lock Screen
OnePlus has a respectable Ambient Display. It briefly wakes the screen with simple badge-style notifications when messages or emails arrive. The notifications are small white icons on a black background and can be hard to see outdoors. The screen is on for a couple of seconds before it blinks off again. You can choose to leave the Ambient Display on at all times, or set it so that a quick double tap turns it on.
Lock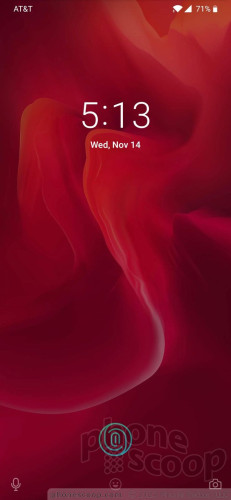 Lock
OnePlus' lock screen includes the time, date, and list of notifications. It's basically the standard Android lock screen experience. The lock screen also includes shortcuts to voice search and the camera. You can't change these shortcuts.
Advertisements article continues below...
The biggest hardware update to the 6T is the fingerprint reader. OnePlus adopted new technology that puts the fingerprint reader under the display glass. The idea is to free the design from dedicated physical space for a fingerprint reader. I'm not sold on OnePlus' implementation.
Setting up the on-display reader is just like any other. The software walks you through the steps of recording your print(s). Once enabled, a new graphic appears on the lock screen close to the bottom of the display so you know where to press your thumb. It works, but it's slow. You need to consciously press and hold your finger for at least 1 second for it to recognize the print and unlock the phone. It's not as quick as the dedicated fingerprint reader on the OnePlus 6, which was near instantaneous. You can use your print to lock apps and files, and to approve purchases.
The OnePlus 6T carries over the face unlock tool from the 6. You'll need to spend a minute recording your face up close, twice. Once the software is set, the phone will automatically unlock if it recognizes your mug as you lift the phone up. It's much faster and more consistent than the in-display fingerprint reader. OnePlus warns, however, that face unlock is not as secure as a fingerprint or pin/password.
Menus
OnePlus' OxygenOS 9 is a modestly skinned version of Android 9 Pie. Thankfully, it makes some much-needed improvements to UI navigation when compared to the source code from Google.
Home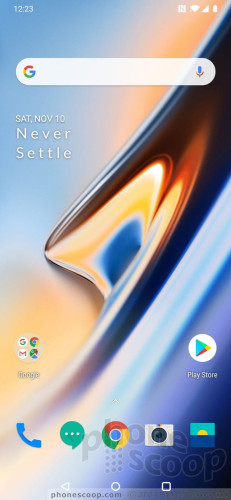 Home
Android 9 introduced an entirely swipe-based navigation system. It has one major crutch: it takes two swipes, or an awkward and uncomfortable long swipe, to get to the app drawer. OxygenOS is a bit more refined.
Much like the UI on Samsung's Galaxy phones, swiping up from the middle of the home screen opens the app drawer, and swiping down opens the Quick Settings / notification shade. When in an app, swipe up from the bottom edge to go back to the home screen, or swipe up from the bottom right (or left) corner to go back one screen. This last gesture takes some time to learn, and if you're in a hurry it's easy to accidentally go to the home screen when you meant to jump back a page.
The rest of the home screen experience is fairly typical. The app drawer, quick settings shade, and settings menu all behave like they do on most other Android phones.
OnePlus reserves the left-most home screen for its Shelf, which is a customizable space where OnePlus will highlight often-accessed apps, actions, people, and information. By default, it shows the local weather, a shortcut for writing a note, and several app suggestions. You can turn it off if you want, but you cannot replace it with your Google Feed. This bugs me.
OnePlus continues to offer a bevy of useful features that other phone makers should consider. For example: a system-wide dark theme, control over the status bar/notch, multi-finger gestures for certain shortcuts, and so on. OnePlus has made these options easy to find in the settings menu, easy to turn on, and easy to understand.
There are several operating modes you can put to use. For example, Gaming Mode ensures you aren't interrupted when playing games. Pocket Mode prevents the phone from lighting up in your pocket. Again, these are a breeze to customize.
The OnePlus 6T has a Snapdragon 845 processor on board with either 6 GB or 8 GB of RAM. This is one of the best CPU/RAM combinations available right now. OnePlus supplied us with the 8 GB version and hoo-boy does it scream. The OnePlus 6T delivers blisteringly fast performance. The 6T chomped through every app I tested without missing a beat.
Camera
Press the power button twice quickly and the camera app springs to life in less than a heartbeat.
Controls on the main camera viewfinder screen include flash, aspect ratio, and timer. I like that the flash includes an "auto" option. You can choose to shoot in 4:3, 16:9, or 1:1 if you wish.
HDR is hidden in the settings. By default, HDR remains in auto mode. You can turn on manual mode, which means you'll be given control over HDR in the viewfinder. The settings allow you to play with sounds, controls, grids, smile capture, and an auto night mode.
Four core shooting modes are available by swiping the viewfinder up/down: photo, video, portrait, and night. Swipe from the camera button to the left to access additional modes, such as time-lapse, slow motion, pro (manual), and panorama.
Portrait mode relies on the two rear camera lenses to provide sharp focus on the subject while blurring the background. I found it easy to use, and I like that you can change the depth of field before capturing the photo.
The pro mode lets you adjust shutter speed (up to 30 seconds), focus, white balance, brightness, and ISO. I like that the screen gives you a live preview of the exposure as you tweak the settings. You can also create and save two custom presets, as well as opt to shoot in RAW. A histogram is available.
Slow-motion lets you slow things down to 240fps in full HD or 480fps in HD. A half-dozen flagships have pushed things to 960fps. You have no control over the time-lapse capture speed at all, but you can toggle between HD and full HD.
The camera's best feature is its speed. It's really, really fast. I'm particularly impressed with how quickly it can focus in low-light settings.
Photos/Video
The main camera has a Sony IMX519 sensor with an aperture of f/1.7, and captures 16-megapixel images. The camera supports optical image stabilization (OIS). It is joined by a secondary Sony IMX376K sensor at 20-megapixels and f/1.7 aperture. The Snapdragon 845's multi-frame processing and AI-assisted scene detection help the sensors a great deal.
The OnePlus 6T easily has the company's best-ever camera. Aside from being swift, it shoots sharp photos that are bright and colorful. The autofocus system and OIS do a great job ensuring you get clean photos even in low light. The HDR mode is an excellent companion when shooting in dynamic settings and balances out those light and dark regions nicely. Images have a true-to-life look to them, which is what I want (most of the time).
The video camera can capture 4K video at up to 60fps. That chews through a lot of storage very quickly. You should be pleased with 1080p footage at 30fps, which is the default capture mode. Everything looks sharp, clean, and bright. There's next to no grain or noise clouding things up. Of note, OnePlus' gallery app includes a nifty video editor. You can use it to assemble clips, as well as apply fun effects, such as reversing the action and looping.
As for selfies, don't worry, OnePlus has your back … er … front. The 16-megapixel selfie shooter has EIS and an aperture of f/2.0. I wish it included autofocus. Selfies generally look good. There's a beautification tool to smooth over your imperfections. The phone also offers studio lighting effects to add different moods to portraits. The screen acts as your flash if you need it.
The OnePlus 6T is all the camera many people will need.