Verizon Debuts Its Fastest-Ever Mobile Hotspot
Article Comments 1
Oct 30, 2018, 4:14 PM by Eric M. Zeman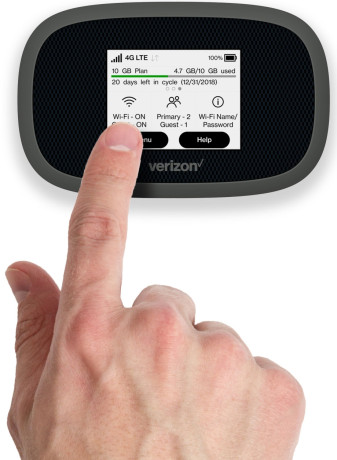 Verizon Wireless today announced the Jetpack MiFi 8800L, a mobile hotspot that relies on the most advanced LTE technology to deliver speeds up to 1 Gbps. Verizon says the 8800L is the first Cat 18 LTE hotspot. It supports two-, three-, and four-channel career aggregation, 4x4 MIMO, and LTE-LAA to enable gigabit speeds. The 8800L, built by Inseego, includes business-grade security, such as IT admin controls, a VPN, guest network options, and anti-hacking features. The battery provides 24 hours of connectivity, charges rapidly, and can recharge the batteries of phones or tablets when necessary. Last, the 8800L has a 2.4-inch color touchscreen for managing passwords, settings, and usage. The Inseego Jetpack MiFi 8800L costs $200 to purchase outright, or $100 with a two-year agreement. It is available from Verizon.com.
Audio volume control on the 8800L
Is there any way to increase the alert volume control on the 8800L jetpak?