Motorola Solutions Supercharges Talkabout Walkies with Phone-Based App
Article Comments 1
Oct 23, 2018, 10:19 AM by Eric M. Zeman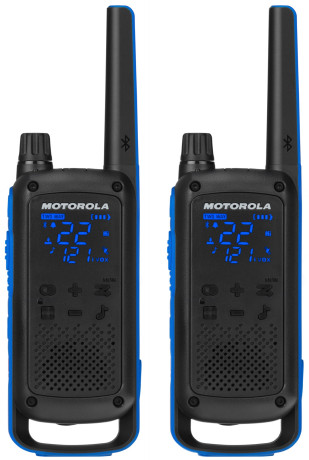 Motorola Solutions today announced the Talkabout T800 walkie talkies and accompanying mobile application. The concept is to let outdoor adventurers keep in touch — and, more importantly, share precise location data — when cellular networks are not available. In order to use the T800s effectively, owners need to install the Talkabout mobile app on their iPhone or Android device and then connect their phone to the T800 via Bluetooth. The Talkabout app then uses the T800 as a modem for sending messages and location info over the radio. Users can send current locations, designate meeting spots, and alert others when leaving specific areas. The message function handles single and group messaging, and messages can be sent silently for safety purposes. The location features do require some planning, as users will need to download the maps ahead of time through the Talkabout app. Maps can be saved in various formats and shared with others easily. Moreover, the app can be used to control hardware features of the T800, such as selecting channels, setting tones, adjusting weather alerts, and so on. Motorola Solutions claims the walkies have plenty of power. A push-to-talk power boost option can be turned on to extend the radios' range by increasing transmitter output while also conserving battery life. Motorola says this creates reliable two-way radio comms with a range of 35 miles and data/messaging range up to 20 miles, based on terrain and conditions. The radios themselves are rugged and rated IPX4 for protection against splashing and rain. The T800s include access to seven NOAA weather channels and four VHF channels in order to get constant, up-to-date weather reports. Motorola included an emergency alert feature that sounds a siren or spoken/incidental sounds to seek assistance or warn of danger. These are controlled by the Talkabout app. Last, the T800s include an LED flashlight for night-time use. The walkie talkies ship with rechargeable batteries, USB-based chargers, and an assortment of clips and stickers. The Talkabout T800 come in a pair for $110 and are available to ship today.
FCC type-acceptance... cannot mix two services and be type-accepted!
From the description and the picture, this Motorola T800 appears to mix a UHF service (GMRS or FRS) with a VHF service (probably MURS). As far as I know, the FCC rules are set up to prevent these two services from overlapping in one device, similar to the situation with Baofeng radios that combine Amateur bands and GMRS in one device. They cannot be part-95 type-accepted, and are therefore illegal to manufacture or distribute in the US. The FCC has recently threatened to go after companies that manufacture and/or sell these non-type-accepted devices. Motorola Solutions is both the OEM and the sales channel, and so I expect that they will really take gas for this.