Hands On with Wear OS by Google
Article Comments
Sep 10, 2018, 1:52 PM by Eric M. Zeman @zeman_e
Google recently announced that a new version of Wear OS will begin reaching Android-based smartwatches in the weeks ahead. We got an early look at it on a reference device running the new Qualcomm Snapdragon Wear 3100 platform. Here are a few brief thoughts.
AD article continues below...
Google has new software and Qualcomm has new silicon. Put the two together and you have a wholly re-energized version of Wear OS headed to smartwatches in the very near future. Qualcomm had a reference piece of hardware on hand running on its latest processor with the new Wear OS aboard. Here are some initial thoughts on the new platform.
First off, Google has overhauled its basic approach for Wear OS and made it much simpler. In fact, the core user interface now comes close to mirroring Android on your smartphone. This is all very, very good.
One of the best aspects of the new Qualcomm Wear 3100 platform is the QCC1110 co-processor. This little itty bitty chip can handle all sorts of fun stuff while hardly using the battery at all. It handles background tasks and powers the platform's new ambient mode.
Snapdragon Wear 3100 Co-Processor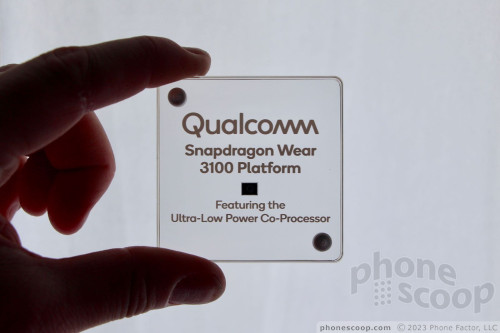 Ambient mode keeps the watch face on all the time, in full color, with your complications and a moving watch hand. In the current version of Wear OS, the watch display typically dims and goes monochrome. It does this to conserve power while still offering a basic watch face. The co-processor is able to keep the display on so you always have the time and notifications or other data available at a glance. This is a very welcome improvement. When you first move your wrist, the display comes on full power using the full processor. After 5 seconds, it will dim just a little bit as it switches from the main processor to the co-processor.
Ambient Time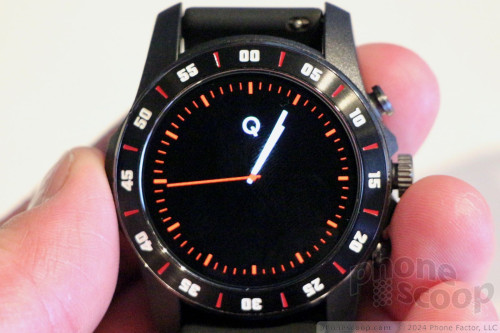 The Snapdragon 3100 powers what Qualcomm and Google call Sports Mode. This tool uses the sensors and other indicators to automatically begin tracking select workouts, such as walks, runs, hikes, and swims. You can manually enter other workouts, such as weightlifting or cross fit. When in this mode, 3100-based watches will be in a high-performance state, with active GPS and other radios at full power to ensure accurate tracking. Despite using much of the processor's horsepower to record your laps, the 3100 still allows smart wearables to track workouts efficiently. The UI for workouts is clean and easy to decipher.
Sports Mode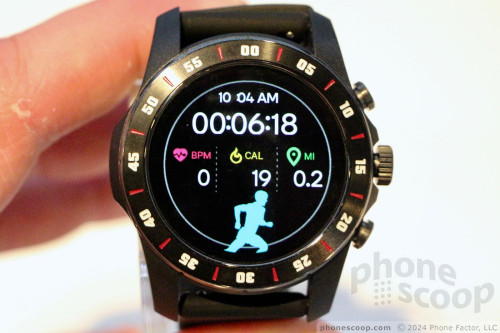 The core of the new Wear OS is now very similar to that of Android on your phone. Swipe from left to right to access the Google Assistant, just as you would on a Pixel phone. The default for Assistant is to open up the mic and listen for a voice query. If you don't want to or can't speak, you can also type queries on the teeny keyboard. Swipe the opposite direction to go back to the home screen.
Swipe up from the bottom to see your notifications. They pile up in the order they were received, though they are also grouped by application. This means your text messages will be in one spot, as will your emails, and other notifications. I like this screen, as it allows you to triage your notifications, respond from your wrist, as well as dismiss everything en masse if you just don't want to deal with it.
Swipe down from the top to see the Quick Settings panel. This little control panel lets you toggle between modes, dim the screen, turn the radios on/off an access the full settings menu. This takes a page form Android, which also provides the Quick Settings menu when you swipe down from the top.
Last, swipe from right to left to access the new Google Fit. Google recently refreshed Fit with a focus on completing simple movement and calorie-burning tasks. Google Fit has been available for several weeks and I like the new user interface, which is simpler and more intuitive.
Beyond these main actions, the full app menu is available by pressing one of the buttons. This is more or less how the UI looks today, with all the apps listed in a semicircle. The reference hardware on hand in San Francisco including a spinning dial on the side that rotated the app menu along with it. Hopefully smartwatch makers use similar designs in their forthcoming hardware, as I found this to be a very useful way to zoom through the app drawer.
Menus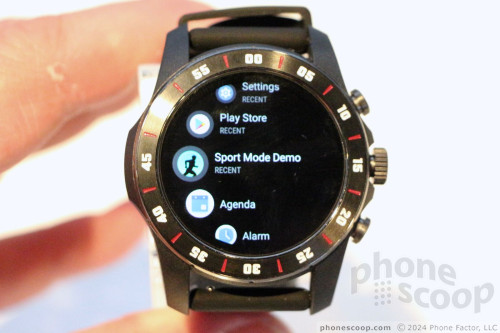 The good news is Qualcomm is already shipping the Snapdragon Wear 3100. In fact, a smartwatch from Montblanc, called the Summit 2, with the new processor and new Wear OS is due in October. Watches from Fossil and Louis Vuitton will ship with the new platform in time for the holidays. Notice these are all luxury brands. Qualcomm insists other watch makers are working on new devices, too, but it looks like we may have to wait until CES to see them. In the meantime, your Android smartwatch should gain access to the refreshed Wear OS in the next few weeks.
No messages