Review: Alcatel 7 for MetroPCS
Hardware Software Wrap-Up Comments 1
Lock Screen
The 7's lock screen strays only a little bit from standard Android. It includes up to five app shortcuts at the bottom of the lock screen. You can fully customize which apps appear in this space, which is nice. Tap the shortcut you want to open, unlock, and the phone opens the app quickly.
Lock Screen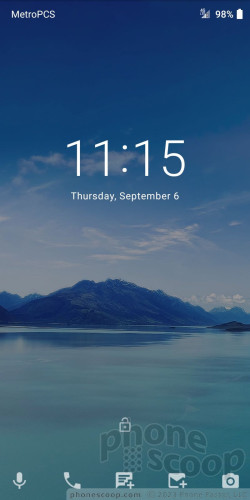 Lock Screen
There is no advanced active / ambient display on the Alcatel 7, which is a let down. You have to wake the screen to see notifications, which appear below the clock. You can dismiss notifications one at a time from the lock screen, or en masse if you unlock the phone. The clock is really big and easy to see.
Advertisements article continues below...
The 7 offers an array of ways to unlock the phone. The fingerprint reader is consistently the fastest way to wake and unlock the phone. I had no issues training several prints.
Alternately, you can take advantage of the face unlock tool. Alcatel warns that this is a simple camera-based tool that can be fooled by "a person or an object that resembles your face." Moreover, your sunglasses, hat, or make-up may cause it to fail. Recording your face data into the phone is easy enough. You'll need to set a backup security method, such as PIN, pattern, or password.
The face unlock tool works, but just barely. The phone took far longer than I wanted it to to recognize my face and errored out often. Given the fact that your fingerprint is faster and more secure, I suggest sticking with the finger.
Home Screens
The home screen experience is pretty straightforward. The phone runs Android 8.1 and has a very light skin from Alcatel. Essentially, Alcatel is using its own fonts, colors, and icons. The basic framework of Android is unchanged. You can adjust the home screens however you prefer.
I like that the Alcatel 7 includes a dedicated app drawer, which is easy to open via the dock at the bottom of the screen. You can opt to view your apps alphabetically, by download date, or by most-often used. There's no hiding apps, and no folders, in the app drawer.
The settings menu offers no surprises. It's a straight text list and is laid out in plain black text on a white background. A search bar makes it quicker to sort through the settings.
There are no special interface features, such as themes, easy mode, or the like.
A 2.5 GHz octa-core MediaTek Helio P23 processor powers this baby. It has 2 GB of RAM to go with it. After testing the phone for several days I'll say that I didn't come across any deal-breakers as far as speed and performance are concerned. The phone ran smoothly the majority of the time I used it. Most apps opened quickly, screen transitions were smooth, and it felt like the phone had enough juice for most typical tasks.
Memory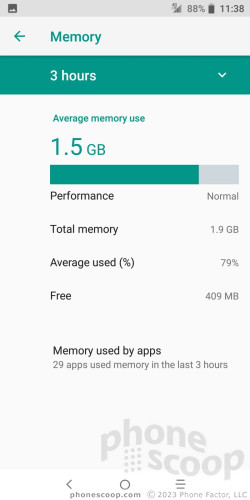 Memory
Camera
The fastest way to open the camera is to double-press the screen lock button. The app opens quickly enough.
The viewfinder and controls are familiar. A strip of toggles (night mode, flash, HDR, timer, filters) lines the left edge.
The shooting modes include automatic, panorama, time-lapse, social, light-trace, portrait, and slow motion. That's more than most phones in this class. One stand-out here is the social mode, which lets do you put together a four-image collage. You can capture each image manually, or set a timer so it does it in a quick series. It's like a photo booth.
The portrait mode relies on the two rear cameras to create bokeh-style images with sharp subject and blurred background. I like that you can dial in the amount of background blur, and even adjust the effect after the fact. This mode is fairly slow to operate, however, particularly in low light.
You'll find access to the settings menu from the shooting mode screen. You can only adjust the most basic settings, such as resolution, grid, and sounds.
I was hoping for solid performance from the app, but the Alcatel 7 let me down. The processor and/or 2 GB of RAM isn't enough to deliver smooth operation of this app. It's slow to do everything, and even the viewfinder is slow. It takes two blinks to catch up to what your aiming at. Jumping through the settings and modes takes time. Worse, the phone just takes forever to focus before firing the shot.
Photos/Video
The results are mediocre at best. The Alcatel 7 suffers horribly in low light, creating grainy, underexposed messes that just don't look good. No amount of flash use seems to help with anything that's more than a couple of feet away. You'll get better results in brighter environments.
The biggest problem is focus. Because the camera is so slow, it's easy to think it has finished taking a picture when in fact it has not. I can't tell you how many pictures I got of my feet because I thought the camera had done its job. Color and white balance are fine, but exposure and noise level are all over the place.
The 8-megapixel selfie camera is no better. The flash never seemed to fire no matter how dark the scene was, and the beauty tools offer no salvation from your freckles, lines, and other imperfections.
The phone captures video up to full HD and it doesn't look very good. The results are, like the pictures, a noisy disaster filled with grain and aberrations. Colors come across as muted and all the video I shot is lacking in proper exposure.
The Alcatel 7's camera may function as a stop-gap, but I wouldn't count on it for saving those important events.
Closer TV
MetroPCS is pitching the Alcatel 7 as a media machine and it's mostly due in part to the presence of the Closer TV app. This app is a combined remote control (there's an infrared emitter on the top of the phone) and content discovery tool. You'll need to spend some time pairing it with both your television and your cable box. Then you'll be able to use Closer TV as a visual guide to what's on.
The app shows you what's available in real time from your cable TV provider, as well as third-party services such as Hulu, YouTube, and Amazon Prime. It shows both free content, and a variety of paid types.
Closer TV is clunky. It never seemed to want to talk to my cable box no matter how many times I paired the two. I'd often find something I wanted to watch through the app, select it, and nothing would happen on my TV. Bottom line: you're better off sticking with your existing remote / app setup, which is surely less frustrating.