Samsung Debuts New Galaxy Watch with Multi-Day Battery
Article Comments 1
Aug 9, 2018, 10:45 AM by Eric M. Zeman @zeman_e
updated Aug 9, 2018, 12:26 PM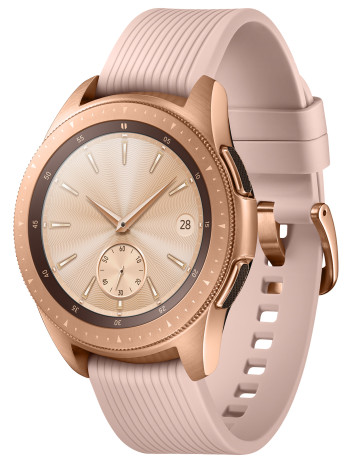 Samsung today announced the Galaxy Watch. It includes the company's signature circular, rotating bezel. It comes in two sizes, 42mm and 46mm in rose gold, silver, and black. The Galaxy Watch is powered by a Samsung-made Exynos processor and it comes with 4 GB go storage. The wearable is water resistant (for swimming) and is rugged for protection from drops and other abuse. One variant will come with LTE for constant connectivity. Samsung says it is compatible with most worldwide LTE bands. The company says the new low-power architecture of the processor helps the battery last much longer, up to several days on a single charge. The watch can charge wirelessly. The 46mm Watch has a 472mAh battery and the 42mm Watch has a 270mAh battery. Samsung is targeting health and fitness with the watch. New stress management tools can monitor heart rate to establish a baseline and then offer a breathing guide when it senses that the wearer is stressed. The watch is designed to make workouts easier to track, and can handle 39 different exercises, 6 of which can be detected automatically. The watch also tracks sleep. All three of these work together to monitor and manage health. Samsung says the phone is compatible with most normal watch straps, and it has access to 60,000 watch faces via the software. The Galaxy Watch will go on sale in select markets August 24. The Bluetooth-only model costs $330, while the LTE model costs $350.
Will it work with non-Samsung phones?
Will it work with non-Samsung phones?