Review: Belkin Boost↑Up Wireless Charging Stand
Article Comments
Jul 31, 2018, 11:12 AM by Eric M. Zeman @zeman_e
updated Jul 31, 2018, 12:12 PM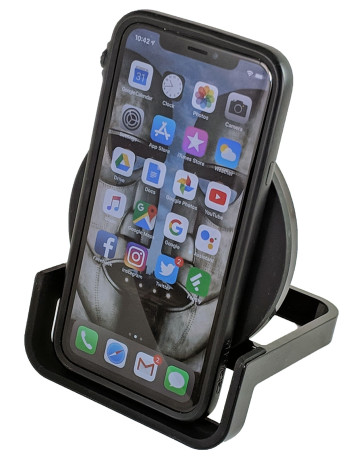 The Belkin Boost↑Up Wireless Charging Stand is compatible with phones from Apple, LG, Samsung, and Sony. It cradles phones in either vertical or horizontal positions, and supports 10W for quick charging. If you need a single charging stand for your phones, the Belkin Boost↑Up is a good option.
AD article continues below...
Charging phones wirelessly is the bomb. I find it so much easier to drop my phone on a pad, giving me the freedom to pick it up and put it back at will, than to find the proper cord and plug it in. Now that Qi has become the de-facto universal wireless charging standard, it's safe to start buying newer wireless charging accessories without worrying about compatibility. If your family uses phones from Apple, LG, Samsung, and others, you should have nothing to fear.
The Belkin Boost↑Up Wireless Charging Stand is the company's first universal wireless charger and it delivers a quick recharge without the agony of cables.
Hardware
The Boost↑Up Wireless Charging Stand is an honest-to-goodness stand. Where competing wireless chargers from Mophie and Samsung resemble hockey pucks, the Boost↑Up has a rigid, undetachable frame to hold the charging surface and phone upright. I do like the portability of the Mophie and Samsung chargers, as they can slip into a bag for travel. The Boost↑Up is something that you'll leave on a nightstand at home or on your desk at the office. (Belkin makes a puck-style pad, called the Boost↑Up Bold, if you prefer that form factor.)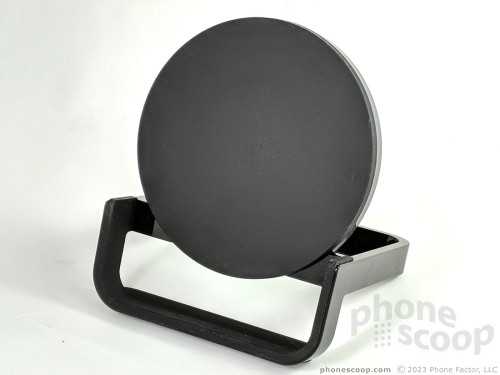 The frame is made from glossy plastic (black or white). A soft-touch rubber material lines the cradle where you place your phone. The round charging surface has a similar scheme, with glossy plastic on the rear and matte rubber on front. It sort of looks like a tiny radar dish.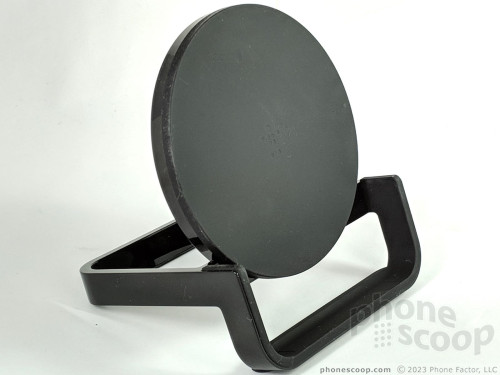 I like that the Boost↑Up supports vertical and horizontal charging. You can drop your phone in the charger vertically and use your phone's ambient display for checking the time and notifications if you wish. Need to charge up while watching a movie? Rest your phone horizontally on the cleverly-situated arms of the stand, and enjoy! Either way, a small indicator light lets you know when you've got a proper connection to the charging coil.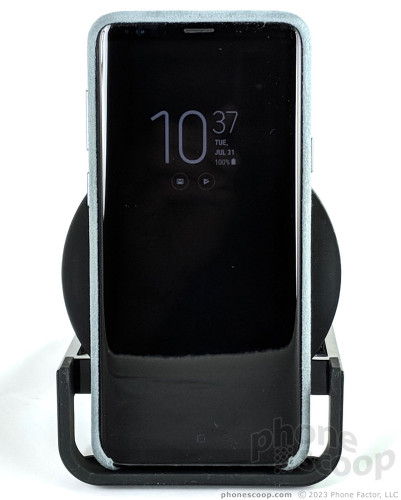 The biggest detractor is the proprietary port for the charger. Rather than rely on an industry standard USB-C or microUSB port, the Boost↑Up has a round, pin-style port. Moreover, the included charger is rather large and doesn't play nicely with power strips.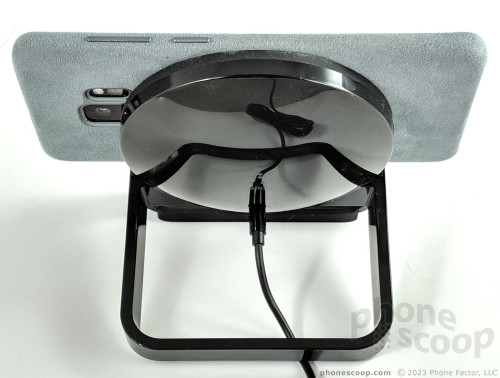 The Boost↑Up isn't stylish; it borders on minimalist. At least it doesn't look chintzy.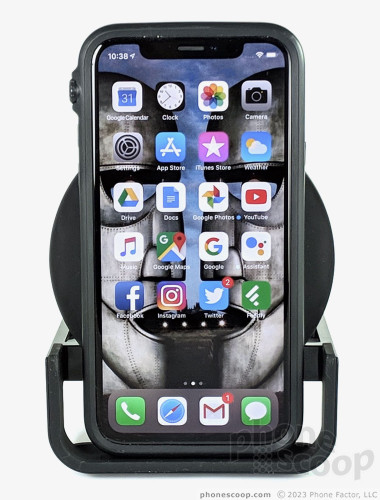 Performance
The Boost↑Up is a "universal" charger, but that doesn't mean it's compatible with every single phone that supports wireless charging. It packs the Qi (pronounced "chee") standard, which has become the industry's pick for charging devices wirelessly. The phones that won't work with it are a just handful of mid-range models sold by AT&T a few years ago, that only supported the PMA standard.
Belkin says the charger meets all of Apple's required and preferred standards for wireless charging. Samsung's flagship Galaxy S series also supports Qi. I tested it with an iPhone X, Galaxy S9+, LG G7, and LG V30, and it worked with each.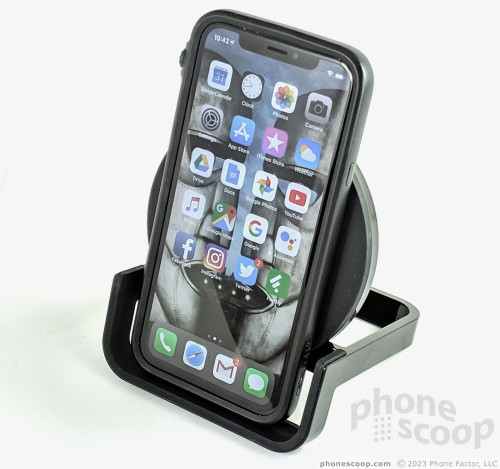 The Boost↑Up supports 10W charging, which is the fastest-possible speed at the moment. The charging stand is smart enough to adjust between 5W, 7.5W, 9W, and 10W depending on the phone. Thermal sensors make sure the combined phone/charger don't get too hot. The charging surface packs shielding and resistors tuned to ensure the charger doesn't interfere with phone functions, such as the cellular, Bluetooth, and WiFi radios.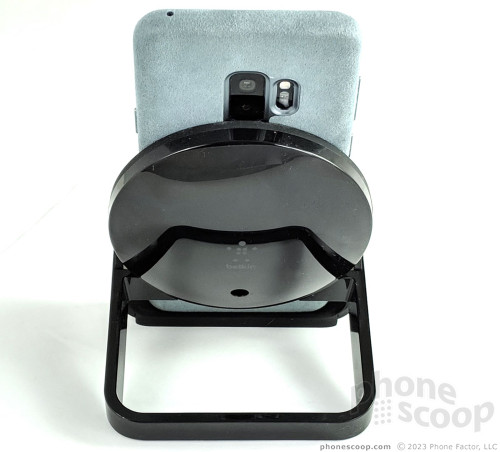 How rapidly your phone charges depends on the phone. There's no question the S9+ and G7 recharged more rapidly than the iPhone X. This is due to the circuitry in the phones, not the charger. The Boost↑Up recharged all the phones faster than the 7.5W Mophie charger I tested earlier this year.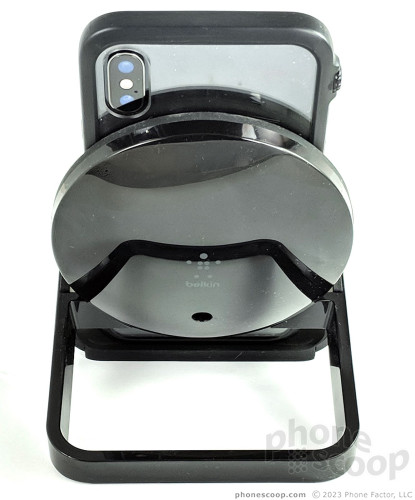 I charged each phone for 30 minutes to see how much charge they would take. The S9+ improved from 50% to 85%, the G7 improved from 50% to 90%, and the iPhone X improved from 50% to 80%. The S9+ climbed from 50% to 75% very rapidly, meaning you can score a nice boost in a short amount of time when needed. This would be very helpful if you need to charge up after work, before heading back out for the evening, for example.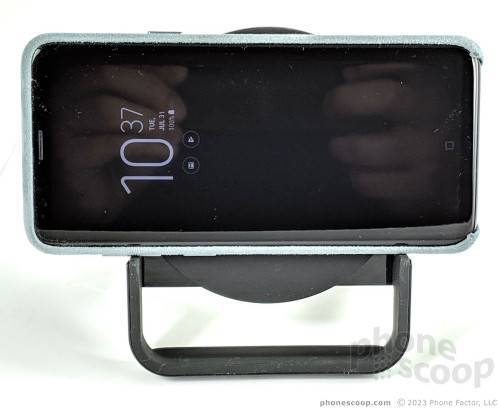 The stand charges phones through cases up to 3mm thick. It worked with a variety of cases I have on hand for the iPhone X and Galaxy S9+. There was no change in charging speed or performance when the phones were protected in cases.
On the safety front, the Boost↑Up supports foreign object detection. This means it will not emit power when you put a credit card, coin, keys, or other metal object on the stand. (Like putting metal in a microwave, that would be a problem.) An indicator light will let you know when there's an incompatible object on the charger.
Discussion
Belkin is charging $70 for the Boost↑Up. That's a lot. Amazon has a huge selection of wireless charging pucks in the $25 - $40 range. Why spend so much more? The Belkin Boost↑Up is well-made and keeps your phone upright in vertical or horizontal orientation. It's also one of a few wireless chargers to support the fastest charging mode: 10W, and it includes safety features to ensure you don't accidentally set your office ablaze. These and its warranty make a huge difference in my mind. As long as you don't mind leaving the Boost↑Up in one place, it's the best option for recharging your phone rapidly.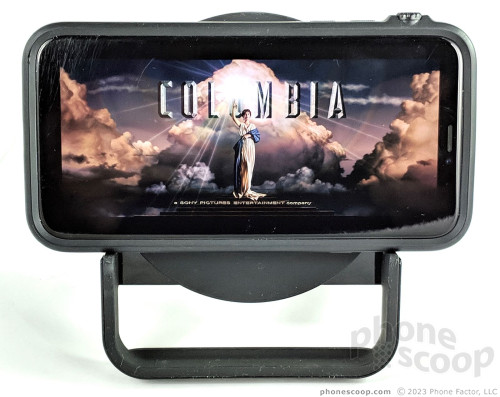 No messages