Review: Alcatel 1x with Android Go
Article Comments
Jul 20, 2018, 1:30 PM by Eric M. Zeman @zeman_e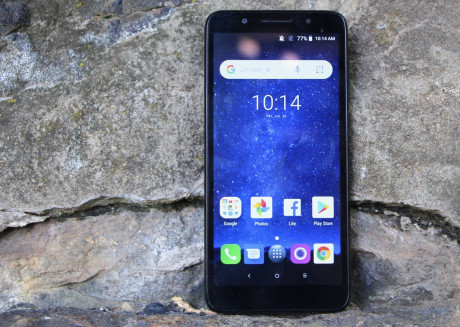 The Alcatel 1x is among the first Android Go devices to reach the U.S. market. Android Go is a pared-down version of Android meant to run on entry-level hardware. The 1x is a low-cost phone that includes a 2:1 screen, 8-megapixel camera, MediaTek processor, and support for AT&T and T-Mobile. Find out of it's worth a Franklin in Phone Scoop's in-depth review.
AD article continues below...
Hardware
Is It Your Type?
The most notable thing about the Alcatel 1x is that is runs Android Go, Google's slimmed-down platform for inexpensive phones. The 1x is an entry-level device and has only the most basic services, making it ideal for children or novice users. It might even be a good phone to keep in a drawer for a rainy day.
Body
Alcatel kept the design of the 1x simple and straightforward. It's a relatively compact phone that's mostly plastic. You'll spot some chrome accents on the rear panel, but otherwise the 1x keeps the flash and panache to a minimum. The glass of the phone's face is set into a glossy plastic frame. The back and side surfaces are made from a single piece of material and wrap around to give the 1x its gently-rounded curves and edges.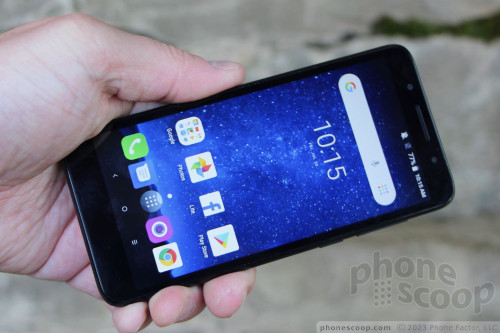 I would call the 1x average in terms of size. The 2:1 screen shape means it has a narrow profile from side to side, but it still stands fairly tall. People with small hands will find it comfortable to hold and use throughout the day. It's light and easy enough to get your hand around. The phone measures 9.1mm thick; It would be great if it were 1mm thinner. Yet the 1x fits easily into most pockets. The rough texture of the rear surface can catch on pocket liners a bit.
The materials are fine for a low-cost phone. I was worried the 1x would come across as cheap, but it doesn't. It's clearly an entry-level device, yet the glass and plastic components are solid enough and firmly joined together. This phone is not waterproof, nor is it rugged: it's a regular phone.
Alcatel was smart to give the 1x a 2:1 screen shape. It's becoming standard, but still rare on truly entry-level phones like this. It gives you more screen in a smaller body, and and ensures the 1x isn't left behind with respect to apps. I wish the bezels were thinner. The 1x has obvious side bezels, a respectable forehead, and a sizeable chin. Moreover, the black of the display doesn't match that of the surrounding bezels, which makes the screen and its framing really stand apart. This is common to low-cost phones. The user-facing camera and LED light are on either side of the earpiece.
The phone's two buttons are on the right edge; both are made of plastic. The screen lock / power key is right where your thumb expects it to be. It has a ridged texture so you know you're touching the right button. The volume toggle is closer to the top and has a smooth texture. Travel and feedback of both keys is quite good.
You'll find the SIM / memory card slot on the left side of the phone. A SIM card tool is required to eject it. A standard headphone jack is on the top edge, and a microUSB port (unfortunately still common to low-cost devices) is on the bottom edge.
As mentioned, a single piece of plastic forms the rear and sides of the 1x. You'd be forgiven for thinking that the shell pops off, but you'd be wrong. There's no access to the 1x's internal battery. The camera module protrudes just a bit, while the fingerprint reader is indented a bit. Both have a chrome rim to help them stand out visually. I was able to locate the fingerprint reader with my forefinger by feel quite easily.
The Alcatel is a plain, serviceable piece of hardware. It is about as vanilla as you can get.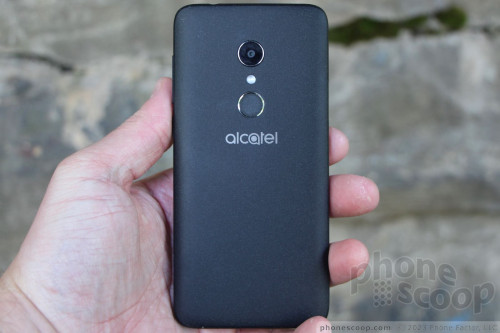 Screen
Alcatel is now using screens made by TCL Display, its partner company. That's one reason why Alcatel was able to adopt the modern 2:1 (18:9) shape on such a low-cost phone.
Sadly, it's not a good screen. The display measures 5.3 inches across the diagonal and has 480 by 960 pixels, the lowest resolution I've encountered on a phone this year. Graphics and text on the screen could be much sharper. Beyond that, the LCD panel simply looks dull. Colors are flat, and it could stand to produce more light. It's nearly impossible to see/use outdoors. Viewing angles are pretty poor, with a major drop in brightness when the phone is tilted.
The 1x allows you to set a blue lighter filter for night-time reading.
Signal
Alcatel sells the 1x to U.S. consumers unlocked. It includes the core bands used by AT&T and T-Mobile, but you won't find support for AT&T's newer bands 29 and 30, nor T-Mobile's bands 66 and 71. Without these bands you might experience poor service when the network is congested. I tested the 1x on AT&T's network and found it performed just under par when compared to other unlocked phones I've reviewed recently.
The phone had no trouble finding AT&T's LTE service. It remained on 4G throughout the time I spent reviewing it. Most calls patched through on the first attempt, and the phone didn't drop any calls on the highway.
Data speeds were definitely limited. The peak download I saw with the phone was just 9 Mbps. That's pretty slow for an LTE device. Even so, YouTube was able to stream standard quality videos without much buffering. Browsing social networks on the phone felt slow.
Sound
Call quality is so-so at best. The calls I patched through were bad as often as they were good, with the majority being a mix of mediocrity thanks to distortion. The earpiece doesn't put out enough volume to hear calls over the chaotic din of city streets or the gurgle and hiss of an espresso machine doing its thing at your corner coffee shop. People I spoke to through the 1x said I sounded just "okay."
The speakerphone doesn't perform any better. Calls are scratchy and too quiet. Holding a speakerphone call in a moving car was frustrating.
The ringers do their job pretty well. The vibrate alert is good.
Battery
A 2,460mAh battery is sealed under the rear panel of the 1x. Thanks in part to the power-sipping nature of the low-res screen, the 1x delivers fairly good battery life. Alcatel says you can get up to 26 hours of talk time with the phone. I didn't gab with anyone quite that long, but I did use the phone for a full day without draining the battery entirely. Most days I tested the phone found it with 30% or more left at the end of the day. That's pretty solid if you ask me.
The phone includes the regular Android battery saver. It doesn't support rapid or wireless charging.
Bluetooth, GPS, NFC, WiFi
The Alcatel 1x includes Bluetooth 4.2, GPS, WiFi, and an FM radio, but not NFC.
I was able to pair the 1x with headphones and my car. Calls sounded pretty poor via my car's hands-free system. Music delivered to Bluetooth speakers was serviceable.
The GPS radio had no trouble locating me quickly and accurately. But the included Google Maps Go is a browser-based app that runs too slowly for real-time navigation.
The WiFi radio is your best bet for downloading apps, games, and content.
The FM radio lets you tune to your favorite local stations via NextRadio as long as you have a pair of wired headphones handy. It works quite well.
Software
Lock Screen
The Alcatel 1x may be a low-cost phone with Android Go on board, but it still has an "ambient display" feature that will wake to show you incoming notifications. It's a pretty basic service that blinks the screen on when you have a new email or message. The screen blinks off again after several seconds. The LED light performs double duty, pulsing on and off when there are unread notifications.
A quick press of the screen lock button wakes the display and shows you the clock, wallpaper, and Alcatel's Func shortcuts at the bottom of the screen. These let you quickly access the calendar, flashlight, timer, and camera. You can customize which apps are available from the lock screen, which is nice.
I'm surprised to see such an inexpensive phone include a fingerprint reader, and yet there it is on the back of the 1x. Training the reader is no trouble. It works for unlocking the phone as long as you're not in a hurry. It often required two attempts for verification and that slows things down. You can rely on a PIN, pattern, or password as backup.
Home Screens
Android Go, which is based on Android 8 Oreo, looks and feels like regular Android. You've got a home screen that accommodates shortcuts and widgets, an app drawer, a quick settings / notification shade, and a settings menu for adjusting all the usual stuff. Out of the box, you'll see a search bar, clock, and several apps and folders on the home screens.
Some things you can tweak include how the navigation bar at the bottom of the screen behaves, whether or not there is an app drawer, and how much power and memory apps are allowed to consume. This tool lets you individually tweak which apps are allowed to run and when so you can keep the processor and RAM free to do other things.
About half the apps included are "Go" or "Lite" versions. For example, Google Maps runs in the Chrome browser rather than as a stand-alone app. Gmail, Files, and Google Search are all really lightweight "Go" versions. Gmail Go looks and behaves just like the full version on any Android phone, but Google Search Go is definitely pared down. It includes a search bar along with a number of categories for focusing searches on things such as images, GIFs, the weather, and so on. You can still type and speak search queries as you expect, but it's clear Google wants people to use the categories to cut back on how broad the search is.
Many apps are direct carryovers, such as Google Photos, Chrome, the calendar and clock, Play Music, and even YouTube.
Despite the "lite" build of Android, the 1x is a dog. The 1.3 GHz quad-core MediaTek processor and 1 GB of RAM simply aren't up to the task. The phone lags, refuses to recognize some screen input, and otherwise runs poorly. Apps open when they're good and ready, and many are so slow as to cause frustration. If Android Go is supposed allow a phone with these specs run decently fast, it fails. This laggy UI is a near dealbreaker. It's like the Alcatel 1x is a low-end Android phone from 2012.
Camera
If there's one app that really suffers from poor performance, it's the camera. The fastest way to open it is to double-press the down volume key. The lock screen shortcut is convenient, too. But the app opens slowly.
The viewfinder and controls are familiar. A strip of toggles (night mode, flash, HDR, timer, filters) lines the left edge, while the shutter button and other controls are on the right. Interacting with any of these is frustrating for several reasons: lack of screen responsiveness and simple slowness on the part of the app. I wanted to chuck the phone at a wall after a few minutes.
The shooting modes include automatic, panorama, time-lapse, social, and light-trace. That's more modes than most phones in this class. The only stand-out here is the social mode, which lets do you put together a four-image collage. You can capture each image manually, or set a timer so it does it in a quick series. It's sort of like a photo booth.
The camera does everything in slow motion.
Photos/Video
The 8-megapixel camera does not do a good job. Image quality is all over the place. First, because the app is so slow you're apt to smear images by accidentally moving the phone before it's done capturing the image. Exposure is overblown as often as it's underexposed. Color and white balance are generally decent. The 1x does terribly in low light, with insane grain and noise speckling the images.
The 5-megapixel selfie cam works when you have plenty of light. Focus is often soft, but color looks good. Selfies tended to be underexposed and grainy.
You can record video up to 1080p full HD with the 1x if you wish, but keep in mind you only have access to about 10.8 GB of internal storage. The quality is so-so. I saw decent focus and exposure, but lots of grain and noise.
Wrap-Up
I was hoping for more from Alcatel here. The 1x may be a $100 phone, but I've reviewed tons of $100 phones that outperform this one at nearly every major feature.
In the 1x's favor, it does offer decent hardware, respectable battery life, support for memory cards, and a small footprint that's good for small hands. That's a pretty short list.
There's much more going against the 1x, such as the crummy display, below average voice and data quality, and below average GPS and Bluetooth performance. The pared-down Android Go platform is what it is, but even the "Go" and "Lite" apps have a hard time running on the 1x's underpowered processor. The phone is just way, way too slow for any device in 2018.
If you want or need an unlocked phone for $100, buy the Motorola Moto E5 Play instead.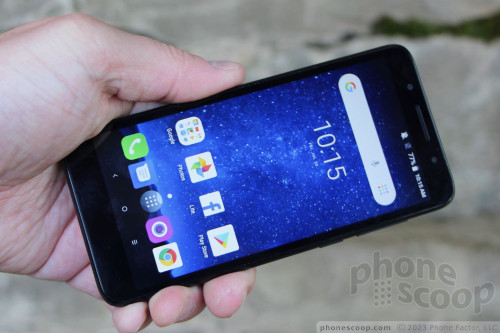 No messages