Review: Sony Xperia Ear Duo Bluetooth Headphones
Article Comments
Jul 19, 2018, 3:00 PM by Eric M. Zeman @zeman_e
Sony's open-ear Bluetooth headphones promise to let you "stay in tune with the world" while keeping you informed with smart alerts when on the go. If you've got an ear for safety, the Xperia Ear Duo keep you in touch with your environment while you enjoy some tunes.
AD article continues below...
Sometimes safety comes first, and that often means being aware of what's going on around you. We rely on our ears to alert us to danger and much more. Maybe you're walking down a busy sidewalk or through a bustling airport, or transiting some other place where it's important for you to be able to hear announcements. Traditional ear buds work by plugging up your ear canal, which can — by design — isolate you from external sound. That's not always safe.
Sony's fully wireless headphones take a different approach than most others. The Xperia Ear Duo port sound into your ear while leaving the ear canal open. Moreover, Sony gave the Ear Duo a proactive voice assistant that will talk to you throughout the day. The experience is unique.
Hardware
The Xperia Ear Duo sort of resemble upside-down hearing aids. The headphones have a small rubber loop (Sony calls it a ring supporter) that rests on the outer edge of your ear canal. It's attached to a stalk that wraps around the bottom of your ear and into the main unit, which sits behind your ear. The main unit is rather large compared to most in-ear buds. It contains the radios, battery, and a capacitive touch surface.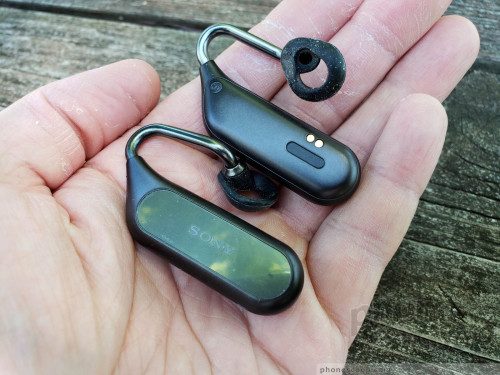 The Ear Duo comes in two colors: black and "gold" (it's more like tan). I like the dark plastics and shiny gray accents of our black review unit. The headphones look modern and sleek when sitting in the charging case. The materials are plastics, and yet the Ear Duo still come across strong and well-made. Blinking LED lights on each let you know when the headphones are in pairing mode, when they're connected, and when they're charging/charged.
The Ear Duo are nearly impossible to put on. Most truly wireless buds let you cram them into your ear and move on. No so with the Ear Duo. It requires you to pull down on your earlobe with one hand and use the other to slide the U-shaped fitting up into your ear canal while ensuring the main housing unit goes behind your ear. The process is tedious even after practice; I often had to resort to a mirror, and even then still had trouble.
It seems counterintuitive that something clasping the bottom of your earlobe would stay attached, and yet it does. The Ear Duo feel loose, but I couldn't shake them off when walking, running, or otherwise moving around. They don't pinch, and also didn't fatigue my ears after wearing them for long periods of time. The Ear Duo ships with three different-sized ring supporters to help you find the best fit.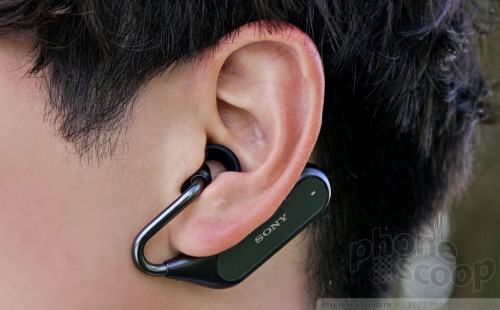 The controls should be easier to use. Like many modern devices, the Ear Duo rely on capacitive touch surfaces to interact with the headphones. There are gestures to learn: a single tap to play/pause music or answer calls, swipe up/down to adjust the volume, long press for your voice assistant, and multiple tapping gestures to skip tracks. These are fine. The issue is more the location of the controls, which are behind your ear. I found it difficult to adjust to the awkward placement. I often needed to feel around a bit to find the touch surface, in the process accidentally performing an action I didn't intend, such as skipping a track.
Sony ships the Xperia Ear Duo in a puck-shaped charging case. I really appreciate that the case uses USB-C, and a USB-C charger is included in the box. The case opens like a clam to reveal the two headphones, which fit into custom cradles. An LED positioned near the USB-C port lets you know when the case is charging. The case is compact and light enough that it's no bother to carry in a small bag or purse.
Neither the headphones nor the case are waterproof.
Software
The Ear Duo are smart headphones. It's important that you use the Xperia Ear Duo app (Android and iOS) to manage them.
The app helps with the initial pairing and set-up process. It also contains all the controls you need to activate or disable the Ear Duo's smart assistant tools. The headphones bake in support for the voice assistant on your phone (Google Assistant or Siri), and by default take a proactive role in "assisting" you.
For example, the Daily Assist function will read out information based on your location, your activity, the time, and other parameters. This means it will alert you about upcoming appointments and let you know when you need to leave to get there on time.
I quickly found this could be too much interruption for me. I definitely do not need the headphones reading out the contents of every email I receive, but hearing incoming text messages when driving was useful. I don't need my headphones telling me when the clock strikes 12, but I do like that the assistant read my calendar to me each morning and let me know when appointments were approaching. Fortunately, you can select which apps are allowed to offer notifications, such as the calendar, email, messages, Twitter, Facebook Messenger, Hangouts, and others. You'll need to tweak the settings to find what works best for you.
It sort of reminded me of that movie Her, with the in-ear artificial intelligence that Joaquin Phoenix fell in love with — except I didn't fall in love with the Ear Duo.
There is an advanced function called Anytime Talk that lets a group of people with the Xperia Ear Duo converse with one another and employ head gestures to control the headphones. We were unable to test that.
The app is generally well-designed and helpful.
Performance
The Xperia Ear Duo relies on Bluetooth 4.2 to connect to your phone. The app completely bypasses the device-based Bluetooth pairing menu, and I'm fine with that. Pairing was a breeze. The Ear Duo turn on and reconnect to your phone automatically when you put them on. Range is the standard 30-ish feet. Rather than get sketchy at the edge of its range, the Ear Duo simply cut out when you move too far from your phone. When in range, the connection between my phone and the Ear Duo remained intact 99% of the time. Sony opted for the simple A2DP profile for stereo Bluetooth on the Ear Duo, but didn't select more advanced, high-quality codecs.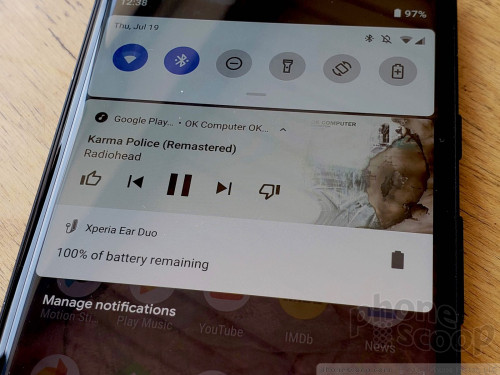 How do they sound? Well... interesting. First let's talk about the open-ear listening style. When listening at low to moderate volumes, it's very easy to hear everything that's going on around you. It's a reasonable blend and keeps you aware of your surroundings. I like that my kids could come up to me and start talking to me and I could have a conversation with them without removing the Ear Duo or even pausing playback. Cranking the volume up may drown out nearby conversations, but loud noises such as sirens will still be loud and noticeable.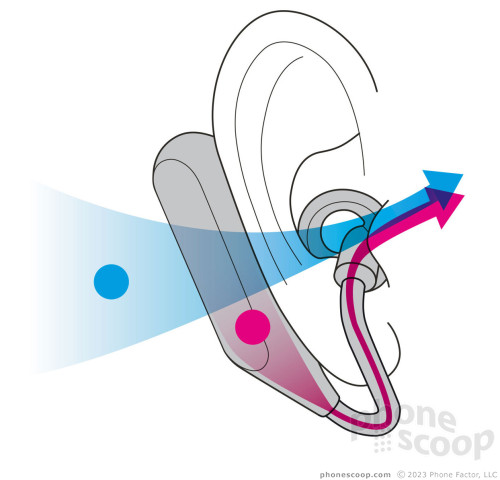 You can enable a mode that will automatically raise or lower the volume depending on the ambient sound. It's sometimes effective, but could be jarring.
As for music quality, it's acceptable but not great. My tunes came through the Ear Duo sounding a bit thin and weak, with no depth. There's no punchy bass, but mids and highs sparkle cleanly. That's partly inherent in the open design. The music doesn't sound bad, but most other truly wireless ear buds offer a better music experience, particularly with respect to bass. Stuff like orchestral and acoustic music worked best. Musical styles such as rock and electronica/dance didn't have the power I want.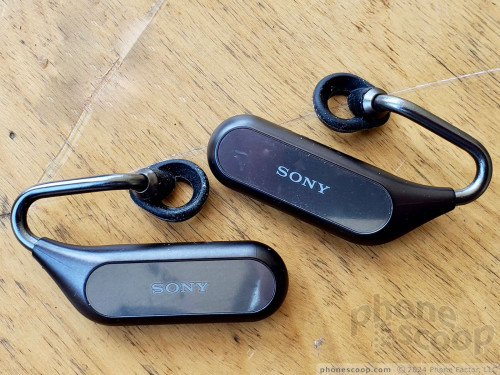 Phone calls, however, sound fantastic. The Ear Duo have four microphones to ensure your calls are clean. You'll have to deal with the whole open-ear listening style, but I can easily see holding conference calls with the Ear Duo.
On the battery front, the Ear Duo perform on par with other truly wireless ear buds. Each headphone has its own 56mAh battery, which delivers up to 4 hours of music playback or 2.5 hours of talk time. The charging case has its own 740mAh battery and can recharge the Ear Duo three times. With the case and buds fully charged, you're looking at total music playback time of about 16 hours before you have to plug them back into the wall. Charging the Ear Duo in the case for just 7 minutes gives you an hour of music playback. I like that. The Ear Duo met Sony's battery claims easily.
Discussion
I'm struggling to determine who should buy the Sony Xperia Ear Duo. One thing I'm clear on is that audiophiles should not, as they'll be disappointed with the quality of music playback. But perhaps you simply need to be able to hear what's going on around you while you listen to music.
The Ear Duo deliver fine Bluetooth and battery performance. The charging case is fine, and the hardware is well-made. I enjoy how comfortable the Ear Duo are to wear, but getting them onto your ears is a big pain.
The Ear Duo are the first headphones I've tested that deliver smart assistant features, such as calendar reminders, traffic alerts, and breaking news. For now, I could take or leave the assistant, though surely some will find it novel and useful.
Sony sells the Xperia Ear Duo via Amazon for $280, which is a lot. You can get better music quality and equivalent battery life for half as much. I'm not sure the open-ear design and smart assistant make up the difference.
No messages