Dual-Sliding Messenger Phone for Helio Spotted on FCC Site
Article Comments 25
Feb 21, 2007, 2:30 PM by (staff)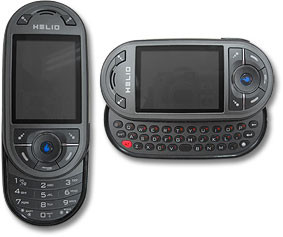 A new dual-slider with Helio branding on it was seen on the FCC web site today. Internally called the Pantech PN-810, the phone features a three-layer design. The top layer holds the main screen and function buttons. If the top is slid up, the middle layer reveals a standard number pad, and if the phone is slid sideways, it reveals the bottom layer's full qwerty keyboard for messaging. The keyboard includes a dedicated emoticon key, but no direct access to numbers. It is equipped with an EV-DO radio, Bluetooth, 2.1 megapixel camera with flash, and a 260k TFT LCD. Another model that appears to be bound for Helio, the Samsung A303, is also waiting in the FCC's wings. It looks to be a variant on the U510 for Brazil - a slim slider with touch sensitive keys on the front, Bluetooth and 2 MP camera.
When will this phone be released?
i was just wondering if anyone knew when this phone will be released??
I wonder if this is the Danger phone
There was talk of one of their phones incorporating Danger technology.
Some people who used to work for Danger now work for Helio, but I'm not aware of any plans to actually license or use Danger technology / patents, etc.
My guess is that it will have the danger aim client or there server. that would be awesome!(thats more of a hope then i guess i would say haha)
"the" danger phone? its made by pantech, not danger, like the blurb says.
Pretty heady design...
...for Pantech. They're coming along nicely in the States.

Maybe it's time to do away with the "Kmart of handset manufacturers" cracks.
Ah,. . .I think ONLY Helio has good Pantech handsets, the 4 major carriers seem to still have "Kmart crap".

I noticed in the description it said megapixel camera, does that mean 1.3mp? If so, no thanks!

I though Helio wasn't going to have any ...
(continues)
The key for this phone will be the web browser.
WAP? HTML? Javascript?

EVDO, a good form factor, a good screen, and a do-it-all web browser will make this a compelling choice.
when??
This "DEVICE" looks very interesting....
Helio finally get a messaging phone to compete with VZ's EnV