Review: Motorola Moto E5 Play
Hardware Software Wrap-Up Comments
Lock Screen
The E5 Play offers a decent lock screen experience, though it dials back on the number of features when compared to other Motorola phones such as the Moto G6.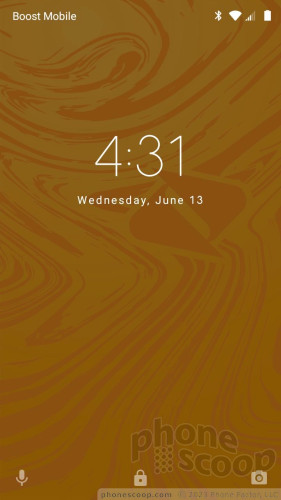 Everything is managed in the Moto App. Moto Display is what Motorola calls its "ambient display." It wakes the screen regularly with incoming notifications if you wish. It only shows notifications, lets you dismiss them, or respond to them. There are no fancy lock screen gestures or swiping actions on the E5 Play's lock screen.
Advertisements article continues below...
If you press the screen lock button, the display wakes fully to show the clock, wallpaper, and notifications listed below the clock. There are shortcuts to the Google Assistant and camera on this screen, though these can't be customized.
Home Screens
The E5 Play may be one of the least expensive phones on the market, but it still ships with Android 8 Oreo and some of Motorola's useful additions.
The main home screen panels are simple to adjust and customize with your own apps and shortcuts. The E5 Play includes a personalized Google feed as the left-most home screen panel. It shows you local weather, calendar appointments, travel times to work/home, and so on.
The app drawer, notification shade, Quick Settings tool, and main settings screens are all standard Android as designed by Google, and work accordingly. Apps are listed alphabetically in the drawer, with five app suggestions lining the top. The app drawer doesn't support folders, nor does it allow you to hide apps. There are no themes or other fancy interface tricks on board, which is fine as far as I'm concerned.
Moto Actions are hand gestures that serve as shortcuts for certain some tasks. For example, drag three fingers down the display to take a screenshot, make a chop motion with the phone twice to turn on the flashlight, or pick it up to stop ringing. I'm glad to see at least these few are available to the E5 Play.
As for performance, the Moto E5 Play has a 1.4 GHz Snapdragon 425 processor with 2GB of RAM and 16GB of storage. This is close to scraping the bottom of the barrel these days. Still, the E5 Play managed to deliver a respectable performance. It never felt that slow, though there was certainly some sluggishness from time to time.
Camera
Motorola's quick wrist-twisting gesture to open the camera isn't available on the E5 Play. Sad face. Instead, the best, fastest way to open the E5 Play camera app is a quick double-press of the screen lock button. The app takes a hair longer to open than I want it to.
The camera app is simple. The controls on the left side of the viewfinder let you adjust HDR (on, off, auto), flash (on, off, auto), and set a timer.
A selector next to the shutter button lets you access special modes. These include professional, slow motion, and panorama.
The professional mode is the only advanced mode. It lets you manually adjust focal point, white balance, shutter speed (but only up to 1/2 second), ISO, and brightness. There are sliders for making adjustments as you go. It's fairly easy to use and previews the results in real-time as you slide the controls.
The pano and slow-mo modes are easy to use. There are no other special video tools, but the selfie camera includes a beautification filter.
The E5 Play's camera isn't as fast as I want it to be, but it's easy to use.
Photos/Video
The main camera has an 8-megapixel sensor at f/2.0 and an LED flash. The camera does a very good job for a phone at this price. The shots I captured were sharp, colorful and properly exposed. I saw few white balance problems. Because the camera is slow, you may have trouble getting the E5 Play to focus on moving subjects, like your kids or friends. Otherwise the camera pleasantly surprised me.
The selfie camera has a 5-megapixel sensor and its own flash, which is surprising for a device at this price. The selfie cam didn't include as much detail as I want, and images were often a bit soft. Exposure and color were good.
The phone can record video up to full HD (1080p) and it does a reasonably good job of it. I saw some grain in low-light video, but otherwise the results are on par with similarly spec'd phones.