Review: Motorola W755
Article Comments 100+
Jul 28, 2008, 2:19 PM by Stewart Wolpin
updated Jul 29, 2008, 3:33 PM
Motorola offers up a classic mid-range clamshell for Verizon that is a Jack of All Trades. Is it a master of all, few or none? With video tour.
Advertisements article continues below...
Form
It It Your Type?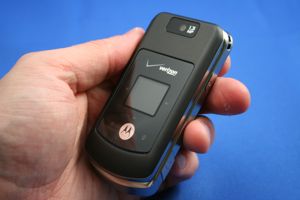 A low price often ameliorates, or at least minimizes and helps rationalize, product objections. Take, for instance, the Motorola W755, available from Verizon. All things being equal, I would pronounce the W755 a solid, if basic, music-enabled flip phone with many fine qualities such as EV-DO and Rhapsody music service compatibility. But the W755 also suffers from a few annoyances that are at turns surprising and easily avoidable, especially considering Motorola's technical prowess. The question becomes how much you're willing to overlook or give up for Verizon's low discounted price.
Body
The W755 is your normal, average, every day black flip phone, but it's covered in a rubberized material front and back for a sure grip. It's lone nod to style is the top half, which, when flipped up, rests slightly over the top of the bottom half like two overlapping tectonic plates.
The front face has two glass-covered sections: the 1.3 MP camera lens and the 1-inch external screen. Surrounding the 1-inch external screen and Motorola logo are four nearly invisible soft-touch music controls that light up and become active when the music is playing, and a Bluetooth indicator icon slash on/off control. This external Bluetooth control is unique and a great idea that I hope is more widely adopted.
Inside the W755 is a 1.9-inch screen. Its dialpad has cleanly delineated black alphanumeric keys illuminated with clean, warm, white backlighting which renders the keypad easily readable in any light. The navigation array is comprised by three concentric circles; the bulls-eye is the "select" key and the two outside rings are actually a single ring with cursor direction controls. Unfortunately, there isn't enough differentiation between the inner and outer ring sections. The direction ring seems to be comprised of two sections, which is a bit confusing and leads to accidentally tapping the "select" bulls-eye instead of the directional ring and vice versa.
On the left side are the up/down voice toggle and Motorola's multi-function smart key; it activates and deactivates the speakerphone during a call, kills or activates the music soft touch music control icons on the front flap, or locks the keypad, which is sort of a waste since the keypad is covered by the top half of the phone.
At the base of the left side is a USB jack, Motorola's usual miniUSB connector rather than the now industry standard microUSB connector. This is perfect if you're upgrading from an earlier basic Motorola phone since all your previous miniUSB accessories and chargers can still be used.
On the right side is the voice recorder/voice memo activation key and, at the base of the side, a 2.5mm headphone jack. However, you'll have to buy your own headset, mono or stereo; Verizon has stopped including free headphones with most of its models.
I am constantly annoyed with Motorola's frequent (mis)placement of the microSD slot, which with the W755, happens to be buried beneath the battery. I understand that most consumers will slip in a card and leave it there for the life of their phone, so only have to remove the battery once. But there also will be consumers who purchase a 1GB card and, in a few weeks realize they should have gone with a 4GB card, the maximum the W755 can accept. Or, there are those of us who don't want to spring for a USB cable or fuss with Bluetooth and opt instead to use a card reader to transfer data. In either event, the back cover is easy to snap on and off and the battery relatively easy to pop out and in again. But doing so is still a pain since you have to turn off the phone to swap out the card.
Considering there are plenty of Verizon flip phones as thin if not thinner than the W755 with side microSD slots, there is no technical reason I know of why Motorola can't find room on the side for the microSD slot as well.
One other minor annoyance is the lack of a Music icon key, which immediately activates the music player. But there are other methods to get your music playing (see Menus).
The Three S's
Screen
As noted, outside the top flap is a 1-inch 96x80 pixel screen; inside is a 1.9-inch 176x220 pixel display. Neither is exactly state of the art but they do the job.
The external screen displays the time in digital or analog clock modes. When music is playing, track title and artist info along with a song progress bar are arrayed and easy to read over the album art.
The inside screen is bright and clean both indoors and out; we had no trouble discerning images even in direct sunlight although they a got a little washed out, which is to be expected.
All videos can be expanded to "full screen" for viewing horizontally, although on this phone, "full screen" isn't much bigger than the portrait mode. Videos were bright and colorful but surprisingly splotchy and jaggy considering the relatively small screen area. On-screen text captions or IDs for talking head in the videos were difficult or impossible to read, depending on their size.
Signal
EV-DO signal strength was no stronger or weaker than other EV-DO phones we've used. I consistently had three or four EV-DO bars roaming around New York City, except when I was home in the northern most reaches of Manhattan where most cell signals go to die. Data wiggled through regardless of the number of bars; even with only a single bar, data speed wasn't only barely affected. Voice signals, however, weren't as consistent as we're used to; even sitting still, call volume seem to occasionally waver unpredictably as if the signal were waxing and waning.
Sound
Motorola's Crystal Talk technology produces plenty of volume. My callers reported I sounded clean, clear and loud, but what I heard often sounded a bit hollow as if the speaker were in a cave, especially when conversing with other cellphones. The usual cell warble was far more evident on cell calls than landline connections, which is to be expected.
The W755's speakerphone also offered plenty of volume and better than average speakerphone sound. But full duplex – simultaneously hearing your co-conversationalist while you're talking – seemed to work only one way. I could hear my co-caller when I tried to talk over him, but he didn't hear a word I said while he was yakking away.
Another minor issue is the W755's speaker location, on the rear of the bottom half of the phone. To more clearly hear your caller, it's best to either cup the speaker with your palm or turn the phone upside down so its hinged middle is sticking up in the air.
Ringtone volume was explosively loud at the top volume level and vibrate buzz equally violent. I got some odd stares when I jumped as the phone sprang to life in my pocket. As with many phones in vibrate+ring mode, you feel the phone before you hear it ring.
Music through the speakerphone also was plenty loud and provided adequate mono background music in quiet environments, especially when the phone's rear speaker faces up.
Battery
In my unscientific battery tests, I pulled in more than four hours continual conversation, 20 to 30 minutes more than Motorola's rated 220 minutes talk time. Motorola didn't rate music play time, but I got 14 and a quarter hours, although the final two-plus hours played with the low battery icon flashing.
The W755 is rated at an above average 390 hours (16.25 days) standby time, and takes only about an hour to fully charge. You are also prompted to disconnect the phone from the charger once fully charged to save energy.
Basics
Touch
The touch music controls on the front flip – skip forward/FF, skip/RW, play/pause – haptically buzz when they're touched and are extremely sensitive. Pressing the left-side smart button when the music is playing deactivates the buttons so you can stick the phone in your pocket without worrying about accidental key presses.
Some functions can be activated with the phone closed with a physical button push followed by a touch-sensitive key click. In standby mode, pressing any of the left side keys activates the front cover touch sensitive keys. From here you can hit "Play/Pause" to start the music, the "Mute" icon to silence the ringer, or the Bluetooth icon to power it on or off.
Menus
As with most Verizon Wireless phones, you scroll left-right through the five menu options, Contacts, Recent Calls, Settings and Tools, Media Center and Messaging. You can search by feel for the Media Center; it buzzes when you get to it. But instead of giving you a numerical list for each menu as on some Verizon phones, the default menu settings give you a large, screen-filling menu icon and menu ID. You have to click OK to get the numerical menu list.
I'm not fond of the order the menu items appear on-screen as you scroll through them, however. On the main screen are two soft keys, Messaging on the left, Contacts on the right. But redundantly, the when you select "Menu," the first menu screen is Contacts. I'd rather one of the other options pop up first.
Fortunately, you can change these menus to something more to your liking from the Display Themes menu in Settings & Tools. Why they didn't call these Menu Themes, which is what they are, is confusing.
The nav array is pre-programmed with direct function access: up=Mobile Web, down=Calendar, right=Media Center, and left=Music & Tones. You can reprogram these keys to navigate to any specific page or function in the phone. For instance, I found it especially helpful to reprogram one of these directional keys as a shortcut to "My Music."
There is a "Standalone" setting in the Phone Settings menu, which is actually airplane mode. Why Motorola or Verizon (or whomever makes these decisions) simply doesn't call it airplane mode like everyone else is a puzzle.
My biggest complaint is getting to your music. As noted, there is no dedicated music activation key on the W755, but there are two shortcuts:
One, with the phone closed, you can hit one of the three left side keys. The front cover touch sensitive keys then light up, then you can touch "Play/Pause" to get "Play All" and "Shuffle Play" options. Either the "Skip" or "Rewind" touch sensitive keys toggle between "Play All" and "Shuffle." Once you choose one of the two, you hit "Play/Pause" again.
Two, you can reprogram one of the navigation directional shortcuts to "My Music" option.
Without taking advantage of either of these shortcuts, it takes a minimum of four clicks to start the music playing. If you go through the regular home screen Menu, it takes nearly twice as long, so create a shortcut. Of course, the inclusion of a dedicated "Music" side or keypad button could have solved all these workarounds.
Calls/Contacts
Regular dialing results in numbers nearly a third the size of the screen in an easy-to-read font. Choosing "Large Only" from the Display settings menu kicks up the font size a few more points, making clicked numbers easy for all but the most vision-impaired user to read.
Since the W755 is not a smartphone, you can't transfer your contacts from Outlook or some other PC-based address book. Each of your entries can include five phone numbers (Mobile 1, Mobile 2, Home, Work, Fax), Email 1 and Email 2, Group identification, and picture ID. To confirm you're putting the right data in the right place, the form rectangle you need to fill in lights up in powder blue. The resulting saved contact screen displays only the information you've inputted, so you don't have to scroll through a lot of empty spaces to get to the contact method you need.
When dialing from the contact list, just remember to shift from the navigation array to the green "Call" button when you want the phone to dial the actual number. Hitting the center action button when you get to the number just puts the phone in edit mode.
Messaging
Considering the W755 is an inexpensive phone, it's not surprising its email options are limited to the popular POP3 services – MSN Hotmail, AOL, Yahoo! Mail and Verizon.net. Just tap in your screen name (which the phone can remember) and your password to get your email. The problem is, the screen name and password forms force a capital letter for the first character of each, which means you can't enter case-sensitive names or passwords. As a result, I could not get my AOL mail.
The W755 also offers mobile IM, along with picture (even pictures taken at the W755's highest resolution) and video messaging. The "To" page has four numbered addressee boxes, which is initially confusing since it implies you can only input four adresses. But you can "add" an additional six numbers, for a total of 10 recipients. For text messages there are a raft of handy options. You can easily add graphics and/or sounds, insta-compose your message with "quick text" – the W755 includes 15 pre-composed short messages such as "Wanna meet," "On my way" and "Thanks." You also get handy message priority and you can set a validity period (the time frame in which a text message is stored on a carrier's server if the recipient is offline).
For picture messaging, you can add slides. You can compose your MMS or video message from the Message section first, or find the picture or video in the Media Center My Pictures or My Video folders and compose your message and send your files from these Options menus. Other phones don't always enable message composition options from both the Message menu and the photo/video gallery sections.
Extras
Music
A cellphone purporting to be a music device, in my estimation, should have at least four of five attributes: external music controls, an external direct-to-music key (or, if a clamshell, an inside key as well, and, if a touchscreen, a home screen direct-to-music icon), at least 4GB of memory, access to a music service, and a stereo 3.5mm headphone jack. Motorola's W755 purports to be a music phone. It includes the first four of these qualifications, lacking only the fifth. The W755, however, meets these thresholds in a wildly inconsistent fashion.
First, the good news. THE W755 is compatible with the new Rhapsody Verizon music service, which is the real value of this phone. You download the Rhapsody software from the Verizon site, connect you phone via USB cable (you'll have to get your own standard USB to miniUSB cable; the W755 doesn't come packaged with one), sign up for the service and away you go. You can buy tracks a la carte or get a subscription for unlimited tracks.
The problem is you won't find out any of this from the manual. Instead, you'll get directions to a www.verizonwireless.com/music/musicmanager URL, which theoretically houses Verizon's own MusicManager software. Except, this URL leads to a non-existing Verizon Wireless page. The manual was published before the Rhapsody service went live, and merely alludes to its being available at some point.
If you want to load your own music into the W755, you can use Windows Media Player 11. From a Mac, you'll have to use a card reader to drag-and-drop tracks onto your microSD card. The W755 can play back plain AAC (not AAC+), MP3 and WMA files.
As noted, the W755 has no obvious key to take you directly to your music. You can activate the soft-touch controls on the front flap then press the soft-touch "Play" button to activate the player. If you somehow forget this shortcut, you'll have to use one of the two shortcuts described in the Menus section. Once you get to your music page by clicking through the menus, it takes the W755 a few seconds to load up your library, the time dependent on how much music you had to load. I had around 3GB of music loaded in, so it took a good 5-6 seconds for the music to start playing.
Unfortunately, the music only plays when you're in the music player. If you want to take a picture or send a text message or add a contact any other activity, you have to leave the music app, and when you leave the music app, the music ends.
You can choose "Play All," which plays all your tracks in sequence in which they are listed in the phone, or choose "Shuffle." Many phones with Shuffle music play create a single sequence of songs, then repeats that sequence each time you restart Shuffle play. This means each time you hit "Shuffle," the same songs are played in the same sequence as the last time you hit "Shuffle." The W755, however, creates a new Shuffle sequence each time you restart the music player.
However, when you exit the music player then return to it after completing some other function, the W755 doesn't continue to play tracks from where you left off the way an iPod does. It creates a whole new Shuffle sequence, increasing the likelihood you'll hear a track you just heard a few minutes before.
Camera
Camera
The 1.3 MP camera activation key is above the "Send" key. It takes a couple of seconds for the camera app to load.
Shutter release lag is relatively fast, but I'd actually like it slower. The camera is still moving slightly from your finger pressing the "take picture" key, often resulting in blurry shots unless you're shooting in bright light. If the release were a nano second slower, you would have time to steady your hand before the shutter clicked.
Among the W755's other camera options are 3- , 5- and 10-second self-timers; brightness and white balance controls; and, choice of four shutter sounds, including silent. You also get a 4x digital zoom, but the resolution of the resulting pictures is cut in half with each zoom step. The W755 doesn't tell you this, however; the set resolution displayed on-screen does not change as you zoom. There also are three color effects – "antique" (sepia), black-and-white, and negative. You also get a bunch of "fun frames," but the camera refused to take any pictures with a frame chosen.
You can shoot self-portraits if you close the phone's flap; your face will show up, albeit grainy and hard to see, in the external display. There is no flash and no editing functions.

You can program the phone to store pictures in its generous 70MB internal memory or to an up to 4GB external microSD card. You can also send and save pictures to your Verizon Online Album.
Photos/Video
Photos
I didn't expect much from a 1.3 MP camera, and didn't get much. Photos, indoor and out, were gauzy, grainy and indistinct, even in direct sunlight.
The scenic picture of the bridge, for instance, the cliff face with the building and the phone booth were all taken in the middle of the afternoon on a perfect bright summer day.

These image limitations are visible, however, only at full size. Sent via MMS and viewed on another phone or a small touchscreen, or even on a Web page like this at a smaller size, and these flaws largely disappear.
Video
The 176x144 3gp videos are jagged even in the camera and virtually unwatchable, regardless of the lighting conditions.
sample video 1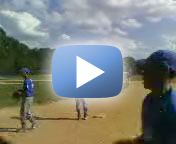 3GPP2 / MPEG-4 format (viewable with QuickTime)
File size: 152 KB
sample video 2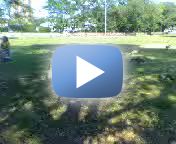 3GPP2 / MPEG-4 format (viewable with QuickTime)
File size: 180 KB
Browse/Customize
Browse
The W755 is an EV-DO phone, so not surprisingly, the Mobile Web browser and subsequent Mobile Web text pages load in a wink, usually less than five seconds. Verizon's numbered menu pages for its varying text offerings loaded in two seconds, for instance. Home pages and text articles for CNN, the Wall Street Journal and USA Today content all loaded in four to five seconds.
Verizon Wireless' top menu for its VCAST Video service takes five-to-six seconds to load, but succeeding branded video content menu page load times were dependent, it seemed, on their source. ESPN's video menu list loaded in two seconds or less, while NBC's menus took twice that time.
Video clip load times also were six-to-seven seconds, only somewhat dependent on length of the clip. A 1:30 minute ESPN Sports Center clip took six seconds to buffer, for instance, while a 7-plus minute NBC Mobile news clip took only six-seven seconds to load.
Customize
You don't get a whole lot of customization options, but then I didn't expect you would. You can pick any picture as your own home screen wallpaper, choose from five "display themes" (Classic, Youth, Headlines, Chrome and Vapor, which is the default, all of which change the Menu pages), choose from 21 included ring/alert tones, and you can change the four navigation options on the up/down/left/right toggle.
Extras
Apps
Like most new phones, the W755 includes voice command. And, like most voice command options, operation was hit or miss. You have to remember the correct command nomenclature and enunciate clearly or you'll get some bizarre responses. I was more successful getting the music to play than calling up a contact name to dial. But I've never been a fan of this so-far, half-baked technology. Considering the success rate (or lack thereof), it's simply easier and more reliable to push a few buttons.
You also get voice record, which uses the same right side activation button as voice command (click it and release it for voice command, hold it for voice record). Memos sound clear and clean, assuming quiet surroundings, and recordings are stored in My Sounds, found in the Media Center menus. I had to hunt for them – the manual doesn't tell you where your voice memos get stored. You're welcome.
Bluetooth
I don't know if it was the phone sample I had or my version of Vista, but I could not get my Windows PC to discover the W755, even though the phone found my Windows PC. Since this is so elemental, I have to believe there was something wrong with either the W755 sample I had or my PC, since the W755 had no trouble linking up with mono and stereo headphones and both a Mac desktop and laptop.
Once pairing was achieved (and I've admittedly never had good luck pairing phones to PCs; I just find it easier to use a card reader to transfer files, which is why I'm so annoyed about the microSD card being buried under the battery), files flashed fluidly from phone to, well, the Mac since my PC was uncooperative.
On my Mac, I was able to search through the W755's files and folders to pull out and transfer the pictures you see here, rather than having to send each photo one-by-one from the phone. I assume you'd be able to do this with a PC, assuming my PC's inability to discover the phone is just a blip.
Clock
Press any side key, and the time shows up in the external display, along with network signal strength bars, a Bluetooth icon if activated, battery meter, and the day and date. You can turn the digital readout into an analog clock or a 24-hour clock from the Settings menu. There's a world clock and an alarm clock with three alarms in the Tools menu.
Multimedia
Since the W755 is an EV-DO phone, you can subscribe and get access to all the Verizon Wireless VCAST services, which includes the Verizon Wireless music store or Rhapsody, along with a plethora of broadcast and cable network clip offerings. You don't get live TV.
Our sample W755 was loaded with full versions of four games: Call of Duty 4, Galaga, Pac-Man and Sonic the Hedgehog. Retail units of the W755 might have fewer, or even more, full games than our review unit.
Sync
Connection to a Windows PC via USB was painless – my Vista machine had no trouble recognizing the phone. Loading Rhapsody tracks was a longer process than I would have imagined. Moving more than 500 tracks from PC to phone took nearly two hours, which surprised me. Anyone with an iPod knows 500 tracks would have taken around 10 minutes to load from PC to player. Also, as noted, there's no included USB cable, adding to the expense of this phone.
Video
Here is a video tour of the Motorola W755. You can watch it here:
Or go to YouTube for more viewing and sharing options.
Wrap-up
Basic features aren't so basic anymore, and this phone is a prime example of the kinds of goodies you can get for not a lot of money. Unfortunately, you'll have to spring for your own headphones, a USB cable and a microSD card to really complete the purchase.
But talk time, music play time and standby time are exemplary. You can afford to miss a day or two of charging and not cripple your communications capabilities,. In addition, the W755's EV-DO connectivity is speedy, consistent and reliable for data, less so for voice.
So, if all you need is a serviceable phone for calls, texting and Web access and the extras are just that, extras, you'll get a durable, unpretentious, well-performing phone for not a whole lot of money.
Password problem with AOL Mail
To get around that capital letter default for the password field simply type your password but add a leading letter. Then back space and delete that first letter.

Kpassword

Just delete the 'K.'