Hands On with the Moto e5 Play
Article Comments
Apr 20, 2018, 10:48 AM by Rich Brome
updated Apr 20, 2018, 10:48 AM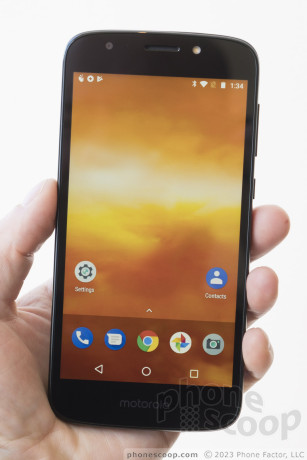 The Moto e5 Play is the latest truly entry-level phone from Motorola / Lenovo. There's nothing fancy about it, but it does manage to fit in a fingerprint reader and an HD display. We checked it out in person. Here are our first impressions.
Article
Of all the affordable Android phones Motorola announced this week, the Moto e5 Play is the lowest-end. Most variants have a fingerprint reader and the clean Android software we expect from Motorola, but little else in common with the e5 Plus, g6 Play, and g6.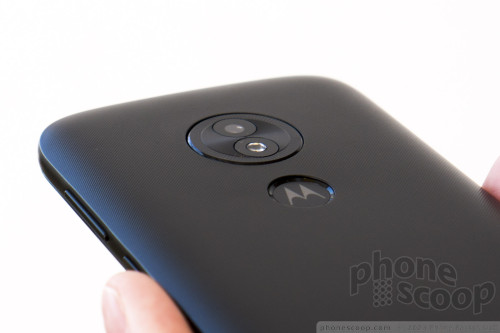 Instead of a metal-frame design with a fancy-looking back, this has an old-school plastic body and shell. Instead of curved-edge glass, the front is completely flat. On the plus side, these things should make the phone more durable than its cousins, and the battery is removable.
The display is also old-school with its 16:9 aspect ratio. That means a fat chin and forehead that rob you of the screen space you'd get with a 2:1 display on a higher-end phone. A 16:9 screen is somewhat expected in this (rock-bottom) price class, but Alcatel has managed to put 2:1 displays on its cheapest phones this year. At least the display on the e5 Play is HD resolution, which is great at this 5.2-inch size.
Besides the fingerprint reader (on most versions) and HD screen, a few other things set this apart from the entry-level phones it's competing with. The processor is a Snapdragon 425 or 427, a step up from the 200-series chips in some phones. Variants with the 427 will support Cat. 6 LTE, which is faster then the Cat. 4 on most phones in this class. Critically, it also supports extra bands that help make Cat. 6 LTE fast, like all three Sprint bands, and bands 66 and 71 for T-Mobile. (We've seen evidence that one version will support bands 14, 29, and 30 for AT&T, too.) Those bands also help provide better service overall. It even has good support for 2G, 3G, and 4G roaming overseas, which is rare in a phone this affordable.
It's also somewhat water-resistant, supports fast charging, has dual-band Wi-Fi, and comes with the latest version of Android (8.0 Oreo). It can record video at full 1080p HD, and can record slow-motion video. You won't find most of these things on most competing phones.
In person, it feels nice. For plastic, it feels solid and high-quality. It's a nice small size and comfortable to hold. There's a fine ribbed texture on the very back, which improves the feel and should hide minor scratches over time. The back looks almost black in certain indoor light. But under brighter light, it has a bronze tint and microscopic multi-color sparkles in it. It's just subtle enough to not look gaudy.
The front glass is completely flat and sits just below a thin plastic rim to protect the glass. It doesn't feel wonderful, but it should be quite durable. The back and sides are one plastic shell, which can be removed easily enough, to access the battery and card slots. Snapping it back on completely requires attention to detail. Not only do you need to mind the many catch points all 'round the sides, but the fingerprint reader rim tends to catch the shell, producing a thick hollow hump in the center of the phone, and a way-too-recessed reader. A firm press next to the reader fixes it, but if you plan to access the battery or memory card often, it's an annoying process.
The side keys are very good; better than the ones on this year's higher-end Moto phones, actually.
The software is standard Android, but with the Moto app to add some smarts you don't normally see in a phone this affordable. The phone can stop ringing when you pick it up, and you can activate do-not-disturb mode by simply placing it face-down. It even watches your eyes and will keep the display lit as long you keep looking at it.
Sensing a theme yet? The Moto e series has long offered a great value, bringing just a little extra to the entry-level category. The e5 Play continues that tradition. We look forward to reviewing it. If it also continues the tradition of good quality, it could be a winner in this category.
No messages