5 Ways to Conserve Mobile Data
Article Comments
Apr 13, 2018, 3:15 PM by Eric M. Zeman @zeman_e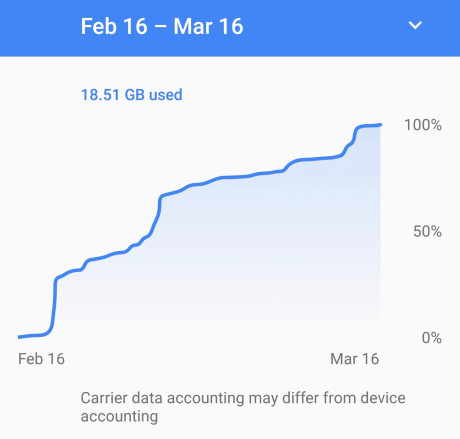 Not all mobile plans are created equal. While today's unlimited LTE 4G options are enticing, they're pricey and not a good fit for everyone. If you need to keep your budget in check with a limited bucket of mobile data, you can use these methods to keep your usage down.
AD article continues below...
With advanced phones like the Apple iPhone X and Samsung Galaxy S9 in your pocket, it's easy to burn through mobile data quickly. Who doesn't want to check out the latest clips on YouTube, or laugh at videos on Facebook, or scroll through endless images on Instagram? These and other media-rich apps can consume lots of mobile data in a short amount of time, leaving you with the short end of the stick at the end of the month.
The good news is that Android and iOS phones include lots of ways to cut back on mobile data usage. Here are five ways to ensure your phone sips, rather than slurps, mobile data.
Use WiFi
This should be no-brainer. Use WiFi whenever possible, particularly at home. The majority of WiFi networks don't have data limits and offer an easy way to cut back on mobile data use. You may need to do a bit of research and planning ahead of time, but the payoff is worth it.
If you're away from home most of the day, see where nearby hotspots are located. Starbucks and Panera offer free WiFi, as do myriad other coffee shops, restaurants, hotels, and even bars. Be sure to check if your hometown has public-access WiFi, or if your local library offers free connections. Other public spaces, such as malls, stores, arenas, and such, often offer WiFi to those within.
The same applies when you're at work. Your employer may block access to certain sites or services, but the limits may be not be a dealbreaker if it gives you a chance to jump off your carrier's network for even a few hours during the day.
Even better, see if your carrier offers a WiFi-finder app and/or its own WiFi hotspot network. Some, such as AT&T, do.
WiFi network quality does vary widely, so it might require some actual on-the-ground footwork to discover which of those in your neck of the woods perform the best and are worth using.
Set Warnings and Limits
You can take direct control over how much data your phone uses. First, set a warning. Let's say you have a 5 GB monthly plan. Set your phone to warn you when you reach 4 GB. This gives you a clear indicator that you're getting close to your monthly limit.
Beyond the warning, you can set your mobile data to turn off entirely when it reaches a hard limit. Since your phone and carrier often count data slightly differently, consider a limit below your plan maximum, such as 4.75 GB for a 5 GB plan. This way you can avoid going over your monthly limit and running into extra charges.
You have the power. Use it.
Manage Media Quality
I spend a lot of time listening to music from Spotify and Google Play Music, and watching video on YouTube and Netflix. Streaming media — particularly video — over the network is a surefire way to burn through mobile data. If you want to enjoy these services, but still save data, you have some options.
Most music and video apps allow you to control the quality. This directly translates to data savings. For example, Spotify offers Automatic Quality, Normal Quality, High Quality, Extreme Quality, and more. The higher the quality, the more data you use. Choose the lowest quality option available. The same goes for video. You don't need to watch the new Star Wars or Marvel movie trailer on YouTube in HD over LTE. Ramp things down to standard definition when you're not on WiFi.
These options go a long way to help control data consumption while still allowing you to enjoy all the features of your phone.
Take Control of Autoplay
Facebook, Twitter, YouTube, and other social networks are working against you. All of them support embedded video, and recently each has turned on autoplay features. You can fight this.
It's midday, you're on your lunch break and decide to see what your friends are up to on Facebook. As you scroll through your Newsfeed you encounter a video shared by a friend. It will play automatically and chew up your mobile data all without asking. That sucks.
But buried in the Facebook app settings is a way to control this "feature". There are three options for Facebook Autoplay: Allow over cellular/WiFi, WiFi only, and off. The safest bet is off, but even if you choose WiFi only that means videos will not automatically play when you're connected via cellular.
You can make similar adjustments to other social networks and media apps, but it's up to you to dig in and find the proper settings. Honestly, I turn off Autoplay to save my sanity, more so than my data. Luckily it helps with both.
Limit Which Apps Have Cellular Access
Not every app on your phone deserves carte blanche access to cellular. It requires some effort, but you can essentially prevent most of the apps on your phone from connecting over LTE and limit them to WiFi only. Consider this the ultra-fine-tuned approach.
The biggest culprits can be the app stores: Google Play Store and iTunes App Store. It's one thing to browse through these apps for new games, but it's another to actually download those apps over cellular connections. A good racing or FPS game can easily exceed 1 GB. The good news is that Apple and Google themselves will prevent you from downloading those apps over cellular. Even so, the app download limit of 100 MB over cellular is still high. Apple and Google won't stop you from downloading 10 (or more) apps measuring 100 MB each. You can limit Google Play and iTunes to WiFi only.
Moreover, ensure that your phone only downloads automatic app updates over WiFi.
Beyond the app stores, each individual app on your phone has its own toggle that gives it access to cellular. I limit as many as possible to WiFi only. Your best bet for controlling data usage starts with media apps, such as Netflix, Hulu, YouTube, and the like. Beyond these, look at your productivity apps, weather and info apps, and others. Do they all really need cellular access? The answer is likely no. If you turn off network access (or, on iOS devices "background data"), these apps can't burn through data when you're not looking.
No messages