Facebook Says Android Users Gave It Permission to Collect Data
Article Comments 5
Mar 26, 2018, 7:15 AM by Eric M. Zeman @zeman_e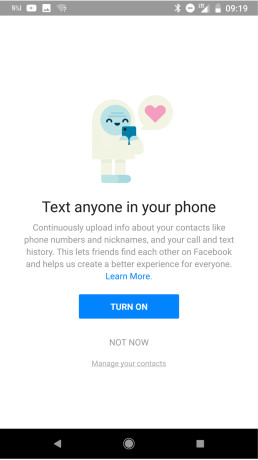 Facebook has been called out in recent days for storing, in some cases, years' worth of call logs and text messages from Android handsets. Users discovered the logs in the wake of the Cambridge Analytica scandal. Many are looking at ways to delete the data they share with Facebook or delete the number of apps that can access their data. In the course of these efforts it became clear that Facebook has been storing user phone data. Looking to get ahead of the story, Facebook said users opted in to provide that data. In a blog post, the social network says, "Call and text history logging is part of an opt-in feature for people using Messenger or Facebook Lite on Android. When you sign up for Messenger or Facebook Lite on Android, or log into Messenger on an Android device, you are given the option to continuously upload your contacts as well as your call and text history." During the sign-in process, users can choose turn it on, learn more, or skip the syncing process. Facebook claims people can opt out of the feature at any time, as well as turn off continuous call and text history logging while keeping contact sync intact. People may also delete the contact information they have uploaded from the app if they wish. "We never sell this data," insisted Facebook, "and this feature does not collect the content of your text messages or calls." The company says time stamps associated with calls and texts are stored securely and not given to third parties. This issues does not impact iOS devices. Android users may want to check the settings of their device to see if they've opted into the text/call logging feature.
READ WHEN INSTALLING!!!
This is why you read each option when installing an app. Don't just blindly hit NEXT every time. The amount of "options" that you have to opt out when installing Facebook alone is way too much. Glad they are under fire.
Who'dda thunk?
Imagine that! Apps and companies that turn the end-user into the PRODUCT - and advertisers/corporations/highest bidders the real CUSTOMER. It's a race to the bottom to extract the most revenue per unit sold.

Android users are subject to the anti-privacy trifecta - Google, Facebook, Samsung... 3 companies that are chomping at the bit to show you ads, acquire your data and then sell it to anyone who is interested. And then turn around and show you more ads.

This is why I don't mind Apple's "walled garden", I pay a premium price to reduce the chance that my data is being hawked and sold off to the highest bidder. Now, despite that, I still have to be paying attention 24/7 to ensure that I don't accidentally tap the wrong button each tim...
(continues)
If you think Apple is any different you are seriously misguided. But if it makes you feel better, keep believing that. Its best to just assume anything you do on your phone can be compromised.
I agree
They make it clear when you use the service on Android that they are collecting...