Review: LG Tribute Dynasty for Boost Mobile
Article Comments
Mar 19, 2018, 6:00 AM by Eric M. Zeman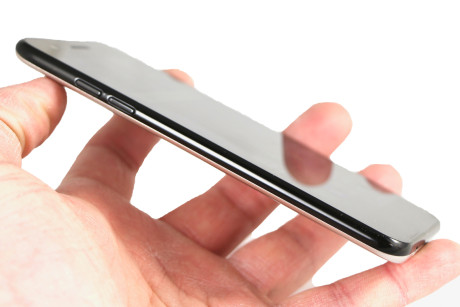 LG's Tribute Dynasty is a sub-$100 handset sold by Boost Mobile and Sprint. This low-cost Android handset features a simple design, average build, and entry-level capabilities. Here is Phone Scoop's in-depth review.
Hardware
Is It Your Type?
The LG Tribute Dynasty is a low-cost Android phone for Boost Mobile and Sprint. This entry-level smartphone covers the basics in a relatively compact package. If you're in in the market for a simple device, the LG Tribute Dynasty is an affordable option for the prepaid set.
Body
The Tribute Dynasty by LG is a simple slab of a phone that keeps design flourishes to a minimum. It has a rather plain profile with a black face and a champagne rear panel. The phone has gently rounded corners, smooth side edges, and a forgettable, everyday look.
The black glass panel that covers the front surface is set into a glossy black plastic frame. The gold-colored rear panel is a large piece of plastic that partially wraps around the side edges. People who are sick of single-color phones may find the black-and-gold approach of the Tribute Dynasty a refreshing change.
Most people will agree the Tribute Dynasty is a fine size. It's not the smallest handset in the market, but it is compact enough to make today's flagships look like monsters. At 5.7 inches tall and 2.8 inches wide, I found it comfortable to hold and use. It may still be a hair too big for kids with small hands, but most everyone should be able to manage it without issue. The 8.1mm profile really helps, as does the weight, which LG kept to under 5 ounces. The rounded shape helps it slip into pockets with ease.
I'd rate the materials and build quality as middle-of-the-road. There's nothing high-end about the phone, that's for sure. The glass panel is smooth and flat. The polycarbonate frame comes across as somewhat thin. The plastic rear panel is fine and it fits up against the frame tightly, with even seams all around. The body of this phone won't blow your mind, but it's no disappointment either.
The phone is not rugged nor waterproof. Don't drop it in the toilet, please.
The phone's face is pitch black from top to bottom. The display blends into the bezels seamlessly (when off) and there are no markings on the glass. The metal grille covering the earpiece is the only thing you can really spot on the front. There are no buttons. Sadly, the bezels surrounding the display are rather thick all the way around.
The thick framing detracts a bit from the appearance when the screen is on. And it's just not really competitive. Everyone wants a larger screen in a smaller phone body. Other companies are now delivering that — even at lower price points — whether with 2:1 displays, thin bezels, or both. But LG is stuck in the past on this front.
LG positioned the separate volume buttons high on the left edge of the phone. The buttons have smooth, rounded profiles that could stand out more. Travel and feedback definitely come across as mushy and weak. There are no controls on the top or right edges, but you'll find the microUSB port and 3.5mm headphone jack on the bottom.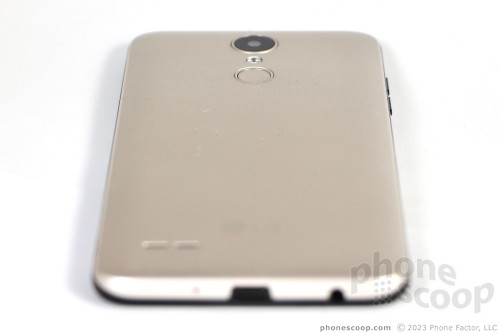 A fine texture covers the rear panel, though the texture doesn't add any grip. I like that the champagne color and material is matte in finish. The screen lock button, placed near the top of the rear surface, is not a fingerprint reader even though it seems designed to look like one. That's a shame, and a bit of a cheap deception. The button is a bit small, but the deep indentation makes it easy to find and use. Travel and feedback are decent.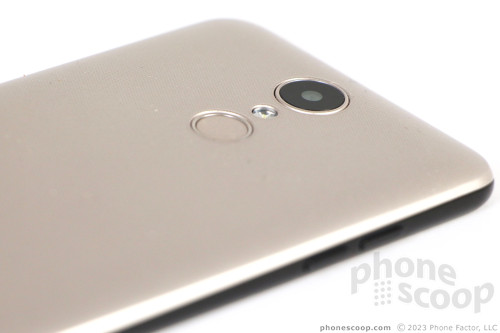 The Tribute Dynasty features a removable rear panel. A small notch in the lower corner makes it easy to pry off. The battery, SIM and memory card slots are all accessible once the cover is removed. The SIM/microSD slots are stacked atop one another. It's easy to pop the battery out.
The LG Tribute Dynasty is a straightforward piece of hardware. It is relatively compact, well built, and functional in all respects.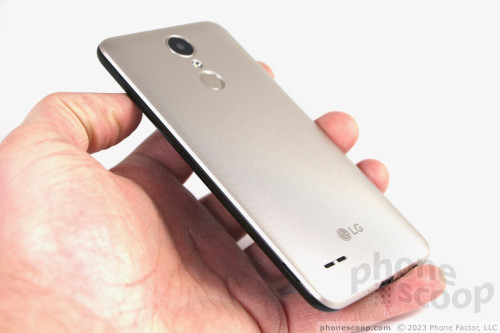 Screen
A 5-inch 720p HD display is buried under the glass. The LCD panel is decent. The size and resolution are just good enough. My eyes were sometimes able to spot individual pixels, and on-screen elements were not quite as sharp as I want them to be. Even so, the display is fine for most uses. The screen puts out a fine amount of light for use indoors and out. I was able to read the screen under sunny skies as long as brightness was ramped up. My biggest complaint is color. The display has a blue hue to it that only gets bluer when viewed at an angle. I'd prefer if they screen were more accurate. Still, the Tribute Dynasty has an acceptable screen for a phone at this price point.
Signal
The LG Tribute Dynasty is sold by Boost Mobile and Sprint, though we reviewed the Boost variant. Since Boost Mobile is owned and operated by Sprint, the LG Tribute Dynasty is technically running on Sprint's network. The phone supports all of Sprint's LTE bands, and that translates to fine network performance. The phone maintained a steadfast connection to Sprint's 4G service no matter where I took the phone. With Cat 4, LTE speeds are not the fastest I've experienced and yet they were zippy enough to handle streaming standard-quality music and video without stuttering.
The phone managed to connect most calls on the first dial and didn't drop any while I reviewed it.
Sound
The Tribute Dynasty is a solid voice phone most of the time. I found voices to be clear through the earpiece when set at medium volumes, though the speaker is prone to distortion when cranked up all the way. In loud spaces, dialing up the volume means you can hear calls most of the time as long as you don't mind the additional scratchiness. The tone is a little on the flat side. You won't find support for WiFi Calling, or HD Voice. (It's possible the Sprint version offers HD Voice.)
I'd call the speakerphone a bit weak. Given the rear panel placement, holding the phone in your hand can muffle the sound. It's best to put the phone on a hard, flat surface during speakerphone calls. Volume is fine for in-car calls, but quality is somewhat rough.
Ringers and alerts are loud enough, and the vibrate alert is just barely acceptable. I missed some calls that I didn't feel when wearing a heavy winter coat.
Battery
LG opted for a 2,500mAh battery and it does an okay job at keeping the phone up and running throughout the day. I found the phone was consistently on its last legs towards the end of the day, and it often showed 10% to 15% by the time I was ready to call it quits. Heavy use saw the battery crap out closer to 9pm than 11pm. This isn't graet news considering the fact that battery life degrades over time. The good news is that you can swap out or replace the battery when needed.
The phone ships with three power modes that give you control over battery life. I like that you can customize each of these modes. The extended mode lets you control screen brightness, background operations, vibrate alert, and so on. The extreme mode turns off most of the radios, dials back screen animations and wallpapers, and more. Even so, you can exclude favored apps (such as Facebook Messenger or email) from the power management schemes.
The Tribute Dynasty does not support rapid charging, nor wireless charging.
Bluetooth, GPS, NFC, WiFi
I didn't run into any trouble with the ancillary radios. The Bluetooth radio paired/connected with headsets, speakers, and my car with no trouble. Calls pushed to headsets were average, as was music streamed to headphones. Nothing too special. Call quality in my car was borderline rough.
The GPS radio works well, but saps battery life noticeably. I was able to navigate on foot around NYC with no problem and voice-guided directions in the car generally kept up.
There is no NFC radio.
The WiFi handled app downloads and in-home media streaming with ease.
Software
Lock Screen
The Tribute Dynasty carries over some of the lock screen tools and features we've come to appreciate on LG handsets.
Lock Screen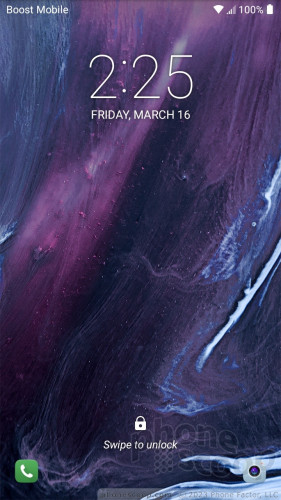 Lock Screen
For example, the Tribute Dynasty includes KnockOn for waking the screen, but not KnockCode for unlocking it. With KnockOn, a double-tap on the screen reveals the lock screen, which includes the clock/notification combo at the top and customizable app shortcuts at the bottom. KnockOn is most helpful when the phone is sitting on a table or desk.
The lock screen clock is big and bold. This makes it easier to see. Users can fine-tune notifications for each individual app on the phone, which means plenty of control over what pops up in the screen. Shortcuts can include voice search, phone, messaging, photo gallery, and the camera.
Despite how it looks, there's no fingerprint sensor. Security options include PIN, pattern, and password. I particularly appreciate that LG allows Tribute Dynasty owners to protect photos and QuickMemo files with a separate pattern or PIN.
Home Screen
The Tribute Dynasty runs Android 7.1 Nougat (no Oreo) with LG's user interface on top. Out of the box, the home screen panels are crammed with Boost Mobile apps, widgets, and shortcuts.
Home Screen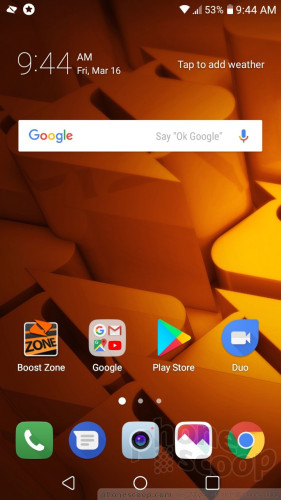 Home Screen
The home screens can be tweaked however you might like. I appreciate that apps can be arranged in various grid densities (4x4, 4x5, 5x5) on the home screen, and that fonts/graphics can be made larger or smaller. This lets you make the best possible use of the screen's real estate for displaying your stuff.
LG has disabled Android's app drawer by default, so all apps rest on the home screen, like an iPhone. You can turn on the app drawer if you prefer a cleaner home screen experience, or "EasyHome" mode if you want the simplest version of the software (best suited for notice smartphone users). If you choose to turn on the app drawer, you'll find you can hide apps you know you won't use often, and easily bring them back when needed. You can re-sort apps to appear alphabetically, by frequency, or by install date. LG has long allowed people to tweak button arrangements, screen transitions, themes, and more.
The Tribute Dynasty supports split-screen multitasking, as well as LG's miniaturized QSlide apps. The QSlide apps are limited to: phone, calculator, contacts, and calendar.
The Quick Settings panel includes the usual controls and info. You can customize which controls appear here.
The main settings menu is broken down into several tabs by default, though you can adjust it so everything appears in one long list. I found the settings easiest to use without tabs. The search tool here comes in very handy for finding the right option quickly.
The Tribute Dynasty is powered by a MediaTek 6750 processor with eight cores at 1.5 GHz, and 2 GB of RAM. It's not the fastest phone on the planet, but the 6750 pulls its weight. The Tribute Dynasty never felt slow or sluggish while I tested it, though it never felt speedy, either.
Camera
The Tribute Dynasty doesn't have a physical camera button, though you can launch the camera from the lock screen or with a quick double press of the volume-down button. The camera interface is straightforward.
Camera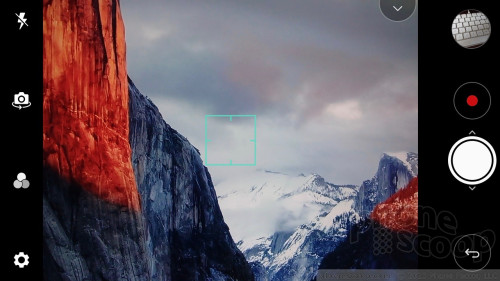 Camera
The on-screen controls cannot be customized. There are separate shutter buttons for photo and video. You can set HDR to "auto", but you have to dig into the settings; I wish an HDR toggle was accessible from the main viewfinder. There are no advanced shooting modes at all, not even panorama, let alone slow-motion or portrait. At least it has tap-to-focus.
The user-facing camera includes colored filters, but no beauty mode, nor even LG's Gesture Shot for taking pictures by making a fist.
The Tribute Dynasty's camera software is moderately quick to focus and snap photos. It's a basic camera for basic photo shooting.
Photos / Video
The Tribute Dynasty's 8-megapixel camera is a pretty low-grade shooter. It handles basic photography and will do okay in well-lit areas, but it's hot garbage in low light.
Some photos were perfectly in focus, while others were soft. Some were clean, while others were besotted with grain. Some were well exposed, while others were dark messes. Colors look decent thanks to accurate white balance. Even with HDR set to auto, the Tribute Dynasty struggled to balance high-contrast scenes. This is not a camera for enthusiasts; heck, it's hardly a camera for even casual photographers.
The 5-megapixel selfie cam is worse. You'll get decent results outside, but every shot you take inside will be grainy junk.
The phone captures either 1080p or 720p HD video. The 1080p stuff is acceptable. I was pleased with focus, color, and exposure when in well-lit areas.
The Tribute Dynasty barely suffices for everyday shooting, so there's no way I would trust it with vacations, weddings, or other important events.
Boost Apps
There are at least three pre-installed apps that I implore you to delete right away: AppCloud, App Spotlight, and Boost - Featured Apps. All three of these are borderline malware that will aggressively download and install unwanted crap on your phone every chance they get. Delete them ASAP. The phone is loaded with enough garbage out of the box as it is. You only get 16 GB of internal storage without adding a memory card; don't let junk apps choke up space.
Wrap-Up
Boost Mobile sells the LG Tribute Dynasty for $60. It's an entry-level phone that's not trying to punch above its class. It offers a simple sense of style with average materials. The screen is good enough for novice users or kids, but not advanced users. People should be pleased with voice calls, though data speeds aren't the quickest and battery life sometimes falls short.
LG's user experience offers plenty of opportunity for customization, but it takes time and know how to effect real change. The camera application is disappointingly bare-bones with respect to features. Worse, the images you get from the device are far below average.
I would only recommend the LG Tribute Dynasty to young users as a first phone, or to older users who need a simple smartphone to handle the basics. Anyone else shopping for a $60 - $100 phone can do much better with options from Motorola and ZTE.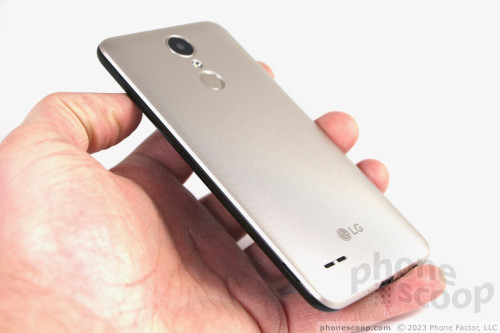 No messages