Review: LG Tribute Dynasty for Boost Mobile
Hardware Software Wrap-Up Comments
Lock Screen
The Tribute Dynasty carries over some of the lock screen tools and features we've come to appreciate on LG handsets.
Lock Screen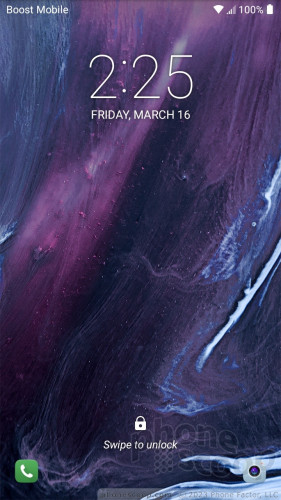 Lock Screen
For example, the Tribute Dynasty includes KnockOn for waking the screen, but not KnockCode for unlocking it. With KnockOn, a double-tap on the screen reveals the lock screen, which includes the clock/notification combo at the top and customizable app shortcuts at the bottom. KnockOn is most helpful when the phone is sitting on a table or desk.
Advertisements article continues below...
The lock screen clock is big and bold. This makes it easier to see. Users can fine-tune notifications for each individual app on the phone, which means plenty of control over what pops up in the screen. Shortcuts can include voice search, phone, messaging, photo gallery, and the camera.
Despite how it looks, there's no fingerprint sensor. Security options include PIN, pattern, and password. I particularly appreciate that LG allows Tribute Dynasty owners to protect photos and QuickMemo files with a separate pattern or PIN.
Home Screen
The Tribute Dynasty runs Android 7.1 Nougat (no Oreo) with LG's user interface on top. Out of the box, the home screen panels are crammed with Boost Mobile apps, widgets, and shortcuts.
Home Screen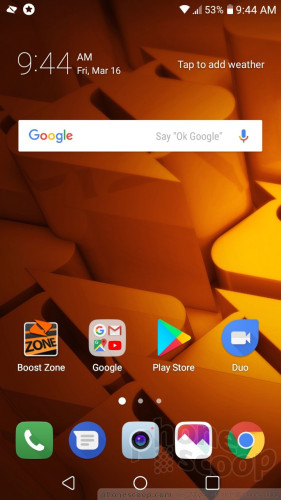 Home Screen
The home screens can be tweaked however you might like. I appreciate that apps can be arranged in various grid densities (4x4, 4x5, 5x5) on the home screen, and that fonts/graphics can be made larger or smaller. This lets you make the best possible use of the screen's real estate for displaying your stuff.
LG has disabled Android's app drawer by default, so all apps rest on the home screen, like an iPhone. You can turn on the app drawer if you prefer a cleaner home screen experience, or "EasyHome" mode if you want the simplest version of the software (best suited for notice smartphone users). If you choose to turn on the app drawer, you'll find you can hide apps you know you won't use often, and easily bring them back when needed. You can re-sort apps to appear alphabetically, by frequency, or by install date. LG has long allowed people to tweak button arrangements, screen transitions, themes, and more.
The Tribute Dynasty supports split-screen multitasking, as well as LG's miniaturized QSlide apps. The QSlide apps are limited to: phone, calculator, contacts, and calendar.
The Quick Settings panel includes the usual controls and info. You can customize which controls appear here.
The main settings menu is broken down into several tabs by default, though you can adjust it so everything appears in one long list. I found the settings easiest to use without tabs. The search tool here comes in very handy for finding the right option quickly.
The Tribute Dynasty is powered by a MediaTek 6750 processor with eight cores at 1.5 GHz, and 2 GB of RAM. It's not the fastest phone on the planet, but the 6750 pulls its weight. The Tribute Dynasty never felt slow or sluggish while I tested it, though it never felt speedy, either.
Camera
The Tribute Dynasty doesn't have a physical camera button, though you can launch the camera from the lock screen or with a quick double press of the volume-down button. The camera interface is straightforward.
Camera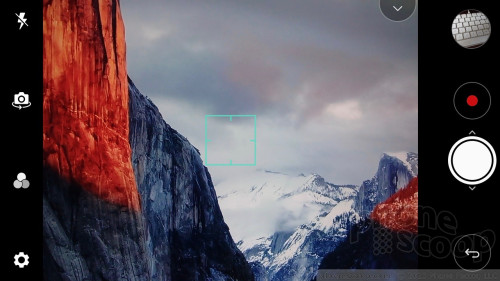 Camera
The on-screen controls cannot be customized. There are separate shutter buttons for photo and video. You can set HDR to "auto", but you have to dig into the settings; I wish an HDR toggle was accessible from the main viewfinder. There are no advanced shooting modes at all, not even panorama, let alone slow-motion or portrait. At least it has tap-to-focus.
The user-facing camera includes colored filters, but no beauty mode, nor even LG's Gesture Shot for taking pictures by making a fist.
The Tribute Dynasty's camera software is moderately quick to focus and snap photos. It's a basic camera for basic photo shooting.
Photos / Video
The Tribute Dynasty's 8-megapixel camera is a pretty low-grade shooter. It handles basic photography and will do okay in well-lit areas, but it's hot garbage in low light.
Some photos were perfectly in focus, while others were soft. Some were clean, while others were besotted with grain. Some were well exposed, while others were dark messes. Colors look decent thanks to accurate white balance. Even with HDR set to auto, the Tribute Dynasty struggled to balance high-contrast scenes. This is not a camera for enthusiasts; heck, it's hardly a camera for even casual photographers.
The 5-megapixel selfie cam is worse. You'll get decent results outside, but every shot you take inside will be grainy junk.
The phone captures either 1080p or 720p HD video. The 1080p stuff is acceptable. I was pleased with focus, color, and exposure when in well-lit areas.
The Tribute Dynasty barely suffices for everyday shooting, so there's no way I would trust it with vacations, weddings, or other important events.
Boost Apps
There are at least three pre-installed apps that I implore you to delete right away: AppCloud, App Spotlight, and Boost - Featured Apps. All three of these are borderline malware that will aggressively download and install unwanted crap on your phone every chance they get. Delete them ASAP. The phone is loaded with enough garbage out of the box as it is. You only get 16 GB of internal storage without adding a memory card; don't let junk apps choke up space.