LG Unveils Prada Phone With Touch Screen
Article Comments 50
Jan 18, 2007, 1:43 PM by (staff)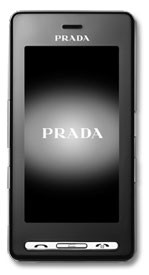 LG today took the wraps off the phone that resulted from a partnership with Prada. The two companies hinted at the device a few months ago and today announced a small, smooth, monoblock phone dominated by a capacitive touchscreen - similar to the iPhone. LG's version runs an Adobe Flash-based interface designed by Prada, which is black and silver, to match the phone itself. It is a tri-band GSM/EDGE (900/1800/1900) handset that features a 2 Megapixel camera, Bluetooth, MicroSD slot, media player and document reader. The Prada phone will go on sale in select stores in Europe for 600 Euro ($775) next month. There are no plans to bring the phone to the US, however it is due out in select Asian markets in the second quarter.
and you thought the iphone was expensive!
$775...DAMN! the iphone is a steal at $600

Chris
at least this one has a MicroSD slot on it
Is the $775 full retail or with a 2 yr agreement, that might be the pricing difference
The iPhone is $500 & $600 WITH contract - this is just shy of $800 without - that's a huge difference. And that's before any charges & plan requirements Cingular will have. People who want to buy this without a contract will end up paying $900 - $1000...
(continues)
Finally! The low quality of LG with the high price of Prada!
"Low Grade." LG's phones tend to really get on my nerve- their total lack of graphic design sense to their lack of bug control. Maybe Prada can get LG to implement some quality control in the UI. Probably not.
Actually LG makes high quality phones that can last a while.
I have been using LG's for 2 years now! They have some of the best phones ever like the VX-8300. You must be crazy!
LG KE850?
Isn't this the LG KE850? It looks just like it but a bit different colored.
Yes, it's that phone, just the interface's colors was tweaked.
I'll take "Things that are almost certain to break"...
...for $500, Alex.
agreed... i'll save my money...
Why?

I'd say this actually looks far more durable than most phones. A solid block with almost no buttons (fewer moving parts)? Sounds solid to me, in more ways than one.

The touchscreen isn't an issue, because it's capacitative. The cool thing a...
(continues)
Don't worry about quality MuchDrama, I'm sure by next year, like fashion, this phone will be passe and the fashionista will have moved on to the Samsung Valentino phone or Motorola Armani Phone. 😉
Even though LG+GSM is usually not so good
I SOOOOO want one even though I SOOOO can't imagine paying that much for a phone that does less than my Blackberry :-/
I know it's PRADA... but still
I like LG phones and I was really waiting for this phone.. I was thinking it would be much cheaper than iPhone...

Guess NOT...

$775? Ridiculous.
I know it's PRADA.. but too much money for me..
I would rather get Shine and be happy with it
Who wants to take bets. . .
On the first post-iPhone iPhone clone? (Since this was announced before, it doesn't count.) I'm peronally highly interested in a Nokia device with the same features, and this LG looks like it could be a serious contender with just a bit of tweaking.

But how long will it be before we see the Motorola TCHR?
US Release
i believe that if this was released inthe US i would say it would be slated for TMO to go right along with the dolce and gabbana razr... but i still dont think that if this hit the US it would hurt apple and their Iphone sales...
Early iPhone contender
Too bad it's not US, it won't compete directly, but it would be cool to see, after direct usage, which phone people prefered. This on looks almost MORE over-hyped then the iPhone in that it's more expensive and probably won't do as much, knowing Apple's track record...
I can't for these to become main stream and verizon gets one with their ultra lame UI on it 🤣