Review: WeBoost Drive Sleek In-Car Signal Booster
Article Comments 1
Feb 5, 2018, 7:26 AM by Eric M. Zeman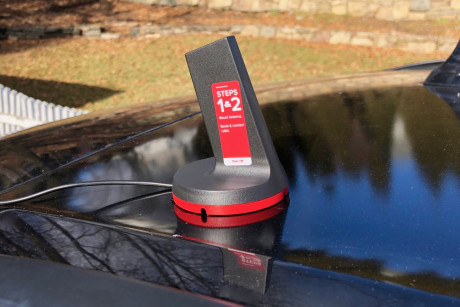 WeBoost's Drive Sleek in-vehicle signal booster amplifies wireless signals inside your car. If you're a mobile professional or road trip fanatic and need better wireless performance when behind the wheel, the WeBoost can help.
Advertisements article continues below...
Background
Driving presents a special challenge for cell phones. As you move around, you encounter quickly changing network conditions. In less than an hour's driving, your phone might encounter every conceivable signal-related challenge a phone could possibly be asked to deal with. On top of that, high speeds create a doppler effect that that your phone and the network must account for.
The antennas inside modern smartphones are more advanced than ever, but there's still no beating the laws of physics. Smartphone antennas are small and can only do so much to gather cellular signals as you move around, particularly at 60mph. Your phone needs all the help it can get to stay connected while driving.
Signal boosters use a large(er) antenna to capture existing wireless signals and improve them in small areas, such as a home, office, or vehicle. WeBoost makes a range of such products, and the Drive Sleek is its latest offering for passenger cars.
Setup/Hardware
WeBoost included a series of dead-simple directions to set up the Drive Sleek. Anyone can install this signal booster. It involves three major components plus plenty of wires. The kit includes an external antenna, a booster module, and a phone cradle.
The antenna mounts to the outside of your car magnetically. The rare earth magnet on the antenna's bottom is strong and stayed put on my car's roof on the highway no problem. If you need to, you can use an included sticker to adhere the antenna to your car. Don't put it on your sunroof, and keep it away from windows. You'll need to snake the wire from the antenna into your car (the best option will probably be via your trunk opening).
The antenna wire isn't very long, so you'll need to position the booster pretty close to the antenna. This is by design. Your best bet is the trunk of your car or the space behind the seats in your SUV/minivan. The booster is a thin black bar made of heavy duty plastic. It has three ports to accommodate the various wires. There's no mistaking which port goes with which wire. It's small enough that tucking it in the corner is not an issue. It doesn't take up any real amount of space.
Installing the remaining wires can be a pain. One connects the booster to a power source. I have a power port in my trunk, so it made sense to plug it in there in order to minimize wiring. If you don't have a power port in your trunk, you'll need to route the cable to the power ports in the passenger cabin. A second cable runs from the booster to the cradle, which includes the antenna for inside the car. This cable needs to stretch from the back of your car to the dashboard.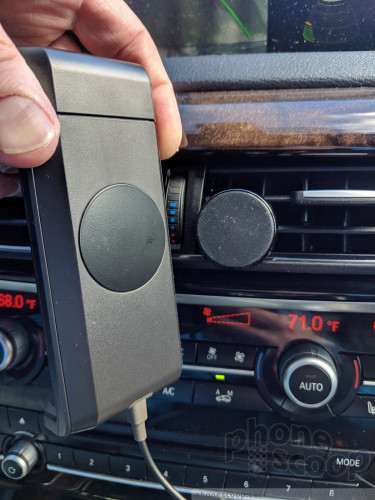 The cradle is rather neat. It comes with a magnetized vent mount. Push the mount onto the air vents on your dashboard and the rest of the cradle adheres magnetically. It's a robust cradle that stretches to accommodate most any phone. It easily held an iPhone X, Pixel 2 XL, and even a Galaxy Note8. The cradle has its own cable that needs to be plugged into the larger cable that comes from the booster. I found I had lots of leftover cable to hide under the passenger seat.
A slot at the bottom of the cradle ensures you can also charge your phone when it's docked. The cradle itself does not provide power to your phone, but the power supply has an extra USB port so you can use it to power the booster and your phone at the same time, in case you car only has one 12V power port. A light appears on the cradle to let you know the system is on.
You can slap the Drive Sleek together sloppily in about 5 minutes if you don't mind wires draped over your car seats. This might work if you need to move the kit between vehicles or if you don't have kids bouncing around in the back. If you're going to leave the kit installed permanently, you'll want to spend the time to properly bury the cables under seats or floorboards. You won't run out of wiring, even in today's biggest SUVs. For the purposes of this review, I went with sloppy. (This doesn't impact performance.)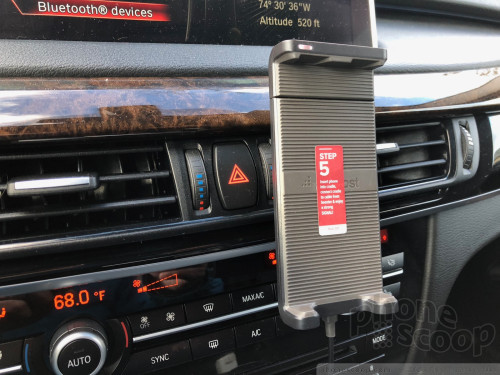 Performance
Some basics. The Drive Sleek works with all U.S. carriers' voice services: AT&T, Sprint, T-Mobile, U.S. Cellular, Verizon Wireless, and each corp's prepaid brand. For data, it supports Bands 2 ,4, 5, 12, and 13. These are the core bands for LTE service on AT&T, T-Mobile, and Verizon, but not Sprint. According to WeBoost, "no cell phone booster company is currently able to amplify" Sprint LTE bands 25, 26, and 41. WeBoost didn't say why. The Drive Sleek doesn't include support for some carriers' "extra" bands, such as T-Mobile's Band 66 and 71, or AT&T's Band 29 and 30.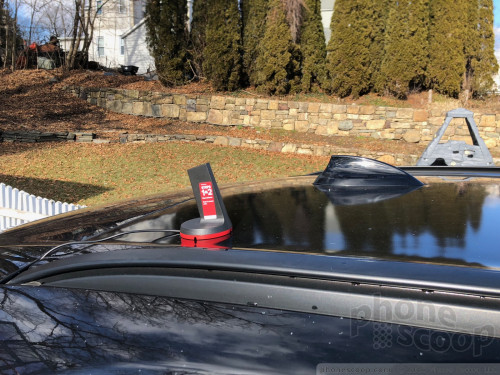 Just a quick reminder on how to measure signal strength. Forget about the bars at the top of your phone's screen. Those are garbage and basically just tell you if the network is available. You need to look at the dB measurements. These are typically buried in your phone's settings screen. Signal strength of 50dB is more or less perfect — meaning you have a raging fast LTE pipeline all to yourself — while a signal strength of 120db is call-droppingly awful.
WeBoost claims the Drive Sleek provides a maximum gain of 23dB, and, goshdarnit, it does.
I tested the Drive Sleek with an iPhone X on AT&T, a Pixel 2 XL on Project Fi (T-Mobile), and a Galaxy Note8 on Verizon Wireless. I took a number of measurements on each device and network in known areas of strong and weak coverage to set some baselines. Turning on the Drive Sleek generated immediate improvements. For example, in near-dead spots, Verizon's signal improved from 108dB to 74dB, while AT&T jumped from 116dB to 83dB. Across all my tests, under strong and weak coverage, there was an average jump of about 20dB. Verizon's network consistently saw the largest gain, with AT&T following close by. The improvements with T-Mobile (via Project Fi) trailed the other two quite a bit, though signal did improve.
What do these numbers mean in the real world? First off, the gains are more significant in areas with weak coverage. That extra 20dB makes a huge difference in performance when there's little signal to go around. It meant I was able to maintain calls on highways where Fi almost always drops calls. I didn't experience a single dropped call with Drive Sleek powered up in my car, even in areas with the absolute worst coverage. I think we can agree the benefit of keeping calls connected is obvious.
The WeBoost also delivers better data. Latency is shorter and speeds are faster with Drive Sleek turned on and running. I noticed I was able to stream Spotify in "extreme quality" over LTE with absolutely zero issues, whereas with the Drive Sleek turned off, I sometimes saw buffering and dropouts even with "normal quality". I tested YouTube HD (when sitting in a parking lot) and saw an improvement in video load times, as well as the quality of playback when Drive Sleek was on.
I drove around with the Drive Sleek in my car for a week and can say that it unequivocally improves cellular performance when on the go.
Discussion
If you're a mobile professional and handle a lot of business from your car, the WeBoost Drive Sleek could be a deal-saver. Most importantly, it dramatically cuts down on the likelihood of dropped calls. We all know how vital those work calls are. In-the-car conference calls may be mind-numbingly boring, but you don't want to be the jerk who has to dial back in mid-call because you lost the signal. The jump in data performance is real, too, and may spell the difference between the best-possible real-time directions and missing that one critical turn when en route to sales meetings.
Regular people can benefit from the Drive Sleek as well. I envision the booster helping keep my kids connected more consistently on those long drives through the countryside to my parent's house.
There's also the safety angle to weigh. In areas with limited coverage, the Drive Sleek could be the difference between connecting with a tow truck and spending the night in a snow drift.
WeBoost sells the Drive Sleek for $199. Mobile pros should consider it a vital part of their travel kit.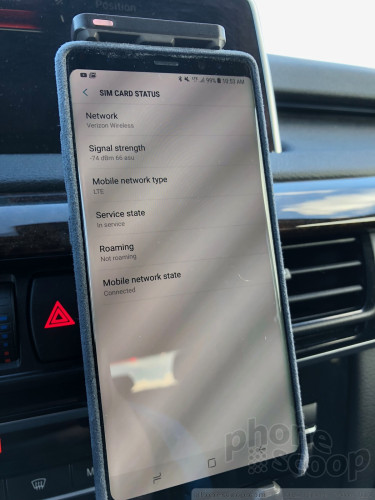 Solution to a problem that rarely exists.
1. This is 1992 calling and we want our roof mount antenna back.
2. Is this mess of wires, magnetic mounts for the vast majority of the people really worth the cost, time, mess, effort and possible damage to the outside of the car, or to door/hatch seals?
3. We both live in NJ, I'm somewhat south of you, have both an AT&T and T-Mobile lines. Very few area's I don't get a signal and for the most part LTE data coverage. Maybe a few minutes on Rt. 70 between Whitting NJ and some miles before you get to Medford, NJ basically in the middle of the Pine Barrens.
4. Been a user of Phone Scoop for years, and always look forward to your reviews. This thing just looks like an expensive mess with at the moment and maybe good for a small niche o...
(continues)