Another GPS Pocket PC Phone Comes Stateside
Article Comments 8
Jan 3, 2007, 9:00 AM by (staff)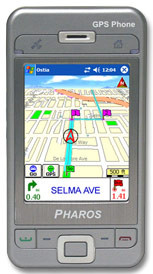 Pharos will expand its line of GPS navigation equipment by launching a GPS enabled Pocket PC phone in February. Pharos will sell a rebranded E-Ten Glofiish X500, calling it the GPS Phone. The handset is a quad-band GSM / EDGE device running Windows Mobile 5. In addition to built in GPS, the phone features Wi-Fi, Bluetooth, an FM radio, 2 Megapixel camera and MicroSD slot. It will come with Pharos's Ostia navigation software for Pocket PCs. The GPS Phone will be sold unlocked through Pharos and will cost $700 at launch.
I LIKED IT BETTER WHEN IT WAS CALLED THE WIZARD AKA 8125????
How much re-branded CRAP from Europe can we take over here?
That your post was rather dumb.

I suppose one could say it has a vaguely similar form factor, but it's made by a completely different company, and even a cursory glance will tell you it's a different phone. And if you actually read the article, e...
(continues)
Not bad...but kinda cheaply made looking in the pic...
I'm not a huge person for GPS dedicated devices it's a cool feature, but not worth the price tag. Seems $700 is way too much for something that is similar to cingular 8125/8525 just with GPS.