Review: Samsung Galaxy J3 Eclipse for Verizon Wireless
Hardware Software Wrap-Up Comments
Lock Screen
If you've used any of Samsung's entry-level handsets over the last few years, you'll feel right at home with the J3 Eclipse.
Lock Screen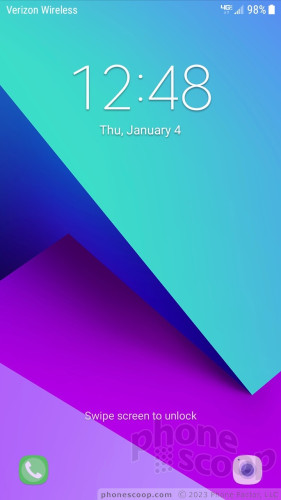 Lock Screen
The lock screen does not include an always-on or ambient display. Press either the screen lock button or the home button to wake the display, which shows a large clock near the top and notifications below. Shortcuts to the phone and camera occupy the bottom corners of the lock screen. You can customize these shortcuts if you wish.
AD article continues below...
On the security front, there's no fingerprint reader aboard, so you're stuck with slower, inconvenient locking methods (PIN, pattern, password). The phone does include the Samsung Secure Folder, so you can protect select files from prying eyes if you wish.
Home Screen
The Galaxy J3 Eclipse runs Android 7 Nougat with Samsung's interface on top. This is now an aging experience that's not up to par with what's available on Samsung's higher-end phones. It looks and feels outdated. (Versions of this phone for other carriers are even more outdated, running Android 6. That's inexcusable.)
Home Screen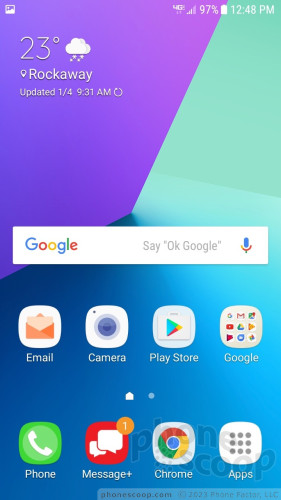 Home Screen
The home screen panels are as flexible as ever. You can tweak the panels to hold 4x4, 4x5, or 5x5 app grids, which helps with organization. The app drawer is locked to the far right side of the dock (which only accommodates four shortcuts). I personally dislike this configuration. Worse, it's unchangeable. Swapping wallpapers, adding widgets, and other personalization options are a breeze to manipulate.
The app drawer supports alphabetical or custom arrangements, as well as folders. Verizon and Samsung preloaded several folders with their own branded apps. You may also hide (but not uninstall) the Verizon and Samsung apps that you don't use.
Samsung's Easy Mode is available for those who prefer a simpler experience. It hides most apps and settings and increases the size of buttons so they are easier to see for those with imperfect vision.
Qualcomm's Snapdragon 425 processor powers the phone. It's limited to 1.5 GB of RAM, which is pretty low these days, even at this price point. The J3 Eclipse was shy of quick. It didn't ever feel completely sluggish, but it never felt fast.
Camera
The J3 Eclipse's camera opens via several methods. You can double-press the home button, tap the lock screen shortcut, or open the app from the home screen. The camera opens quickly enough.
Camera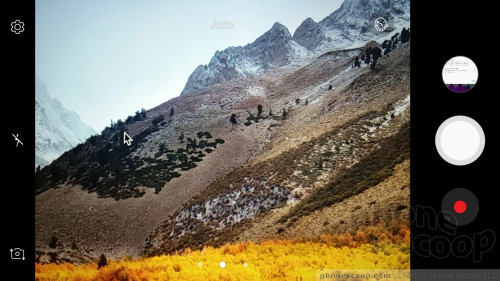 Camera
The app is fairly spartan for a Samsung handset. Standard controls are on the left (settings, flash, selfie cam). Swipe the screen to the right to reveal the shooting modes, or to the left to reveal nine different filters.
The default shooting mode is auto. The more advanced shooting modes include pro, panorama, burst, sports, and sound & shot. Unfortunately, there's no HDR, which is is really unusual these days.
The pro (manual) mode only adds custom controls only for white balance, ISO, and brightness. This is about the most limited manual mode I've seen on any smartphone. Creative control is thus quite limited.
The rest of the shooting modes perform more or less as you'd expect them to. The sports mode prioritizes shutter speed. The sound & shot mode records several seconds of audio to go with a still image.
The Beauty Face tool, available with both the rear and front cameras, lets you smooth out wrinkles and delete moles and other skin blemishes. The effect looks garish. The selfie cam also supports sound & shot and includes a screen-based flash.
The J3 Eclipse's camera app is simple to a fault, and it's a hair slow. The app takes its sweet time focusing and capturing shots. You may miss shots due to the lack of pep.
Photos
The camera sensor is a bottom-scraping 5 megapixels. It has an aperture of f/1.9, which is probably the saving grace here. The images I captured were for the most part average in terms of focus, exposure, and white balance. There's no question that indoor shooting gives the sensor fits. You'll see lots of grain when taking pics inside. The flash doesn't help as much as I'd like it to.
The camera fares better outdoors, but not by much. It has trouble balancing contrast-y scenes, so you'll lose details in over/under-exposed regions. The J3 is acceptable for kids or seniors who don't prioritize imaging. This is not a phone for vacations or special events.
The J3 Eclipse does capture full HD video and it looks decent. Focus, exposure, and color all turn out well enough. Shooting in low light leads to grainy footage.
A 2-megapixel sensor at f/2.2 is buried in the phone's face. It is barely acceptable. Selfies are a grainy, soft mess. Some kids might be happy with what they see, but I'm certainly not.
Verizon / Samsung Stuff
There are a ton of junk apps on the Galaxy J3 Eclipse from Samsung and Verizon. You can delete some of the third-party stuff that's preloaded (eBay, BofA, Final Fantasy) but not the Verizon-branded stuff (VZProtect, Caller Name ID). I bring this up because the phone is limited to just 16 GB of storage, of which you have access to about 9.7 GB of that. Use a memory card if at all possible. (It does accept them.)