Samsung's Exynos 9810 Processor Latest Chip to Include Artificial Intelligence
Article Comments 1
Jan 4, 2018, 8:13 AM by Eric M. Zeman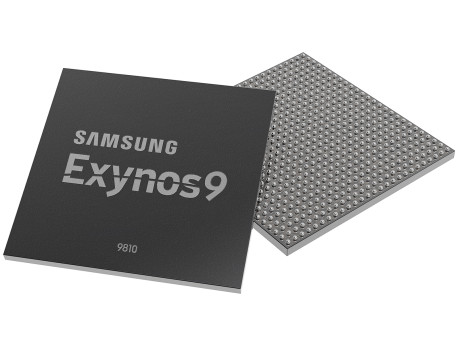 Samsung today announced the Exynos 9810, its flagship processor for the year, a chip that will likely form the heart of the company's Galaxy S series devices in a few months. The 9810 is built on Samsung's second-generation 10-nanometer FinFET process, which gives it a bump in speed and efficiency. Specifically, the 9810 has a bank of eight customized CPU cores, with four pushed to 2.9 GHz for high-power tasks and four tuned for low-power efficiency. Together with improved cache memory, Samsung says performance is up 40% compared to the 9810's predecessor. Similar to the Huawei Kirin 959 and Qualcomm Snapdragon 845, the Exynos 9810 includes a measure of artificial intelligence. It is able to use machine learning for object recognition, such as people for face unlock or image search. Samsung claims this will help power advanced camera and security tools in flagship devices. The 9810 include a new high-speed modem, jumping to 1.2 Gbps LTE. It includes Cat 18 LTE for six-channel carrier aggregation along with 4x4 MIMO, 256 QAM, and LTE-LAA for speeds of 1.2 Gbps on the downlink and 200 Mbps on the uplink. The 9810 should improve the media experience on handsets as well, thanks to the new image processor and upgraded multi-format codec. Samsung says these are faster and more energy efficient and can handle 4K video playback at 120fps. Moreover, the added support for 10-bit HEVC and VP9 means the 9810 can render up to 1.07 billion colors. (The Snapdragon 845 carries this same set of improved color capabilities.) Together, the 10-bit HEVC and VP9 support will deliver more accurate color fidelity with wider dynamic range on smartphone displays. Samsung says the Exynos 9 Series 9810 is already in mass production.
AI scares me
That's all I need is for my phone to judge me

"You know you want to stop at Wegmans for sushi, Eric"
"You shouldn't flip that driver off, Eric"
"Don't drunk text your ex-wife, Eric"