Garmin Vivofit 4 has a Color Display and 1-Year Battery Life
Article Comments 1
Dec 26, 2017, 11:34 AM by Rich Brome @rbrome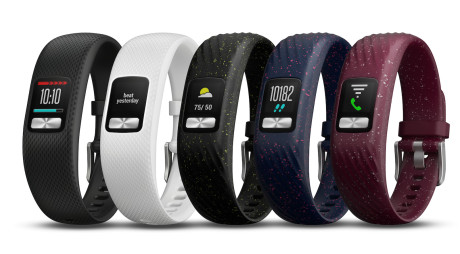 Garmin today announced the Vivofit 4, a new activity-tracking wearable device that sports an always-on color display and battery life up to one year. The wrist-mounted, waterproof device performs all of the functions of a digital watch, including timer, stopwatch, and alarms, while counting steps and encouraging the wearer to stay mobile and active. The Vivofit 4 can be paired via Bluetooth with a phone (iPhone or Android) for additional functions, such as sleep tracking, detailed and automatic exercise tracking, and weather reports. It also includes a "find my phone" feature. The phone app connects to Garmin's cloud service and lets users compare activity with selected family and friends. It also lets users customize the wearable's display with various watch faces and themes. The always-on display uses a special kind of LCD technology called MIP (memory-in-pixel) that retains an image without power, much like e-ink displays. It's readable in daylight without a backlight, and can display eight different colors across its 88 x 88 pixels. The wearable comes in three sizes and three different colors. The interchangeable rubber bands are available in three additional colors as well. The Vivofit 4 is available starting today for $80, exclusively from Amazon.com.
more info at Engadget »
more info at Garmin »
Rechargable?
I see that you stated it can be UP TO one year battery life (Could be a month, could be eleven), however after that year, is the device garbage, or can it be recharged?