Review: OnePlus 5T
Hardware Software Wrap-Up Comments 6
Lock Screen
The phone includes Ambient Display, which wakes the screen with simple notifications when messages or emails arrive. The screen is on for a couple of seconds before it blinks off again.
Lock Screen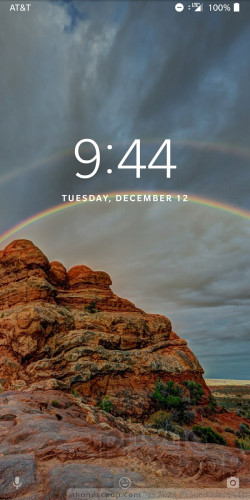 Lock Screen
You can double-tap the screen to wake the phone. The lock screen includes the time, date, and list of notifications. It's basically the stock Android lock screen experience. The notification screen also includes shortcuts to the phone and camera apps. You can't customize these shortcuts, which is a shame.
One of the new additions in the 5T is facial recognition for unlocking the phone. Similar to how this feature works on Samsung and Apple phones, you'll need to spend a minute recording your face up close. Once the software has captured your mug, the phone will automatically unlock if it recognizes you as you lift the phone up. It works very well, much better than I had anticipated. The speed is on par with Apple's Face ID, though OnePlus' software isn't nearly as secure.
There's also the rear-mounted fingerprint reader, which works flawlessly. I was able to set up several prints and the phone recognized them each quickly and accurately. The fingerprint reader is top-notch and is the quickest way to unlock your phone.
The ringer switch works together with software to help manage notifications. I like that you can map certain types of notifications to certain positions of the switch, such as whether text messaging creates an audio alert or a vibration. You can also select from a wide array of vibration patterns.
There's also an LED indicator light, which can be set to blink specific colors for specific types of messages or other notifications.
Menus
OnePlus calls its Android interface skin OxygenOS. The OnePlus 5T basically runs a near stock version of Android 7.1 Nougat with powerful OnePlus software tools on top. (OnePlus says the 5T will get Android 8 Oreo early in 2018.) The real benefit of OxygenOS is that it tosses in a huge number of settings for customizing the phone's behavior.
Home Screen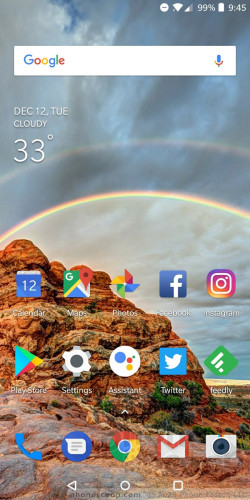 Home Screen
The home screen panels function as they would on any other Android phone. That means they accommodate wallpapers, shortcuts, widgets, and so on.
The left-most home screen is the Shelf, which is a customizable space where you'll find what matters most or what you use most. LG and HTC have similar tools built into their Android skins. It's sort of like Google Now. By default, it shows the local weather, a shortcut for writing a note, and several app suggestions that change over time. You can turn it off completely if you want.
Core interface functions, including the app drawer, Quick Settings shade, and main settings menus, all look and work as they do on any stock Android phone.
There are gobs of extras. For example: Dark Mode. It's meant for use at night. Dark Mode changes what are normally white screens to black, and black text to white. It primarily impacts menus and other system screens; it does not change apps. I like that you can adjust the accent colors.
OxygenOS provides OnePlus 5T owners with plenty of control over the status bar. You can select exactly which app icons are displayed in the status bar and which are not and even do things like tweak the shape of the battery meter.
Like LG handsets, the OnePlus 5T lets you choose the orientation of the Android controls. You can pick back-home-switch, or switch-home-back. The software home button and back/switcher keys on the display support long-press and double-tap shortcuts for opening select apps. You can even elect to turn on support for drawn gestures. For example, using your finger to draw a "V" on the screen will turn on the flashlight. The possibilities for customization are nearly endless.
You simply can't ask for better performance. The OnePlus 5T has a Snapdragon 835 processor on board with either 6 GB or 8 GB of RAM. This is the best CPU/RAM combination available on phones right now, and is found in more expensive phones like the Google Pixel 2 and LG V30. The OnePlus 5T delivers blistering speed. I couldn't find any activities that caused the phone to break a sweat.
Camera
There are a handful of ways to start the camera. The fastest will always be to double-press the power button or fingerprint sensor. The app opens in a blink.
Camera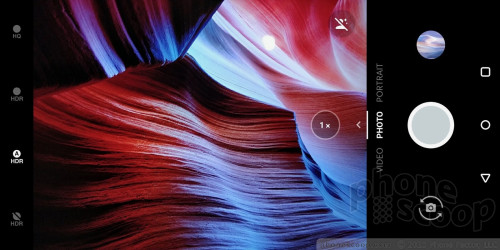 Camera
You'll notice controls lined up on the sides of the viewfinder, including toggles for the flash, aspect ratio, HDR, and timer on the left. I like that the HDR and flash functions both include an "auto" option. Aspect ratio options include 4:3, 16:9, and 1:1. You'll need to shoot in 4:3 to access the full pixel count of the camera sensor.
Three shooting modes are available by swiping up/down on the home screen: photo, video, and portrait. Other modes available (by swiping the viewfinder to the left) include time-lapse, slow motion, pro, and panorama.
Portrait mode is all the rage on smartphones these days and is meant to help you capture great shots of people's faces. Portrait mode relies on the dual camera lenses to provide sharp focus on the subject while blurring the background so the subject "pops". The mode is simple to use; just point the OnePlus 5T at your family/friends and hope for the best.
The "pro" mode is an advanced manual mode for taking full control over the camera's individual behaviors. When in pro mode, you can set shutter speed (up to 30 seconds), focus, white balance, brightness, and ISO. Easy-to-decipher dials help you select what's best, and the screen previews the type of exposure you should get with those settings.
The camera app's settings menu is somewhat buried in the screen with the advanced shooting modes.
In all, it's a fairly straightforward camera application to use. Perhaps most importantly, it's quick and light on its feet. I didn't notice any sluggish behavior from the camera and that makes me happy.
Photos/Video
OnePlus did something at once interesting and perplexing with the 5T's camera configuration. Like high-end iPhones, the OnePlus 5 included a standard lens and a telephoto lens. This gave you some actual optics to help zoom in on far-away subjects. For whatever reason, OnePlus kept the two-camera system for the 5T but replaced the telephoto lens with a low-light lens. I'm at a loss to explain why. Taking good low-light pictures isn't as viscerally appealing as, say, awesome zoom or super wide-angle shots.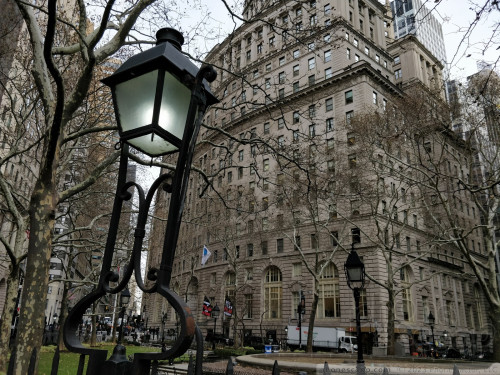 The main camera relies on a 16-megapixel Sony IMX398 sensor at f/1.7. This is, in fact, the exact same main sensor found in the older OnePlus 5. The secondary sensor relies on a 20-megapixel Sony IMX376K sensor, also at f/1.7. The pixels in this sensor are smaller, but OnePlus says four of them can work together in low light to create a more sensitive "superpixel" to capture more information with less grain.
There's no doubt in my mind that the OnePlus 5T produces pictures that are superior to those of the OnePlus 5. (Let's not forget that OnePlus has spent the past five months tweaking the camera software.) The 5T takes sharper photos that have less grain. Exposure and color are about on par with what I saw on the 5. While the 5T is better than its older brother, it's not quite up to par with today's top phones.
As for low-light performance, there's a clear improvement. The 5 took terrible low-light photos. The 5T takes decent low-light photos. I think the iPhone X, Pixel 2 XL and Galaxy S8 are better in low-light, but the 5T holds its own. The images show much, much less grain than those taken with the OnePlus 5. You'll see less banding and more detail. As much as I like the improvement, it's hard to account for the loss of a dedicated telephoto or wide-angle option.
Low Light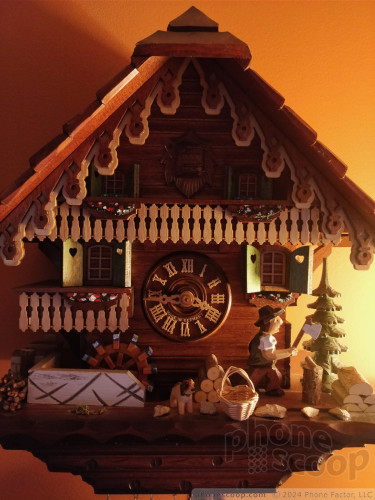 Low Light
The portrait mode produces results that are in line with competing devices. The delineation between subject and background can sometimes be uneven or over-obvious. Even so, the results are sure to please some people. The other modes (pano, timelapse, slo-mo) do a fine job.
Portrait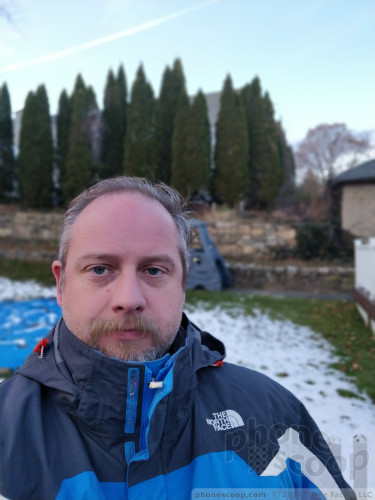 Portrait
The front camera has a 16-megapixel Sony IMX371 sensor at f/2.0. It does a decent job. I was mostly pleased with self-portraits. If you care to, you an enable beautification tools for smoothing over skin blemishes. A screen-based flash helps provide some light in the darkest settings. It suffices for most selfies, though I've seen better from devices like the (pricier) iPhone X and Pixel 2 XL.
On the video front, the 5T captures up to 4K video. You can dial in a handful of different resolutions and frame rates to suit the style you're looking for. The footage I shot was clean, sharp, colorful, and properly exposed. I saw only the smallest amount of grain in low-light spaces. The front camera is limited to full HD video and it looks good, too.