Review: Asus ZenFone V Live for Verizon Wireless
Article Comments
Dec 11, 2017, 8:15 AM by Eric M. Zeman
The Asus ZenFone V Live claims to have a unique trick up its sleeve: it can process real-time beautification effects when broadcasting live video to certain social networks. When it's not doing that, the V Live a solid entry-level Android smartphone that has a respectable set of specs keeping things humming under the hood. Here is Phone Scoop's review of the ZenFone V Live for Verizon Wireless.
Advertisements article continues below...
Hardware
Is It Your Type?
The Asus ZenFone V Live is one of the most affordable handsets in Verizon's roster of phones. If you're in the market for an inexpensive Android device with a selfie-centric camera experience, the ZenFone V Live just might fit the bill.
Body
Asus dressed the ZenFone V Live in metal and glass. Curved glass adorns the front and the rear is mostly aluminum. The colors are a conservative blend of black, gray, and chrome. The V Live leans towards classy, but some of the accents lend a welcome bit of panache. The phone has a simple shape. The top and bottom corners are nicely rounded, though the sides feature a pronounced ridge.
If you have smaller hands, the V Live will make you happy. For a modern smartphone, the V Live is compact and hand-friendly. At 5.7 inches tall and 2.8 inches wide, It's a bit smaller than the iPhone X and somewhat bigger than an iPhone 8. I found the size appealing when using it over the course of a week. It's a good size for slipping into pockets. The smooth materials ensure retrieving the V Live from your pocket doesn't turn into a fishing expedition.
The materials are fine and the phone is put together well. We're talking about a really inexpensive phone here, so to see metal on any part of the chassis is impressive. The glass face sits in the metal chassis tightly. The plastic end caps on the rear are also fitted to the phone with precision; there are no unsightly gaps or other obvious flaws in the V Live's construction. The metal and glass give the phone weight and gravitas. Nothing about the experience of using this handset comes across as cheap.
Plenty of functional elements will stand out as you gaze at the V Live's face. The user-facing camera and its accompanying LED flash are painfully obvious is the phone's forehead, sort of like zits. A rectangular button is centered below the display and called out with a chrome accent. This is the home key and fingerprint reader. It's rather flat, but I still found it easy to locate and push. The "back" and "app switcher" touch keys flank the home button. They are painted on in chrome, so you can always see them. As for the bezels, Asus did an okay job. Both the forehead and chin are thicker than I care to see, but there are far worse in this price class.
I like that the screen lock and volume toggle controls are covered in chrome. This makes them stand out visually and easier to find in a hurry. The screen lock button is the lower of the two and is rather small. The volume toggle is a bit longer. Travel and feedback is close to perfect for both. I wish one of them had some sort of texture to help my thumb differentiate between them. The SIM tray is located along the left edge of the phone. The same tray also accommodates microSD memory cards.
Side Buttons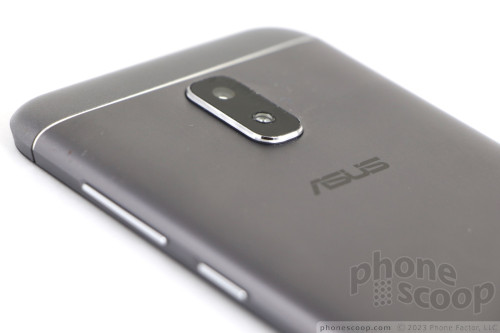 Side Buttons
Asus gave the V Live a USB-C port, which is located on the bottom edge. This is notable because most inexpensive (and even some mid-range) new phones still come with the older, inferior microUSB. UCB-C is easier to use and more capable. The phone also includes a 3.5mm headphone jack.
USB-C and 3.5mm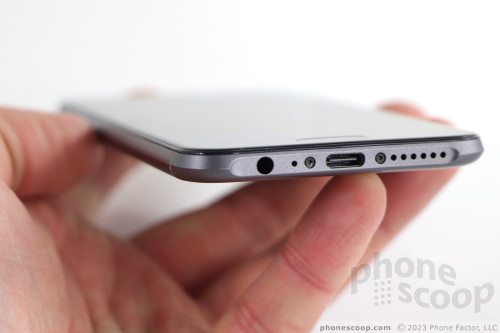 USB-C and 3.5mm
The phone's rear has a lot going on. An aluminum panel forms about 80% of the of the back side. Chrome strips separate the aluminum from plastic end caps. The aluminum has an appealing, smooth gray paint job. The plastic caps have a different shade of gray that makes them stand apart. (Using plastic for the caps allows the antennas' wireless signals to pass through.) The camera/flash array is raised in a fairly big module.
Camera Profile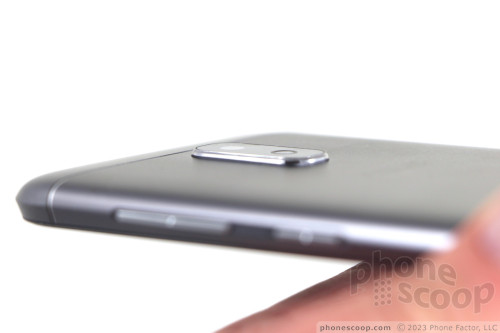 Camera Profile
The battery is locked inside. The phone is not water-resistant.
In all, the Asus V Live is a fine little phone. It offers a respectable mix of glass and metal to make it feel far more expensive than it really is.
Rear Panel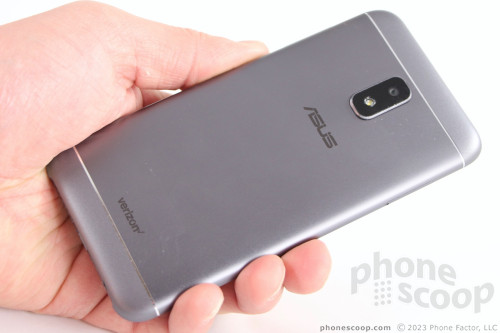 Rear Panel
Screen
The V Live's display measures 5 inches across the diagonal and it offers 720p HD resolution. I've seen this combination a lot on entry-level and mid-range handsets and it works well. I personally prefer more pixels, but the combination of size and resolution of the screen leads to a good experience with this phone. Text, pictures, and icons look sharp most of the time. You can only begin to see individual pixels if you hold the phone up close to your eyes. Most of the time they are invisible. The LCD panel puts out a decent amount of light, but I'd like to see more. Outdoor viewing suffers from an unfortunate pairing of reflectivity and weak brightness. Viewing angles are just okay; You won't see any blue shift, but brightness drops off steeply when viewed at a sharp angle.
The phone includes a fairly comprehensive tool for adjusting the screen's basic appearance. For example, you can dial in the color, set up a blue light filter for late-night viewing, select from several brightness profiles, as well as create your own, custom settings. This type of feature is often reserved for flagship devices.
Signal
The ZenFone V Live is sold by Verizon Wireless. As I tested the phone it remained on 4G LTE most of the time. It never dropped Verizon's network completely, though I did see it drop the 4G LTE indicator on several occasions. The phone had no trouble making or maintaining a call over miles of highway driving. Data speeds were far short of the best I've seen. I'd call data performance just acceptable. Streaming media was sometimes a challenge for the V Live; I saw a lot of buffering and low-quality playback.
Sound
I was generally happy with the ZenFone V Live when making phone calls. The earpiece offers clean voices that can be pushed to respectable volumes. Vocal tones sometimes sounded a little robotic. You should be able to enjoy calls with the volume set at about 60% most of the time. You'll need to crank it up all the way in coffee shops, in the car, etc. The speaker doesn't distort too much.
You can activate Verizon's Advanced Calling service if you wish. This will produce HD Voice calls via VoLTE. (It's free to use, so go ahead and activate it.) As long as you and your callee are both on Verizon's LTE 4G network, you'll notice a significant improvement in clarity.
The bottom-mounted speakerphone did an acceptable job. Calls routed to the speaker were not quite as clear or as audible as those managed through the earpiece. Turning the V Live up all the way will resort in some distortion via the speakerphone. You should be able to understand calls in moving cars without issue.
Ringers and alerts always got my attention. The vibrate alert is just barely adequate.
Battery
Asus selected a 3,000mAh battery for the V Live. Thanks (in part) to the medium-resolution screen, the phone is able to get through a full day without struggle. I was able to count on it from breakfast to at least 10pm on most days and often to 11pm or later. That's a good 15-16 hours of mixed usage. When I stepped up use of the camera or played lots of games I noticed the power would drain an hour or two faster. Most people should be able to get all that they need each day without worry.
Asus' power management software is a bit ridiculous. I tested the phone using the normal setting for the battery, but you can switch it to high performance (for gaming), power saving, super saving, and custom. Each mode gives you an estimate of how much standby time is available but not how much actual usage time is available. The power saving and super saving modes nearly double standby time when compared to the normal mode. They do this by aggressively tweaking notifications, radio usage, screen brightness, and so on. If you use the phone in power saving mode all the time you'll easily get 1.5 days of battery life from the phone.
The V Live doesn't support wireless charging.
Bluetooth, GPS, NFC, WiFi
The phone's Bluetooth radio handled certain connections well, but I did run into a few snags. The phone paired easily with headphones and speakers, but not my car's hands-free system. The V Live also struggled to connect to my laptop. Calls completed via Bluetooth headsets were solid, and music routed to Bluetooth speakers was acceptable.
As a navigation tool, the ZenFone V Live performed as well as any other phone on the market. The GPS radio pinpointed me quickly and to within about 25 feet most of the time. It coordinated with Google Maps and worked fine when put to use for voice-guided, point-to-point directions. It was sometimes a little slow.
The ZenFone V Live's WiFi radio did well.
This phone does not have NFC.
Software
Lock Screen
The lock screen experience is basic. There is no Always On / Active Display, but you can enable some helpful gesture shortcuts. For example, I highly recommend you turn on the "double-tap-to-wake" feature. With this enabled, a quick tap wakes the display and will show you the lock screen.
Lock Screen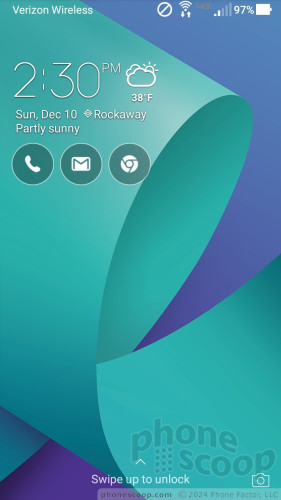 Lock Screen
The lock screen shows the time and weather along with three app shortcuts and notifications. The clock and app shortcuts are all huddled together in the upper left corner of the display. The app shortcuts are hard to reach up there; it would be better if they were located at the bottom of the screen. You can customize the shortcuts, which I appreciate. A shortcut to the camera is always available on the lower right corner.
The front-mounted fingerprint sensor sometimes took several attempts to get an accurate read.
Home Screens
The V Live runs Android 7.1 Nougat. Asus calls its Android user interface skin ZenMotion UI. It's much lighter on the V Live than on other Asus phones I've tested, and that's a relief. Two home screen panels are active out of the box, one of which is populated entirely with Verizon apps. As always, you may customize the home screens however you wish.
Home Screen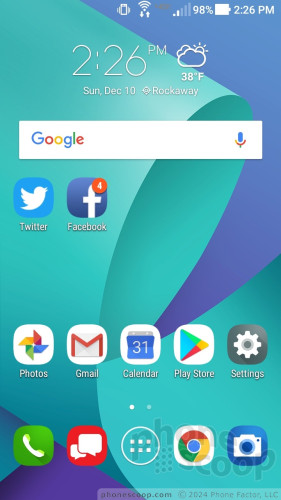 Home Screen
The tools for adjusting the home screen panels are unique to Asus. The phone offers a ton of options for tweaking. For example, you can adjust grid size, icon size, font size, scrolling effects, wallpapers, icon alignment, and even icon label colors.
Verizon and Asus packed the app drawer with folders. This makes for a compact app drawer, but you can easily wipe out Verizon's arrangement and organize it however you want. Apps can be listed alphabetically, by download date, by frequency of use, or in custom order. I appreciate that you can hide the bloatware that Verizon loaded on the phone.
The Quick Settings shade and full settings menus are much more colorful than standard Android thanks to Asus. The large icons and pleasing tones leave the usability of these tools intact. As always, you can edit the Quick Settings panel.
ZenMotion is Asus' gesture-based interface tool. It's off by default, but you can switch it on and use it to control various functions of the phone. For example, double-tap to wake the display or turn it off. That's helpful.
You can also draw a "W" on the screen (when off) to open the weather app. You can draw an "S" to open the selfie camera or a "C" to open the main camera. Or, if you wish, customize which letters open which apps. I struggled to get the V Live to recognize the motions on the first attempt, which basically negates the usefulness of this feature.
The Qualcomm Snapdragon 425 processor with 2 GB of RAM is an acceptable combination for an entry-level device. The 1.4 GHz processor means most apps run well. The only sluggishness I saw was when using the camera.
Camera
When the phone is idle, you can double press the down volume toggle to open the camera. It opens quickly enough.
Camera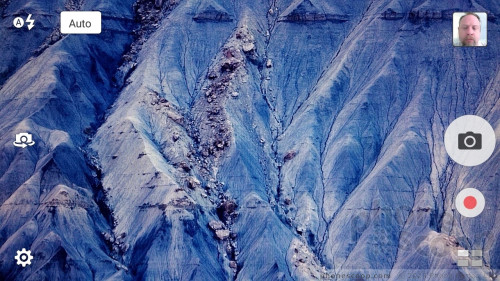 Camera
The viewfinder is fairly typical. You'll see some basic controls (flash, selfie cam, settings) on the left and the shutter buttons on the right. The camera defaults to Auto mode. You can toggle the flash and HDR to on, off, or, auto.
The ZenFone V Live has too many different shooting modes. They include: auto, HDR pro, beautification, super resolution, children, low light, QR code, night, depth of field, filter, selfie, pano, miniature, slow motion, and time lapse. The majority of these shooting modes operate as you expect them to. The HDR Pro mode simply turns on HDR. There's no explanation for what Super Resolution mode does. In other Asus phones that have dual cameras, this combined potential resolution of both to something much higher. Without a dual-camera setup, this mode doesn't offer anything different. It's a shame there's no manual shooting mode. You can also rearrange the positioning of the shooting modes on the menu screen if you want.
The depth-of-field tool is supposed to help create portraits or bokeh shots with blurred backgrounds. It uses only software after the fact to make it work, and requires you to be pretty close to your subject. It works okay with a little practice.
The "children" mode simply takes a photo automatically when your kids smile. Unfortunately, it's simply not fast enough to keep up with most kids.
The camera is sometimes slow. It can be sluggish when jumping through the menus and adjusting the different shooting modes.
Selfie Cam
The selfie camera features are one of the few truly unique things about this phone. The phone's ability to provide real-time beautification while recording video is what gives the Asus ZenFone V Live its name. It's one thing to apply beauty filters to a photo, but it's another to do the same thing while recording video.
The selfie camera has its own user interface. Specifically, it makes tweaks to the shutter buttons and adds a series of sliders for managing the different beautification filters. You can adjust six different beauty tools all individually. For example, there's a tool for slimming down your cheeks, and another for making your eyes bigger. You can also control how intense the effect is when eliminating moles and wrinkles. What's more, you can even adjust your skin tone and the lighting independently to create cold/warm effects. Kim Kardashian, eat your heart out.
The overall results can be close to normal or brutally grotesque depending on how intensely you apply the various effects.
When you're ready to take a picture, you can tap the shutter button to capture the photo instantly or drag the shutter button up and let go to initiate the 5-second timer.
Not all of these tools and effects are available when broadcasting live video through Facebook, Instagram, or YouTube. Even getting them to work at all when broadcasting live is tricky.
First, you need to have those social media apps installed. I'd reboot your phone for good measure. Then, you need to go into the settings for the phone's display and toggle a control way down at the bottom called "Beauty Live Button." This supposedly activates the feature within these three social networks. It's not clear why this is off by default.
Dive into Instagram and start a live video. After you've initiated the livestream, a Beauty Live button pops up and floats on the screen. Tapping it calls up a simple dial for adjusting the strength of the beautification effect. Rather than allow you to adjust skin tone, lighting, and your cheeks, however, it simply applies a general beautification effect to reduce skin blemishes. In other words, true live beautification is available, but in limited form compared to what's possible when recording regular video from the camera app.
The live video function is a hassle to use and even with help from Asus and Verizon I was only able to get the feature to function properly in Instagram. It never worked (i.e., the Beauty Live tool never appeared) when shooting live video through Facebook or YouTube.
Photos/Video
The V Live has a 13-megapixel main camera at f/2.0 with an LED flash. As far as entry-level phones go, it does a fine job. You're not going to get dazzling results, but the phone certainly passes muster for snapping those everyday moments that come and go in a blink. The photos I took showed sharp focus, good white balance, and fine exposure. I did see a few instances of lost details in under/over-exposed pictures from time-to-time. If there's anything that really bugged me it was grain, which popped up here and there. Mostly, however, it manages to snag decent results.
The 5-megapixel selfie camera also does well. The LED flash goes a long way when shooting selfies in the dark. The one thing I did notice with the selfie cam was an unwanted halo effect, almost as thout the lens were smudged or something (it wasn't). Also, focus was a bit soft when shooting selfies.
The phone can record video up to 1080p full HD and it looked decent. It performs best when outdoors under sunny skies. You will see some grain when filming in darker environments.
Wrap-Up
The Asus ZenFone V Live demonstrates just how far entry-level phones have come in recent years. Asus did a commendable job in designing and assembling an inexpensive handset that delivers just the right set of features and performance.
The metal-and-glass design inspires confidence, the screen offers a clean experience, and voice/data performance were decent. Battery life is quite good, though the phone failed to connect to some Bluetooth devices that it should have. Many will appreciate the availability of the memory card slot and USB-C.
Asus' software offers plenty of ways to tweak and customize the phone's home screens and basic experience. The Snapdragon 425 processor meets nearly every task and performance is generally good for this class of phone.
The camera application is stuffed full of features and may be overwhelming to some. The selfie camera, in particular, takes some practice to find the right results. The ability to capture touched-up video in real time is a unique feature that will certainly appeal to social media aficionados. I wish the selfie camera were just a hair better.
Verizon Wireless is selling the Asus ZenFone V Live for $0 right now as long as you agree to stick with Big Red for two years. It's an ideal choice for young users or those who love to share their face with friends.
ZenFone V Live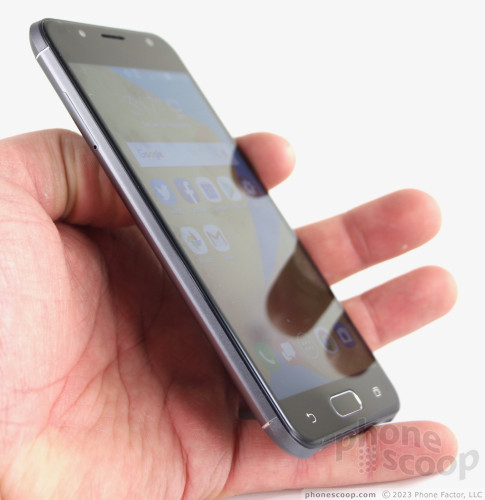 ZenFone V Live
No messages