Qualcomm Hopes USB-C DAC Dongle Will Alleviate Headphone Woes
Article Comments 3
Dec 7, 2017, 5:14 PM by Eric M. Zeman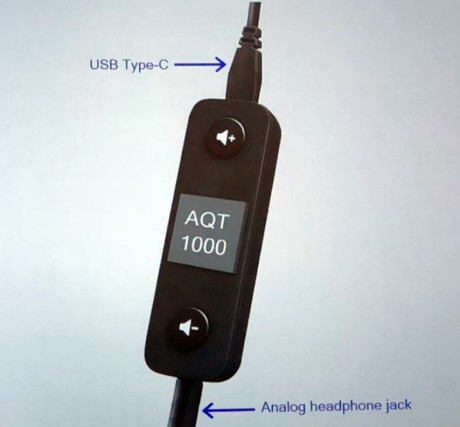 Qualcomm today showed off the AQT1000, a tool that will help bridge the audio gap in devices that have a USB-C port but no 3.5mm headphone jack. The AQT1000 is an Aqstic Hi-Fi digital to analog converter (DAC). One end plugs into a phone's USB-C port and the other supports wired headphones. The onboard Aqstic DAC, pulled from the Snapdragon 845 mobile platform, delivers high-quality 384 kHz audio streams at 32 bits with a dynamic range of 123 dB. In addition to Qualcomm's aptX HD codec, the AQT1000 also includes native Direct Stream Digital (DSD) support, which is a high-quality codec known for creating warm tones. Qualcomm itself will not use the AQT1000 to make headphone; instead, it is offering the DAC to headphone and phone makers as an alternative to Bluetooth for mobile listening. Qualcomm expects OEMs will bring the DAC to market in devices early next year.
2006 Called, It Wants Its Pop-Port Back!
This silliness was part of what I was glad to see go when phones began to come with separate headphone jacks. The Nokia Pop-Port was an example of what needed to go away. Sony-Ericsson had their own proprietary multi-purpose port. Now we see the audio output and electrical input recombined. It didn't make sense in 2006, it doesn't make sense now.
Missing the point
Dongles already exist. That's not the issue. The issues are:

Having to buy and carry around another thing to connect, which can be lost and/or damage.

or

The alternate is to replace a perfectly good set of headphones you already have

or

Deal with the quality drop and/or battery drain issues with Bluetooth

AND

Having to use the USB port for the headphones means not being able to charge the phone
Or have a headphone port with DAC built into the phone
I really cannot see myself buying a phone without a headphone port, and if anything, having a decent DAC is a feature I'd value.