FCC Reveals Phone Side Of Ultra Music Phone
Article Comments 13
Dec 6, 2006, 5:07 PM by (staff)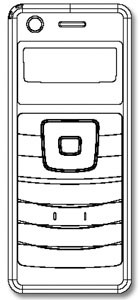 Documents contained in the recent FCC approval of Samsung's Ultra Music F300 reveal the handset's phone side, which Samsung has been careful to hide during its launch this week. The majority of the phone side is dominated by a large keypad that looks similar to the T629's navigation and numeric keys. There is a small display that looks capable of displaying two lines, and a large camera as well as a speaker. The Ultra Video's swiveling form factor will require a different layout, however it is likely the keys, screen and other features will be similar. Samsung will officially reveal the specifics of the phone side of these handsets at a later date, according to a company spokeswoman.
CDMA Version
A couple months back I saw the CDMA version of this phone dubbed "the flipper." Supposed to be Sprint exclusive from what the Samsung rep told me. Slated for launch Q1 or Q2 of '07. We'll see what happens.
maybe us sprint users will get lucky... 😈
How the hell is this "Ultra Media"...
... with only a 176x220 screen (and 2.1")? I mean, seriously. Come on.
It's for playing Music dummy. The video edition has a 2.4" QVGA.
Actual photos available at this site
I think it looks pretty good. I'm a CDMA subscriber, surely with no hopes of ever seeing this phone, but I'm very excited to see this handset come stateside.
That looks horrible for doing anything where you need the keypad...
where does the battery go?